Admitted Students
Welcome from the Executive Director
Hello, I'm Joe Fantozzi, Executive Director of Enrollment Management (Acting).  Congratulations on making the choice to attend City College.  You are about to join an academic community that will not only help you achieve your goals, but will also become an integral part of your life.
Now that you've decided to enroll, what's next?  The Office of Admissions is part of an enrollment management team that includes the Registrar, Bursar and Financial Aid offices and we're all here to help you succeed. 
I wish you the best of luck as you begin your college career here at City College.  If you see me on campus, stop by to say hello and let me know how you're doing!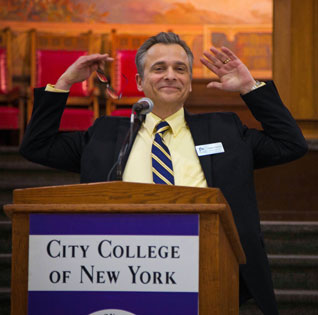 Joseph A. Fantozzi, Executive Director of Enrollment Management (Acting)
Why You May Need to Interact with Admissions Once You Have Successfully Enrolled
Entering freshmen will need to provide a final high school record.  Most NYC public high schools automatically send your final record to CUNY.  Some private, parochial and out-of-town schools also take care of this for you.  Be sure to check with your high school guidance office to find out.  If you do need to send a final official transcript, arrange to have it mailed to CUNY's University Application Processing Center, not to the college.
Transfer students will need to provide a final official transcript of any courses that were in progress at the time of application.We will do our best to evaluate your transfer credits prior to advising however priority will be given to those students who indicate an "Intent to Enroll" and pay a deposit (if required).
You may need to provide proof that you are entitled to pay NYS-resident tuition.  Check your CUNYfirst Student Services Center or "MyCity" page to see if you are being charged as a non-resident.  Generally speaking, all students enrolled for at least the final two years of high school in New York State are eligible to pay resident tuition rates.  You may need to complete the CUNY Residency Form and submit it with documentation to the Office of Admissions. 
 
You may have earned college credit while in high school.  If you've taken AP exams, college-level courses (such as College Now), served in the military or participated in an International Baccalaureate program, you should arrange to have an official transcript or score report sent to the City College Office of Admissions.  Meanwhile, be sure to avoid registering for courses for which you may receive credit. 
 
If you did not receive a scholarship and you'd like to be considered for one for a future semester, check the office of admissions scholarship web site for information on how to apply. 
 
One final word of advice: get involved!  City College offers countless opportunities for students to become part of our community.  Join a club, try out for a team or audition for a performance group.   Or apply to become an Admissions Ambassador.  Meet new friends, gain experience in public speaking and possibly earn a scholarship!
For more information please call us at 212.650.6977 or visit our site.