Guest Professor
---
Professor Brian Barnier teaches graduate data analytics for decision-making in the Business and Economics Department. Grad students in this course have the benefit of digging into data in what has been recognized as the most data-intensive grad econ course in the U.S. This supports the Colin Powell School mission of distinctive educational opportunities. His syllabus has been widely downloaded from the Open Education Resources database with about half of downloads from outside the U.S. His professional impact flows from his expertise in strategy, data analysis and technology. He is director of analytics at ValueBridge Advisors (US) and Burnt Oak Capital (UK). He serves on advisory boards for Blue Sky Capital, Disaster Intelligence, Origo Financial and Orion Worldwide. He serves on the Financial Review Board for Investopedia. He is author of The Operational Risk Handbook, contributor to Risk and Performance: A Guide for Government Decision-makers and Risk and Finance. Appreciating businesses through investor eyes, he served as co-chair of the risk committee of the USD26T assets London-based ICGN institutional investor organization. He has been interviewed and writes widely, including from floor of NYSE, NASDAQ MarketSite, The Street, NY1, WSJ, CNBC, and Bloomberg Brief. Previously, he led innovation initiatives for IBM, Lucent, and Ameritech (now AT&T) – across which he led teams to 9 patents and launched a pioneering fintech product. He taught finance and operations at the University of Detroit Mercy and economics at Western Michigan University. He has guest lectured in Russia and Mexico.
Guest Professor
---
Dr. Gaudiano teaches Managing Business Complexity. Paolo is the CEO of Aleria, President of Aleria Research, and Executive Director of Quantitative Studies of Diversity and Inclusion (QSDI) at the City College of New York. These organizations combine Paolo's decades of experience in business, technology and academia, to transform how people think about diversity and what they do about it, with the ultimate goal of making our society more inclusive and equitable. Paolo is a Forbes contributor on Diversity & Inclusion, and has written for and been interviewed by a number of other media outlets. He holds degrees in Applied Mathematics, Aerospace Engineering and Computational Neuroscience, and is the recipient of numerous awards including a Neuroscience Fellowship from the Sloan Foundation, a Young Investigator Award from the Office of Naval Research, and a Moonshot House Fellowship from the Kravis Center for Social Impact. He was a tenured faculty member at Boston University and has also taught at Tufts University and CCNY. Watch the TEDx talk where Professor Gaudiano introduces the need, opportunity, and power of quantifying the value of Diversity & Inclusion.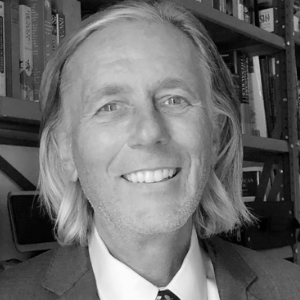 Paul Hayes
Guest Professor
---
Professor Paul Hayes teaches courses in International Finance, and Money and Banking. He has more than 25 years of experience working in corporate finance for large multinational corporations.  He most recently has served as Assistant Treasurer and Corporate Officer of Arconic Inc., managing Arconic's global activities in corporate banking, foreign exchange, and metal trading.  Prior to joining Arconic, Professor Hayes worked in global finance and capital markets roles for Alcoa Inc., Lucent Technologies, and AT&T Corp.  He has also worked in the nonprofit sector in international relief and development. Professor Hayes has a bachelors degree in Literature from Wheaton College, Wheaton IL, and a Masters in Public Health from UNC Chapel Hill, and an MBA in Analytical Finance from the University of Chicago.
Last Updated: 07/26/2021 10:11