Bridge to Mathematics Teaching – An A4A Extension Program
In partnership with NYCDOE, CUNY has been providing elementary and middle school teachers with an opportunity to earn a tuition-free 15 credit micro-credential in mathematics content and pedagogy. This micro-credential program can now form the bridge from elementary to middle school mathematics teaching. Teachers can use the program to step into middle school mathematics teaching and leadership through our new MSEd Professional Certificate in Mathematics Education and Leadership Program.  
The Master of Science (MSEd) in mathematics education and teacher leadership program, will promote and support teacher leadership in order to improve teaching and learning in mathematics in grades K-9. It addresses certified elementary teachers (general elementary teachers as well as special education teachers and TESOL teachers as well as possibly others) with a passion and interest in the learning and teaching of mathematics in grades 1-6.  Furthermore, it intends to prepare these educators both with respect to content and pedagogy as well as leadership skills, with the intent that they will assume leadership roles in their schools as teachers, coaches, professional development facilitators, mentors and administrators.
Upon successful completion of the program all teachers receive a master's degree. For those with Initial New York State Certification in Childhood Education, this program will fulfill the master's degree requirement for Professional Certification.
Additionally, as the program will include several mathematics content courses and a one-credit internship in middle school, teachers will be eligible for New York State initial teacher certification in Middle School Mathematics if, in addition to completing the program, they receive a passing score in the CST (004).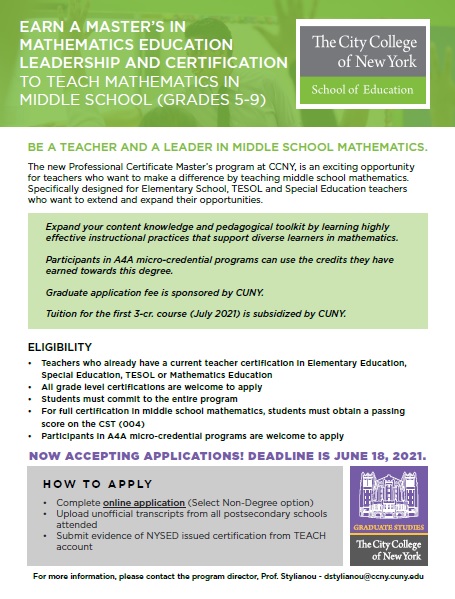 Last Updated: 06/03/2021 14:34