The New Educator Journal
The New Educator is a quarterly peer-reviewed journal published by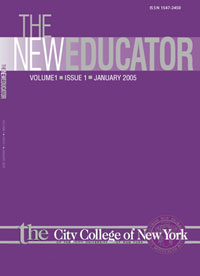 The School of Education of The City College of New York
(www.ccny.cuny.edu) and The Association of Teacher Educators (ATE) (http://www.ate1.org/pubs/home).  As of Volume 7, 2011, it is published Taylor & Francis/Routledge. 
Focusing on the challenges of building and sustaining professional community in the education of new educators, The New Educator
serves as a forum on issues that teacher educators, teacher education programs, and school systems encounter in the preparation, recruitment, induction, retention, and ongoing support of educators new to the field.   Defining "educator" broadly to include classroom teachers, administrators, counselors, support staff, teacher educators, and those who educate outside of school settings, the journal is particularly interested in work that links theory with practice, is generated through practice, is useful and accessible to the field, and reflects the needs and perspectives of the diverse communities served by educational institutions in this new century.
The New Educator features research articles, essays, commentaries, reports, program descriptions, reflective narratives, humor, interviews, photos, and book and resource reviews.  Themes addressed in ongoing issues include:  Preparing educators for the 21st century - meeting the challenges; standards, assessment, and accountability for educators; responding to the challenges of diversity in our schools; lessons from effective classrooms in PreK-12 schools as well as teacher education programs; educating educators for democratic practice; leadership for learning; the first year of teaching; educating educators for diverse settings - after-school programs, museums, juvenile detention centers, etc.  Past issues have featured the work of Marilyn Cochran-Smith, Linda Darling-Hammond, Eleanor Duckworth, Joyce Epstein, John Goodlad, Maxine Greene, Martin Haberman, Asa Hilliard, Sonia Nieto, Lee Shulman, Arthur Weiss, and other well-known as well as emerging scholars.
Manuscripts can be submitted for review electronically to http://mc.manuscriptcentral.com/utne. Please review our author guidelines.
Subscriptions for individuals can be obtained by becoming a member of the Association of Teacher Educators (at https://ams.ate1.org/NewMember.aspx)  The fee is $100/year and also includes a subscription to The New Educator as well as ATE's other publication, Action in Teacher Education (http://www.tandf.co.uk/journals/titles/01626620.asp)
Subscriptions for institutions are available through Taylor and Francis (at http://www.informaworld.com/smpp/title~content=t713873161~tab=subscribe~db=all)
More information:
Advisory/Editorial Board  The New Educator