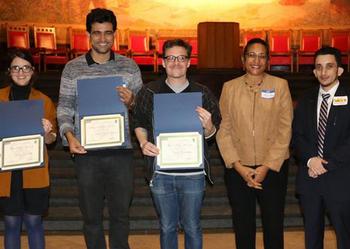 From left: Division of Science winners Julia Castello, Samuel Augusto Wainer and Joseph Brisendine; Juana Reina, CCNY vice president for Student Affairs; and Muaad Alody, president of the CCNY Graduate Student Council.
Fifteen City College of New York graduate students walked away with cash prizes for their work at the Ninth Annual Graduate Student Research Symposium.
The symposium offers students the experience to share their findings in a professional and academic setting. A total of 34 students presented their research at the event, hosted by the Graduate Student Council at City College.
The winners and their topics were:
Sebastian Cordoba, Psychology, "Homosexuality in Japan";
Isabella Fante, Public Administration, "Emotional Intelligence and Academic Performance: Preliminary Results of a Correlative Study of New York City Public School Students Attending a Community-Based Organization's After School Program";
Francisca Villar, Educational Leadership, "How can school leaders increase parent engagement for 10th grade English Language Learners in urban schools for the 2016-2017 school year?";
Jackie Du, Art Education, "YAZA: Young Artist Zine Alliance";
Elle Sauer, Art Education, "YAZA: Young Artist Zine Alliance";
Yassine Mhandi, Electrical Engineering, "Design and Implementation of CCNY DC Microgrid Testbed";
Elizabeth Mansfield, Biomedical Engineering, "Engineered trachea replacement";
Wei Li, Computer Science, "Computer Vision and Deep Learning";
Megan Fullagar, Branding and Integrated Communications (BIC), "Effigies for Equality: Advertising Campaign for Gender Equality";
Naushika Perera, BIC, "Gender Inequality and Changing the Way that Charities Fundraise";
Tung-Han Lin and Mark Arem, BIC, "Multimedia campaign for Top of the Rock";
Joseph Brisendine, Physics, "Information, Energy, and Evolution";
Samuel Augusto Wainer, Mathematics, "Spinorial Characterization of Immersion of Surfaces"; and
Julia Castello, Biochemistry, "The role of CK2 in mood disorders."
"It was so impressive to see the depth of questions the students are pursuing, the interdisciplinary interactions during the presentations, and the numbers of the faculty who came out to support the students," said Associate Provost for Research Ashiwel S. Undieh.
The Symposium was co-sponsored by the Division of Student Affairs, Department of Student Life, CUNY's University Student Senate and the Auxiliary Enterprise Corporation.  
About The City College of New York
Since 1847, The City College of New York has provided low-cost, high-quality education for New Yorkers in a wide variety of disciplines. More than 15,000 students pursue undergraduate and graduate degrees in the College of Liberal Arts and Science; Bernard and Anne Spitzer School of Architecture; School of Education; Grove School of Engineering; Sophie Davis Biomedical Education/CUNY School of Medicine; and the Colin Powell School for Civic and Global Leadership. U.S. News, Princeton Review and Forbes all rank City College among the best colleges and universities in the United States.