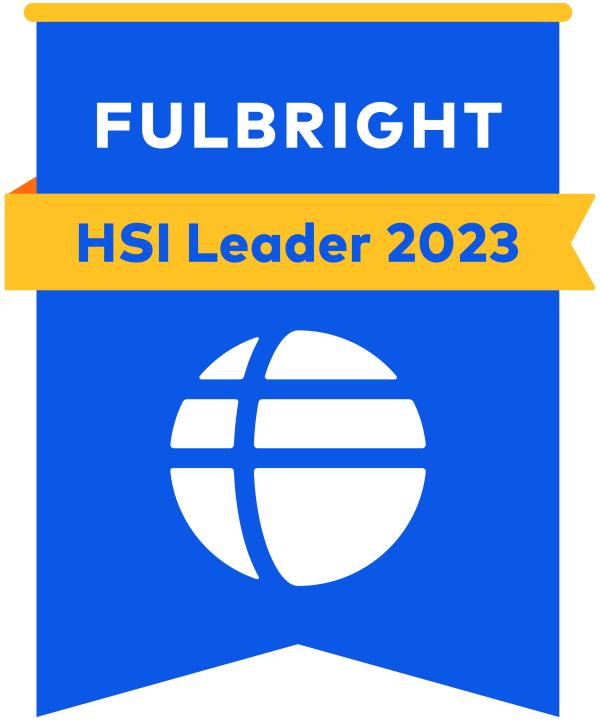 CCNY remains one of the nations Fulbright HSI leaders, according to the U.S. State Department.
For the third year running, the U.S. Department of State's Bureau of Educational and Cultural Affairs (ECA) is proclaiming The City College of New York a Fulbright Hispanic–Serving Institution (HSI) Leader. ECA announced the top HSI leaders for 2023 during the International Plenary session of the Hispanic Association of Colleges and Universities (HACU) Annual Conference in Chicago today.

The distinction is in recognition of the strong engagement of select HSIs with the Fulbright Program, the U.S. government's flagship international academic exchange program.

Fulbright HSI Leaders demonstrate noteworthy support for Fulbright exchange participants and promote Fulbright program opportunities on campus.  The initiative encourages administrators, faculty and students at HSIs to engage with Fulbright and highlights the strength of HSIs as destinations for international students and scholars. The City College was also highlighted in 2022 and 2021.

Lee Satterfield, assistant secretary of state for Educational and Cultural Affairs, commended the institutions receiving the Fulbright HSI Leader designation this year.  "Representation matters and pairing the world-class educational opportunities that Hispanic-Serving Institutions provide with the power of Fulbright further enriches the experience and educational opportunities for students and scholars both at home and abroad."

CCNY President Vincent G. Boudreau said college education today no longer can exist within the confines of a series of classrooms and laboratories.  
"The development of a dynamic problem solving workforce, able to navigate a complex and diversified world, demands an educational experience that links on campus learning with deep engagement outside the classroom," Dr. Boudreau noted. "Service learning, internship opportunities, study abroad and community based participatory research all help educators develop the engaged graduates we so desperately need.  These opportunities must also be extended to the whole people, and in this light, CCNY's record as an HSI that successfully and regularly secures Fulbright awards for its students represents critical evidence that we are advancing our core educational mission." 

Recent Fulbrighters at CCNY have included:
Jennifer Lutton is Fulbright Program Advisor at CCNY. To apply for a Fulbright at CCNY, email her at jlutton@ccny.cuny.edu . 

On Nov. 9, the U.S. Department of State will host a Fulbright HSI Virtual Workshop featuring representatives from Fulbright HSI Leaders to share best practices to engage and support students and faculty, increase the global footprint on campus through the Fulbright Program, host international Fulbright students and scholars, and build international networks.  This event is open to the public and is specifically designed for faculty, staff, and stakeholders at HSIs. 

About the Fulbright HSI Leaders Initiative
The U.S. Department of State's Bureau of Educational and Cultural Affairs (ECA) recognizes institutions annually as "Fulbright Hispanic-Serving Institution (HSI) Leaders" for their noteworthy engagement with the Fulbright Program, the U.S. government's flagship international educational exchange program. The 2023 Fulbright HSI Leaders were recognized for sending and/or hosting U.S. and international Fulbright students, scholars, and specialists as well as on-campus engagement and support of the Fulbright Program for the 2022-2023 academic year. The purpose of the initiative is to commend the strong partnership between the Fulbright Program and selected  HSIs to inspire all  HSIs to increase their Fulbright engagement. This initiative is part of the U.S. State Department's long-standing commitment to diversity and inclusion within the Fulbright Program and within the Bureau's international exchange programs overall. Fulbright seeks to represent the full diversity of the U.S. scholarly community by highlighting the contributions of HSIs.
About the Fulbright Program
The Fulbright Program is the U.S. government's flagship international academic exchange program. Since its inception over 75 years ago, the Fulbright Program has provided over 400,000 talented and accomplished students, scholars, teachers, artists, and professionals of all backgrounds and fields with the opportunity to study, teach, and conduct research abroad. Fulbrighters exchange ideas to build mutual understanding and find solutions to critical global issues. Each year, the U.S. Congress appropriates funds to the U.S. Department of State to sponsor the Fulbright Program. Many foreign governments contribute substantially as well. Additional funding and in-kind support is provided by U.S. and foreign host institutions, non-governmental organizations, private organizations, corporate partnerships, and individual donors. The Fulbright Program has designed and implemented a wide range of initiatives to increase the diversity of its participants and promote their inclusion and belonging. Fulbrighters come from all backgrounds and are selected through an open, merit-based competition, regardless of their race, color, national origin, sex, age, religion, geographic location, socio-economic status, disability, sexual orientation, or gender identity. Information on the Fulbright Program's diversity and inclusion initiatives is detailed on the Fulbright Program website. Click here for more information. 
About The City College of New York
Since 1847, The City College of New York has provided a high-quality and affordable education to generations of New Yorkers in a wide variety of disciplines. CCNY embraces its position at the forefront of social change. It is ranked #1 by the Harvard-based Opportunity Insights out of 369 selective public colleges in the United States on the overall mobility index. This measure reflects both access and outcomes, representing the likelihood that a student at CCNY can move up two or more income quintiles. Education research organization Degree Choices ranks CCNY #1 nationally among universities for economic return on investment. In addition, the Center for World University Rankings places CCNY in the top 1.8% of universities worldwide in terms of academic excellence. Labor analytics firm Emsi (now Lightcast) puts at $1.9 billion CCNY's annual economic impact on the regional economy (5 boroughs and 5 adjacent counties) and quantifies the "for dollar" return on investment to students, taxpayers and society. At City College, more than 15,000 students pursue undergraduate and graduate degrees in eight schools and divisions, driven by significant funded research, creativity and scholarship. This year, CCNY launched its most expansive fundraising campaign, ever. The campaign, titled "Doing Remarkable Things Together" seeks to bring the College's Foundation to more than $1 billion in total assets in support of the College mission. CCNY is as diverse, dynamic and visionary as New York City itself. View CCNY Media Kit.