1. EXCITING RESEARCH!   
We pursue projects that range from condensed matter physics to neuroscience, ultrafast photonics to environmental chemistry, nanomaterials to cancer cells, ecology to molecular biology, biophysics in the lab and in silico. The Science Division at The City College of New York (CCNY) includes about 80 research-active faculty scientists, with three members of the National Academy of Sciences and six University Distinguished Professors, bringing in more than $17 million annually in grant funding. We publish widely, present our findings at numerous conferences, and serve on prestigious review panels and editorial boards.    
2. FLAGSHIP INSTITUTION  
Since its founding in 1847, The City College of New York has provided world-class higher education to an increasingly diverse student body, serving as one of the single most important avenues to upward mobility in the nation. Access to excellence remains the vision of the College today. CCNY is now a Ph.D.-granting institution in the fields of biochemistry, biology, chemistry, physics, and engineering; our Earth and Atmospheric Sciences and Mathematics programs are also on their way to attaining comparable status in the near future.
3. RESEARCH INSTITUTES AND CENTERS 
CCNY's Science Division is home to several University Institutes and College Centers that bridge disciplinary boundaries and build on the complementary strengths of individual research groups. The Institutes focus on ultrafast spectroscopy and lasers, physico-chemical hydrodynamics, and macromolecular assemblies. The Centers study the cellular and molecular basis of development, remote sensing science and technology, cancer research, analysis of structures and interfaces, and nanostructures in sensors and energy systems.
4. FACILITIES  
The 360,000 sq. ft. Marshak Science Building houses excellent core facilities for electron and confocal microscopy, cellular microsurgery, solution and solid-state nuclear magnetic resonance, x-ray diffraction and fluorescence for materials science, mass spectrometry, computational physics and biophysics, and atomic absorption spectrometry and a new vivarium adjacent to the building. Renovation is underway for interdisciplinary neuroscience research.   Also under construction on our South Campus is an Advanced Research Complex including a building for CCNY's science programs and a CUNY-wideAdvanced Science Research Center, planned for nearly 400,000 sq. ft. of state-of-the-art laboratories and offices, equipment facilities, social space, and a lecture hall. Together with the adjacent NY Structural Biology Center, the buildings will form a research hub with outstanding opportunities for faculty and students.
5. LOCATION 
Located in the up-and-coming Hamilton Heights section of Manhattan, CCNY is accessible by major subway and bus lines. Walk to the NY Structural Biology Center or Columbia University, hop a quick train to the CUNY Graduate Center, attend seminars at other CUNY campuses, explore New York City's cultural and recreational treasures.
6. COLLABORATIONS 
Researchers in CCNY's Science Division cooperate closely with their counterparts at the CUNY Medical School, New York Center for Biomedical Engineering, and Research Coordination Network for Emerging Methodologies of Molecular Structure Determination of Biological Solids, all housed on our campus. We have easy access to 9 high-field NMR spectrometers operating at 500-900 MHz, 3 cryoelectron microscopes, and an X-ray beam line for crystallography through the New York Structural Biology Center, a world-class consortium of 10 NY research institutions. Our faculty and students also benefit from the CCNY-Memorial Sloan Kettering Cancer Research Partnership and numerous individual collaborations at Columbia, NYU, and the Albert Einstein, Mt. Sinai, and Cornell medical schools.
7. JOB PLACEMENT  
CCNY's Ph.D. students and postdoctorals have secured academic appointments including CUNY, Brown, U. of Houston, Amherst, Howard, Interamerican U. of Puerto Rico, and the Tata Institute (India); they also work at NIH, FDA, and Lawrence Livermore National Laboratories, and at industrial firms including IBM, Bristol-Myers Squibb, Intel, Boeing, Lockheed Martin, Con Edison, MTA and Raytheon.
8. HOUSING & FOOD  
The Towers is a new campus residence hall located at St. Nicholas Terrace and West 130th Street, housing 600 students in furnished, air-conditioned, wireless Internet equipped apartment-style units with private or shared bedrooms. CCNY also refers students to International House (500 Riverside Drive, 212-316-8436), Sussex House (260 West 41st Street, 212-719-3700), and The Student Housing Center, a no-fee brokerage service (212-977-9099). Our Ph.D. students typically reside in Upper Manhattan, Queens, the Bronx, or Brooklyn.   In addition to student and staff cafeterias, the Marshak Science Building boasts its own café with delicious coffees, teas and snacks. West Harlem's ever expanding Viaduct Valley near CCNY features upscale but affordable eateries including the Dinosaur Bar-B-Que, Hudson River Café, Covo and Talay. Within a few blocks of campus you can also find Dominican, Mexican, Puerto Rican, and Ecuadorian delights, all reasonably priced!
9. TEACHING AND MENTORING  
Professional training of our Ph.D. students typically includes part-time teaching duties for undergraduate lab courses, problem-solving sessions, and/or exam grading. Additional opportunities to teach high school and college students include research mentoring, curriculum design for CUNY's GK-12 and College Now programs, and research- inspired lab workshops conducted with CCNY's Pathways Bioinformatics and Biomolecular Center.
10. CAMARADERIE  
The CCNY Science Division Forum maintains up-to-date information on seminars and symposia, faculty and staff, core equipment facilities, building services, course schedules, research opportunities, and Division administration. All division parties and Town Hall meetings are held several times a year.   We trade research tips at group meetings, share use of exotic equipment, read drafts of grant proposals, and rehearse each other for upcoming Qualifying Exam presentations. CUNY'sInstitute for Macromolecular Assemblies hosts a 'Taste of Science,' a get-together for students and faculty every two weeks. Our community aims to pull together!
Quick Links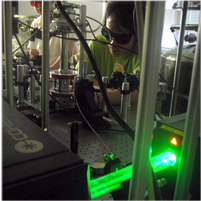 Prof. Carlos Meriles' Lab:Hyper-Polarization, Magentic Resonance, Ultrasensitive Detection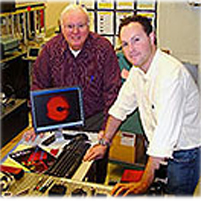 Robert Alfano, Distinguished Professor, and Henry Sztul, Ph.D. Student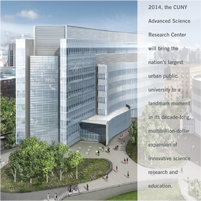 The Advanced Science Research Center, to open in 2014.
Giovanni Milione, Ph.D. Student, giving a poster presentation
Jonathan Friedman, Ph.D., City University of New York (1996)
Associate Professor of Physics, Amherst College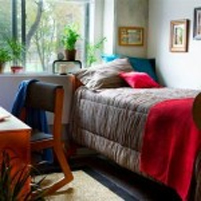 A typical room at CCNY's Towers student housing
 Myriam Sarachik,Distinguished Professor, and students in the Low Temperature Lab
Last Updated: 09/30/2019 10:44