Dear Members of the City College Community,
It gives me great pleasure to announce that Dr. Vanessa Valdes will be assuming the directorship of the CCNY Black Studies Program effective spring 2019. I make this move on the recommendation of the program's executive committee Profs. Michael Gillespie, Linda Villarosa, Boukary Sawadogo and Asha A. Samad-Matias and Black Studies major Christopher Henry. Dr. Valdes comes to this position after years of teaching in and working with the program, and I am powerfully confident that her vision and commitment to education in this area will stand the program in good stead for years to come.
Dr. Valdes has an accomplished record of scholarship. She is the author of three university press published books, all dealing with the cultural life of the African diaspora in the Americas. Most recently, she published the acclaimed Diasporic Blackness: The Life and Times of Arturo Alfonso Schomburg. Her earlier works trace the cultural lives of women in the diaspora, and investigate the continuities between the African Diaspora in the Caribbean and in the United States
I am excited that Dr. Valdes has agreed to assume the directorship of the Black Studies Program, and I know that our students and the program generally will benefit from her wise leadership. Please join me in congratulating Professor Valdes for this new position. She has my deep gratitude and full support as she takes on this new responsibility.
Sincerely,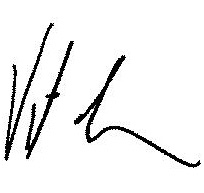 Vince Boudreau
President