Dear Members of the Campus Community,
I am pleased to announce that Dee Dee Mozeleski, who has served as the Interim Executive Director of the 21st Century Foundation will be continuing in the capacity of Executive Director of the Combined CCNY Foundations (the name we're calling the two foundations pending final approval by the AG's office and the IRS). I thought it appropriate to reserve this move until the merger documents for the foundations had been signed, but that moment is upon us, and so, after consulting with the respective chairs of the two foundations, I think that the time is now ripe to make this move.
As anyone who's watched the progress of our development operation knows, Dee Dee has worked tirelessly to make sure that our philanthropic activities rise to the great heights of our potential and our need. She spent countless hours rebuilding the apparatus of a development office that was badly in need of attention, merging the operation of the communication office with development so we can more effectively tell our story to those who wish to support us, and merging the two foundations into one cohesive and powerful unit. During this time, she shouldered the ongoing task of fundraising on campus, hitting last year the highest receipts since 2013.
Throughout this run of truly exceptional accomplishments, Dee Dee deepened her understanding of the college, and mobilized that understanding into a development strategy in which we can all have great confidence. Speaking for myself, I have absolute faith in her ability and commitment to our college, and I am thrilled that she has agreed to shed the term "interim" in her title, and take on the responsibilities of running the foundation as executive director on a permanent basis. I offer her, with this announcement, my enthusiastic congratulations, and my sincere and abiding gratitude.
Sincerely,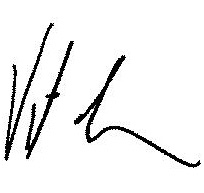 Vince Boudreau
President