Dear Members of the City College Community,
It is my truly heavy responsibility to relate the news that Don Jordan, who for so many years led the City College Alumni Association, has passed away. For thirty-two years, Don served as the Association's Executive Vice President, a position that put him in charge of a vast array of planning and day to day operations for the Association. Don truly lived for CCNY and the CCNY Alumni Association, and for over three decades, it thrived under his stewardship.
Don retired from the City College Alumni Association this past December, amid a valiant struggle with the illness that recently claimed his life, but it is beyond question that, had he been able, he would have worked in Shepard Hall until his very last day. As an institution, we owe Don a great debt of gratitude. He was--in the words of the song he sang so often--a sturdy son of City College, and we will surely miss him.
Visitation will take place today, Monday the 12th of August from 4:00 to 8:00 PM at the Holmdel Funeral Home, 26 South Holmdel Road, Holmdel NJ. On Tuesday the 13th, there will be a funeral mass at St. Catherine's Church, 108 Middletown Rd., Holmdel NJ.
Sincerely,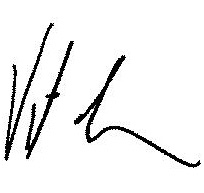 Vince Boudreau
President