Dear Colleagues,
I'm writing to wish each of you a joyful holiday season, a restful break from the work we do together, and a prosperous and rewarding new year.
These last few weeks have been a whirlwind for me—even more than the normal whirlwind that accompanies the weeks leading to a semester's break. In all that activity, I haven't yet had the chance to write to everyone on our campus about the leadership change at CCNY. So with your indulgence, I'd like to take the opportunity of this message to correct that lapse.
I am deeply honored to have the opportunity to lead CCNY as its 13th president, but also profoundly cognizant of the responsibility I now shoulder. The dream of an egalitarian public higher education system that we all inherited—the fond vision of a society that provides a way forward for everyone with talent, no matter their circumstances—germinated with the Free Academy, and lives today in our work and in our hopes. There's not a second that I don't think of how precious those ideas are, or how jeopardized they now seem.
They are in jeopardy, it seems to me, for a host of reasons. Our political and social climates, in some quarters at least, have turned against the positions of generosity and optimism embodied by CCNY. The national approach to public higher education has soured, at least for the moment, on the idea of public education as a public good. And, as a campus, we have a great deal of work to do to prepare ourselves to prosper under the current conditions.
We can't afford to fall short in that work, and that requires that we allow a critical and constructive spirit to inhabit our days, thinking long and hard about what our college can be, and single-mindedly pursuing success, even when success demands hard decisions. It means tackling stubborn problems head on: problems of budget, problems of governance, management and transparency, and problems of how we relate to and protect one another—particularly where these problems have been allowed to fester. I will endeavor to do this, and to do it in a spirit of collaboration and respect without which I can have no hope of progress.
I know that CCNY is hungry for such an effort. We must all understand, in our hearts, that the institution simply cannot keep spinning along well-worn tracks, using up our diminishing stock of resources, energy, and patience.
I know that you expect much of me. I understand that the job I take on is not a vanity project, but the most sacred of public trusts. I will work every day to be respectful of your thoughts and feelings, to appreciate the conditions of your work, to value your talent and success, and to understand the place of every one of you in our grand community. I will surely call on you, individually and as a campus, for help, for advice, and for understanding. I am looking forward to this work, daunting as it may be, largely because I've grown into it in your company, and know the great things that we can expect from one another.
So enjoy your break. I wish you all a pleasant holiday, safe travels, and the comforts of home and family. May the joys of this season be with each of you until we meet again, and when we meet, let's take on this great work together.
Sincerely,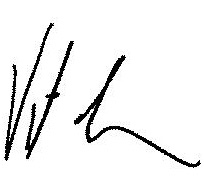 Vince Boudreau
President