I'm writing to discuss the task force that I've convened. Under normal circumstances, a new president would convene a strategic planning process, designed to outline her or his vision of the college and to set priorities for the new administration. We have just passed through a lengthy strategic planning process that set some goals for our work, many of which are worthy. What we have not done—what that planning process did not accomplish—is to take on the long-term, structural difficulties that the college faces.
For some time, CCNY has existed in a deeply structural budget deficit, surviving at first by spending down financial reserves, but with fewer and fewer resources to do so as time wore on. We have, through these years, managed annual budget shortfalls by across the board cuts, efforts to grow enrollment, and other ad hoc or insufficient measures. What we have not done, even in our strategic planning efforts, is to evaluate the relationship between our mission, our successes, our vulnerabilities, and a set of budgetary priorities. We cannot simply trim our way out of our current difficulties, and we have exhausted the reserves we once had to bridge budgetary shortfalls. We need, instead, to undertake an effort to shape the college in ways that capitalize on what we do best, conserve where we can and should, and set a plan that works within the resources that we have (while always trying to expand those resources).
Here's where we start: We have a unique identity and mission: to provide a high-quality education to the children of New York City, new immigrants, members of under-represented groups, and those without economic means. We also have been, and should continue to be, an institution known for its research and intellectual contributions to humanity, research that has consistently addressed issues affecting the lives of people living in our proximate neighborhoods and populating our classrooms. However, as we have attempted to provision the campus in ways that leave departments insufficiently staffed, that produce lapses in maintenance for physical and research facilities, that denude student services, and leave other gaps, the College's ability to meet its mission has been undercut.
The unique composition of City College - professional schools (Architecture, Education, Medicine, and Engineering) coupled with a College of Liberal Arts & Sciences (CLAS) - enriches the academic lives of students but also requires additional investments on multiple fronts. Recent budgetary pressures force us to confront the fact that teaching and research costs vary widely across its divisions. City College can only sustain its mission and increase its national standing if its financial health is restored and a clear strategy devised for increasing financial resources for future growth. One major focus of the task force will be the relationship between the arts and sciences departments and the professional schools and how it can be reimagined so as to tap the strength of existing programs and to create new ones. Another will be the improvement of student services and support, administration, and the management and maintenance of the College's physical plant.
To guide the college through these next few years, I'll need a foundation of data and analysis—data that is open for our entire community to view, and analysis that helps make the basis for decisions and necessary trade-offs among our goals explicit and public. To help provide this information, I have organized the Task Force to identify the decisions that brought the College to its current state and to recommend short and long-term steps to restore the health of the College. The Task Force's findings will be shared with College governance bodies, and with the entire college community, for comment and consideration before the process is formally closed and finally submitted to me. The Task Force will begin its work on February 16 with the view of completing it within three months.
Membership of the Task Force
The task force will consist of a steering committee and four sub-committees. I will convene the steering committee, but for much of the Task Force's operation, will not participate in its meetings. I have asked David Jeruzalmi to co-convene the Task Force with me, and to play a more directly involved leadership role in its meetings, and he has graciously accepted that request. The steering committee consists of the eight academic deans, eight faculty members (one from each academic unit) and four staff members selected for their particular expertise. The sub-committees will include five members of the steering committee (two deans, two faculty, and one staff member) augmented by members of the College community with expertise germane to the committee's areas of responsibility.
Members of the Task Force Steering Committee are as follows:
Deans: Gilda Barabino, Gretchen Johnson, Gordon Gebert, Maurizio Trevisan, Erec Koch, Kevin Foster, Tony Liss and Juan Carlos Mercado
Faculty: Mitchell Scheffler (engineering), Hazel Carter (Education), Marta Guttman (architecture), Jack Martin (Medical School), Ellen Handy (H&A), Rajan Menon (Colin Powell School) and Anuradha Janakiraman (Science), and Justin Martin (CWE)
Staff: Doris Cintron, Celia Lloyd, Felix Lam and Ken Ihrer
I am grateful to each of the men and women who have agreed to serve on this Task Force.
I have decided not to rely on any consultants to assist in this process. These are expensive outfits and typically, I find, make their living by producing boilerplate and feeding your own ideas back to you as if they were their own. Rather, I asked CCNY's Johanna Urena to serve the Task Force as its project manager. It will be her responsibility to keep the Task Force on schedule, and to help resolve issues that arise, for example, in the provision of data to the Task Force from various offices of the college. Her work as Task Force project manager, and liaison between the Task Force and the college, has my full confidence and the backing of my office.
Focus of the Task Force
The following are among the questions that the committee will consider: What are the College's major successes, and what opportunities lie ahead, and how are we to define and measure these successes and opportunities? What costs and other obstacles must the College contend with in trying to improve upon what it currently does well, and to seize new opportunities? What synergies exist among the College's different units, what are the attendant tradeoffs, and how can innovative cross-divisional research and teaching initiatives be formulated and realized? In order to find answers to such questions, the task force will identify areas for future growth, areas in which growth may no longer be justifiable, and the costs and benefits (both financial and otherwise) of trade-offs among these areas.
At the first meeting of the task force, I will workshop, with the steering committee, a list of more specific questions to guide their work, questions designed to produce precise empirical foundations for our work on campus. Based on those questions, I will ask any and all personnel and agencies of the college to provide, on a continuing basis, whatever data and sources of data are deemed necessary to complete this work, and will work to insure this cooperation.
The task force's sub-committees will be organized as follows:
Finances: This sub-committee will construct a fiscal history of the College from 2005 to the present. The goal of this exercise will be to examine how changes in the College's budget, enrollment, revenue, spending choices, and external circumstances have created the current crisis.
Academics: This sub-committee will consider the size, costs, and successes of the College's departments as well as the opportunities for innovation and growth in various disciplines.
Student Services: This sub-committee will examine the effectiveness of the offices of financial aid, the bursar, and the registrar. This review will encompass the management of student scholarships, the collection of student support, and internship services.
Facilities and Information Technology: This sub-committee will adequacy of funding, staffing, and plans related to the College's physical plant.
I said early in their letter that I hope the work of the Task Force will be completed within 3 months. I set that goal because I'll need to results of the Task Force analysis to set our course for next year. Working on this accelerated schedule will be demanding for all of us. It also means that we will not have the opportunity for as lengthy a set of consultations or town halls as some might like before a preliminary set of analysis comes out. That said, I want to emphasize that this is in no way a closed or confidential process. The documents and data produced by the Task Force will be available for public review, and we will soon lay out the mechanism by which you will have access to them. The working groups will have occasion to consult with stakeholders across the college. Further, sub-committee membership will include at least as many non-steering committee members as representatives from that committee. In all of these ways, I am hoping to thread a line between the efficiency of working in a small group and the democracy of an open process. The final document, before it becomes a foundation for action, will be subject to open and public review.
Finally, I want to emphasize that the analysis and recommendations that the Task Force makes will be advisory to me. In the end, the document will inform decisions that I'll need to make, and allow the college community access to the data and analysis that provided the foundation for these decisions.
I thank everyone who has agreed to work with me on this process. I have great hopes that the work we do together in these difficult times will help us secure the future of our great institution.
Sincerely,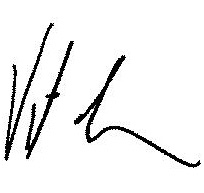 Vince Boudreau
President