Dear Members of the Campus Community,
Over the past year or so, as we've undertaken a fairly large number of searches to fill vacancies on the campus leadership team, we also asked members of our community to step in and provide for the college's needs on an interim basis. One of these interim appointments ended recently, when I asked Celia Lloyd to assume the position of Vice President for Students and Enrollment.
Wendy Thornton has served for over a year as CCNY's Interim Vice President for Student Affairs. In that capacity, she brought stability and leadership to a truly important division of the college. On her watch, we transferred the organizational responsibility for graduation to the division of student affairs, and they produced a spring commencement season that went off without a hitch, and produced a great many lasting memories for our graduates, their family, and the many of us who were able to attend one of the ceremonies. Wendy also deftly administered some of the core student services functions: athletics, student government, the wellness and counseling centers, to name a few. On her watch, these offices performed with effectiveness and continuity, something at is a tribute to her work and leadership.
Wendy now returns to her deanship in the division of student affairs, but I did not want the moment to pass without expressing my personal gratitude to her, and my admiration at the way she led what is a vast set of departments under a challenging transition.
On behalf of the campus, I'm pleased to offer her our sincere and deep gratitude.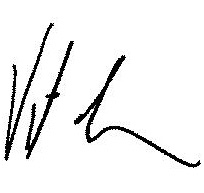 Vince Boudreau
President