Books and Publications
"Diasporic Blackness: The Life and Times of Arturo Alfonso Schomburg"
By Dr. Vanessa K. Vladés
In A Black Puerto Rican–born scholar, Arturo Alfonso Schomburg (1874–1938) was a well-known collector and archivist whose personal library was the basis of the Schomburg Center for Research in Black Culture at the New York Public Library. He was also an autodidact who matched wits with university-educated men and women, a prominent Freemason, a writer, and an institution-builder. Diasporic Blackness is the first book-length examination of Schomburg's life through the lens of both Blackness and latinidad.
While he spent much of his life in New York City, Schomburg was intimately involved in the cause of Cuban and Puerto Rican independence. In the aftermath of the Spanish-Cuban-American War of 1898, he would go on to cofound the Negro Society for Historical Research and lead the American Negro Academy, all the while collecting and assembling books, prints, pamphlets, articles, and other ephemera produced by Black men and women from across the Americas and Europe. His curated library collection at the New York Public Library emphasized the presence of African peoples and their descendants throughout the Americas, and would serve as an indispensable resource for the luminaries of the Harlem Renaissance, including Langston Hughes and Zora Neale Hurston. By offering a sustained look at the life of one of the most important figures of early twentieth-century New York City, Vanessa K. Valdés suggests new ways of understanding the intersections of both Blackness and latinidad.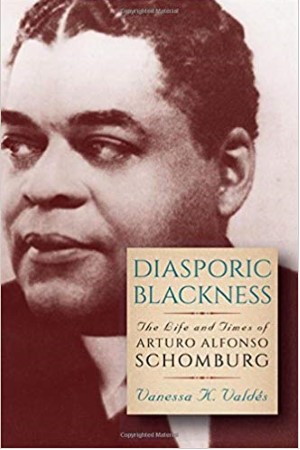 "African Film Studies"
Professor Boukary Sawadogo
African Film Studies: An Introduction is an accessible and authoritative textbook on African cinema as a field of study. The book provides a succinct and comprehensive study of the history, aesthetics, and theory of sub-Saharan African cinematic productions that is grounded in the field of film studies instead of textual interpretations from other disciplines.
Bringing African cinema out of the margins into the discipline of mainstream film studies and showcasing the diverse cinematic expressions of the continent, the book covers:
Overview of African cinema(s): Questions our assumptions about the continent's cinematic productions and defines the characteristics of African cinema across linguistic, geographic, and filmic divides.
History of African and African-American cinema: Spans the history of film in Africa from colonial import and 'appropriation of the gaze' to the quest for individuality. It also establishes parallels in the historical development of black African cinema and African-American cinema.
Aesthetics: Introduces new research on previously unexplored aesthetic dimensions such as cinematography, animation, and film music.
Theoretical Approaches: Addresses a number of theoretical approaches and critical frameworks developed by scholars in the study of African cinema
All chapters include case studies, suggestions for further reading, and screening lists to deepen the reader's knowledge with no prior knowledge of African cinema required. Students, teachers, and general film enthusiasts would all benefit from this accessible and engaging book.
"Black Detroit: A People's History of Self-Determination"
Professor Herb Boyd
The author of Baldwin's Harlem looks at the evolving culture, politics, economics, and spiritual life of Detroit—a blend of memoir, love letter, history, and clear-eyed reportage that explores the city's past, present, and future and its significance to the African American legacy and the nation's fabric.
Herb Boyd moved to Detroit in 1943, as race riots were engulfing the city. Though he did not grasp their full significance at the time, this critical moment would be one of many he witnessed that would mold his political activism and exposed a city restless for change. In Black Detroit, he reflects on his life and this landmark place, in search of understanding why Detroit is a special place for black people.
Boyd reveals how Black Detroiters were prominent in the city's historic, groundbreaking union movement and—when given an opportunity—were among the tireless workers who made the automobile industry the center of American industry. Well paying jobs on assembly lines allowed working class Black Detroiters to ascend to the middle class and achieve financial stability, an accomplishment not often attainable in other industries.
Boyd makes clear that while many of these middle-class jobs have disappeared, decimating the population and hitting blacks hardest, Detroit survives thanks to the emergence of companies such as Shinola—which represent the strength of the Motor City and and its continued importance to the country. He also brings into focus the major figures who have defined and shaped Detroit, including William Lambert, the great abolitionist, Berry Gordy, the founder of Motown, Coleman Young, the city's first black mayor, diva songstress Aretha Franklin, Malcolm X, and Ralphe Bunche, winner of the Nobel Peace Prize.
With a stunning eye for detail and passion for Detroit, Boyd celebrates the music, manufacturing, politics, and culture that make it an American original.
"Film Blackness: American Cinema and the Idea of Black Film"
By Professor Michael Gillespie
In Film Blackness Michael Boyce Gillespie shifts the ways we think about black film, treating it not as a category, a genre, or strictly a representation of the black experience but as a visual negotiation between film as art and the discursivity of race. Gillespie challenges expectations that black film can or should represent the reality of black life or provide answers to social problems. Instead, he frames black film alongside literature, music, art, photography, and new media, treating it as an interdisciplinary form that enacts black visual and expressive culture. Gillespie discusses the racial grotesque in Ralph Bakshi's Coonskin (1975), black performativity in Wendell B. Harris Jr.'s Chameleon Street (1989), blackness and noir in Bill Duke's Deep Cover (1992), and how place and desire impact blackness in Barry Jenkins's Medicine for Melancholy (2008). Considering how each film represents a distinct conception of the relationship between race and cinema, Gillespie recasts the idea of black film and poses new paradigms for genre, narrative, aesthetics, historiography, and intertextuality.
Last Updated: 01/21/2020 12:13