Dear Members and Friends of the City College Community:
Primary Election Day is Tuesday, June 22, 2021 and polls are open from 6:00 am – 9:00 pm. Find your election day poll site here.
The primary election will be held for citywide offices including Mayor, Public Advocate, City Comptroller, City Council and Borough President. To participate in this election, you must be registered to vote. You can verify your registration status here.
Plan your Vote on Primary Election Day:
Absentee Voting

Deadline to return your completed absentee ballot is June 22. You can drop off your completed ballot to any poll site or to a Board of Elections Office by this date.
Mailed in ballots must be postmarked by June 22 and received the Board of Elections by June 29.

Vote in-person on Primary Election Day, June 22

Check your Election Day Poll Site location. Polls are open from 6:00 am – 9:00 pm.
Absentee ballots can be dropped off at poll sites during hours of operation.
Ranked-Choice Voting (RCV) will be used for this Primary Election. You can learn more about RCV and how to mark your ballot at NYCVotes and the NYC Board of Elections.
In an effort to engage CUNY students and young people in our communities around elections, CUNY has collaborated with NYCVotes in the WePowerNYC Campaign. The campaign aims to get students to Take the Pledge to Vote, and to sign up to receive election alerts and reminders to help them stay involved and engaged around voting and elections. Take the pledge to vote today.
Your Vote is Your Voice. Make it Count. Vote for your City!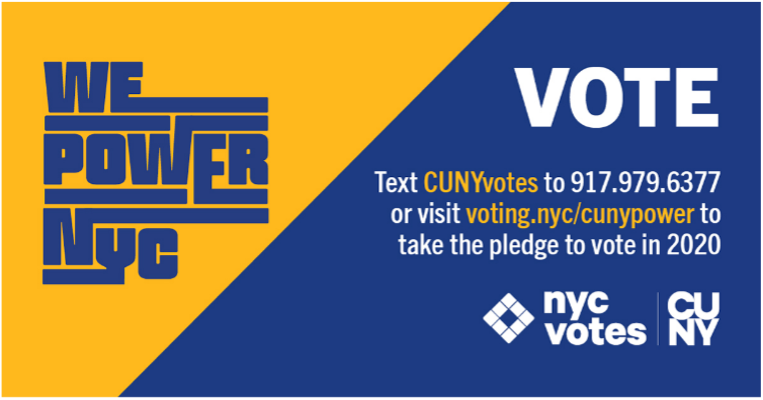 ---
Last Updated: 06/23/2021 10:37