Community and Cultural Affairs
The City College of New York is committed to supporting and collaborating with various community organizations and businesses. We frequently attend and sponsor many events and activities throughout the year. We also work closely with groups like Greater Harlem Chamber of Commerce and, Community Board 9, among others.
Arts and Culture is another way we connect with the community. Our City College Center of the Arts, is an umbrella for our arts programs that includes Aaron Davis Hall and Windows on Amsterdam: Community Art Gallery. 
City College Center for the Arts
Harlem's Premiere Performing Arts Center The Division of Government, Community & Cultural Affairs is proud to announce the launch of The City College Center for the Arts. The Center will serve as a cultural hub that builds a sense of community both within the school and its surrounding neighborhood, while inspiring creativity and diversity. It will also provide a premier venue for local and national performers and for art patrons in the tri-state area. Aaron Davis Hall, now under the auspices of The City College Center for the Arts, is the focal point of this creative revitalization.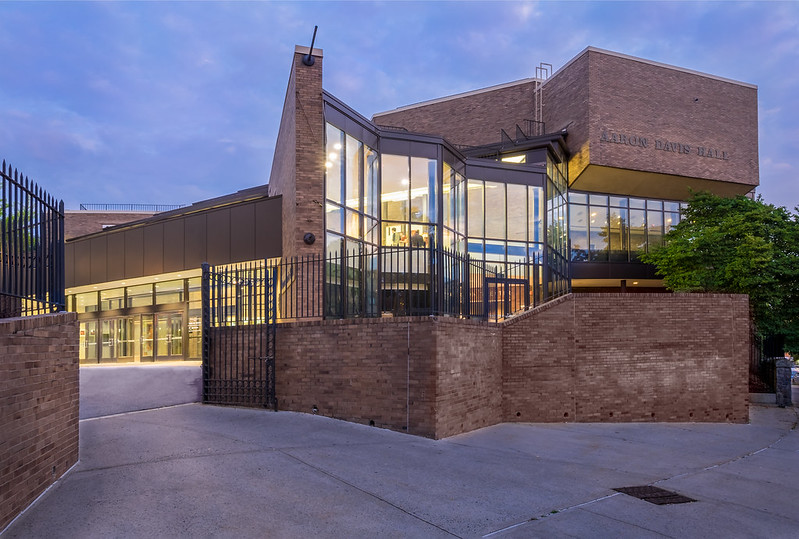 Manhattan Community Board 9
Manhattan Community Board 9 encompasses the West Harlem neighborhoods of Morningside Heights, Manhattanville, and Hamilton Heights. Extending from 110th Street to 155th Street, our boundaries are Cathedral Parkway on the south; 155th Street on the north; Manhattan, Morningside, St Nicholas, Bradhurst, and Edgecombe Avenues on the east; and the Hudson River on the west. 
The purpose of Manhattan Community Board 9 (MCB9) is to ensure that City services are accessible and responsive to the needs of all residents, organizations, businesses, and institutions in West Harlem. The New York City Charter mandates that all community boards advise and inform their respective constituencies on matters relevant to their immediate neighborhood.
Last Updated: 09/22/2023 16:59