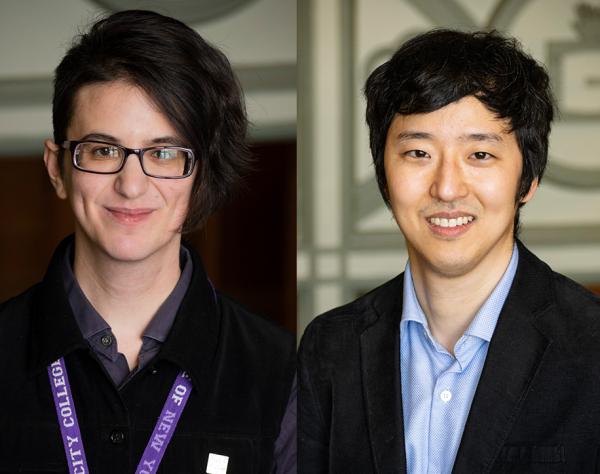 Historians Yaari Felber-Seligman [left] and Seiji Shirane are CCNY's newest NEH fellowship award recipients.
Yaari Felber-Seligman and Seiji Shirane, historians at The City College of New York, are the institution's latest National Endowment for the Humanities (NEH) fellowship recipients. This is the fifth-year running that faculty in CCNY's Division of Humanities and the Arts have won competitive NEH grants for innovative projects.  
The awards are part of $30.9 million in grants announced by the NEH to support 188 humanities projects in 45 states and the District of Columbia in 2020.  NEH chairman Jon Parrish Peede said they'd funded just 11% percent of the fellowships proposals that it received "in this highly competitive funding cycle."
Felber-Seligman, an assistant professor specializing in African history, has been awarded a NEH fellowship to complete their book manuscript titled "Crafting New Economies: Inland Trade in Central East Africa, ca. 1st-17th Centuries."
According to Felber-Seligman, who's fluent in Swahili, this is the first book to detail the pre-17th century history of the Rufiji Ruvuma societies of Eastern Africa. Named after two major local rivers – these societies had neither written records nor accounts written about them before the 1600s.
Shirane, who's also an assistant professor, is the recipient of a NEH and Japan-U.S. Friendship Commission Fellowship for Advanced Social Science Research on Japan. He will complete a book project entitled: "Gateway Imperialism: Colonial Taiwan and Japanese Expansion in South China and Southeast Asia, 1895-1945."
"These new NEH grants will expand access to the country's wealth of historical, literary, and artistic resources by helping archivists and curators care for important heritage collections, and using new media to inspire examination of significant texts and ideas," said Peede.
Other recent CCNY faculty to receive NEH awards – all for writing projects – include Laurie Woodard, Václav Paris, Mikhal Dekel and Andras Kisery.

About the NEH
National Endowment for the Humanities: Created in 1965 as an independent federal agency, the National Endowment for the Humanities supports research and learning in history, literature, philosophy, and other areas of the humanities by funding selected, peer-reviewed proposals from around the nation. Additional information about the National Endowment for the Humanities and its grant programs is available at neh.gov.
About The City College of New York
Since 1847, The City College of New York has provided a high quality and affordable education to generations of New Yorkers in a wide variety of disciplines. CCNY embraces its role at the forefront of social change. It is ranked #1 by the Harvard-based Opportunity Insights out of 369 selective public colleges in the United States on the overall mobility index. This measure reflects both access and outcomes, representing the likelihood that a student at CCNY can move up two or more income quintiles In addition, the Center for World University Rankings places CCNY in the top 1.2% of universities worldwide in terms of academic excellence. More than 16,000 students pursue undergraduate and graduate degrees in eight professional schools and divisions, driven by significant funded research, creativity and scholarship. CCNY is as diverse, dynamic and visionary as New York City itself. View CCNY Media Kit.