The following procedures describe the steps that will help to keep you and the community safe should an emergency arise. Study them so you will be prepared if something happens.
Dial 7777 for all emergencies
Locate two emergency evacuation routes from any room
Locate your emergency assembly area
Learn about safety equipment in your area
If you have a disability, identify colleagues to help with evacuation plans; if you work with someone with a disability, offer your help
Step-by-step procedures for specific emergencies:
FIRE

IF THE FIRE IS SMALL AND YOU ARE TRAINED TO USE A FIRE EXTINGUISHER, REMEMBER PASSAFTER YOU CALL FOR ASSISTANCE: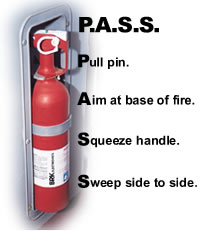 If the fire is large DO NOT try to extinguish it. Pull the nearest fire alarm.

If possible, leave through evacuation routes, do not use elevators.

If you are notified of a fire and can evacuate:
Close but do not lock doors.
Assist anyone with physical disabilities.
Leave in orderly groups  to  emergency assembly areas.
Do not use elevators.
If you are notified of a fire but cannot evacuate:
Close doors; block entrance of smoke at bottom with a wet cloth if you have one.
Do not open or break windows unless you have no other choice and then only enough to breathe.
Call 7777 to report your situation. 
MEDICAL EMERGENCY
Call 7777 to identify the problem and location. Do not leave the injured person except when necessary to summon help. If possible, stay with the person and have someone else call 7777.
Do not move the person unless they are in danger.
Render first aid or CPR only if qualified. 
If you are exposed to another's bodily fluids, inform Public Safety when officers arrive.
If the person is wearing a Medic Alert Emblem indicating diabetes, heart disease, etc., point this out to the dispatcher and bring it to the attention of those who arrive to help. Do not remove the emblem.
If the emergency is in the interior of a building, have someone wait outside to direct responding emergency services to  the injured.
Security will call other appropriate responders. Do not leave until Security has arrived.
BIO-HAZARD
In the event of a spill that is a biological hazard, report the spill to 7777.
Notify personnel in the area to evacuate immediately.  Close windows and doors.  Evacuate.
Personnel who may have been contaminated should stay in a safe location until safety officials arrive.
As soon as possible, remove clothing and wash all parts of the body that were in contact with the biological agent. Use copious amounts of water.
Do not re-enter area until authorized to do so.
CHEMICAL SPILL
Call 7777 to report incident and the type and amount of the chemical.
Immediately inform everyone to leave the area.
If the chemical comes in contact with any person, remove contaminated clothing. Rinse eyes with water for 15 minutes. If there is contact with skin, first rinse under water, then wash with soap and water.
Do not clean a chemical spill without permission of authorized officers. Nly trained personnel should attempt a clean up.
As soon as possible leave contaminated area; do not re-enter until authorized.
RADIATION HAZARD
If you have contacted radioactive material OR you discover a radioactive material spill, call 7777 to report the incident.
Tell everyone to leave the area and turn off all ventilation systems.
Do not attempt to clean up materials without the approval of an authorized officer.
If the material comes in contact with anyone, remove all contaminated clothes and shoes and wash all parts of the body that were contaminated.
Note any physical symptoms and wait for assistance.
FLOODING
Call 7777 to report the emergency.
Evacuate immediately if the situation appears life threatening.
If flood presents danger to library materials, attempt to remove materials from water source.
If flood presents danger to equipment, attempt to protect equipment, but do not endanger yourself by touching wet electrical equipment.
GAS LEAK
Call 7777 to report the leak.
Cease all operations and evacuate. If feasible, shut off any open flame before leaving.
Do not turn on or off any lights or electrical equipment.
BOMB THREAT
If you receive a telephoned bomb threat, try to engage the caller in conversation. Stay calm. Take notes, and try to determine as much information as possible.  Ask:
Where is the bomb?
What will make it explode?
Is there a set time for the explosion?
What is the reason for the bomb?
Listen for background noises that might identify caller's location.
Pay attention to the caller's voice. Is caller male or female?
Can you guess the age?
Keep the line open.  Do not hang up.  Use another phone to call 7777.
If possible have someone else also listen to the call.
When caller hangs up, immediately check caller ID to determine the origin of the call.
SUSPICIOUS PACKAGE
Call 7777 from a land line telephone. Do not use your cell phone.  Do not touch or open the package; if possible, isolate it in an empty room or unused space.

Look for these characteristics:
Marked "personal," private," "fragile" or "rush"
Lopsided, heavy, oil stained or odorous
Protruding wire or foil, excessive tape or string
Postmark differs from return address or there is no return  address
Excess postage on small packages or letters or no postage or non-canceled postage
Hand Written or poorly typed addresses, and/or misspellings
No return address or nonsensical return address
Incorrect titles ("Mr." instead of "Ms.", etc.)
Arriving before or after a phone call from an unknown person asking if the item was delivered
Handwritten notes, such as: "to be opened in the privacy of", "care of", "confidential", "your lucky day is here," Prize enclosed. etc.


What to do with the package:
Turn off radios, cell phones and transceiver equipment.
Do not throw any suspect material away. 
If suspect material is released into the air, persons in the immediate vicinity should leave that area and go to an adjacent controlled area, minimizing activity until the appropriate response staff arrives.
If it is necessary to evacuate, leave in orderly manner. Shut windows and doors as you exit and do not allow unprotected personnel into the area.
Turn off HVAC systems for the immediate and adjacent areas and for bathrooms.
CRIME IN PROGRESS
If you come across a crime in progress, do not attempt to interfere except in self-defense. Call 7777 and remain where you are until contacted by a Public Safety Officer.
If you can do it safely, get a detailed description of the criminal, including his or her height, weight, sex, age, race, clothing, weapons and direction when leaving the scene.
If the criminal enters a vehicle, try to take the license number, make, model, color, and direction of travel.
Last Updated: 09/23/2021 13:05