MFA in CW Program presents: Chai & Chat Reading Series featuring Chris Dombrowski
Dates
Tue, Feb 28, 2023 - 05:00 PM — Tue, Feb 28, 2023 - 06:30 PM
Event Address
The City College of New York
160 Convent Avenue
New York, NY 10031
Event Location
Rifkind Center, NA 6/316
Event Details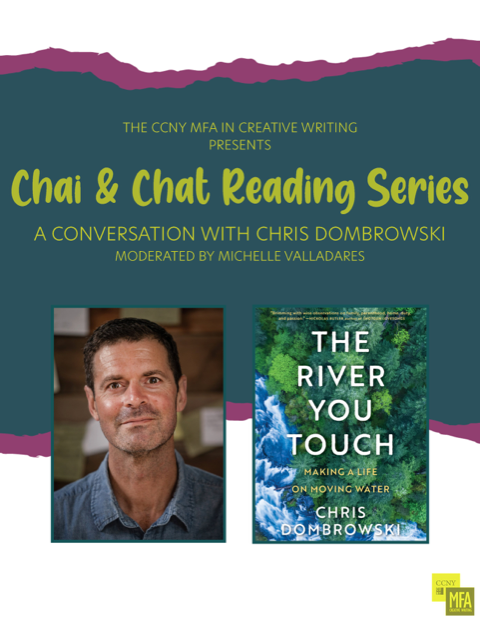 On Tuesday, February 28, author Chris Dombrowski will read from his latest book The River You Touch as part of the CCNY MFA in Creative Writing's Chai & Chat reading series. The discussion will be moderated by Professor Michelle Valladares, director of the MFA, followed by a Q&A and book signing with the author. Dombrowski's book will be available for purchase at a discounted price for those who attend.
The event will take place from 5:00 to 6:30pm in the Rifkind Center (NAC 6/316).
When Chris Dombrowski burst onto the literary scene with Body of Water, the book was acclaimed as a "classic" (Jim Harrison) and its author compared with John McPhee. Dombrowski begins the highly anticipated The River You Touch with a question as timely as it is profound: "What does a meaningful, mindful, sustainable inhabitance on this small planet look like in the Anthropocene?"
He answers this fundamental question of our time initially by listening lovingly to rivers and the land they pulse through in his adopted home of Montana. Transplants from the post-industrial Midwest, he and his partner, Mary, assemble a life based precariously on her income as a schoolteacher, his as a poet and fly-fishing guide. Before long, their first child arrives, followed soon after by two more, all "free beings in whom flourishes an essential kind of knowing [...], whose capacity for wonder may be the beacon by which we see ourselves through this dark epoch." And around the young family circles a community of friends—river-rafting guides and conservationists, climbers and wildlife biologists—who seek to cultivate a way of living in place that moves beyond the mythologized West of appropriation and extraction.
Moving seamlessly from the quotidian (diapers, the mortgage, a threadbare bank account) to the metaphysical (time, memory, how to live a life of integrity) Dombrowski illuminates the experience of fatherhood with intimacy and grace. Spending time in wild places with their children, he learns that their youthful sense of wonder at the beauty and connectivity of the more-than-human world is not naivete to be shed, but rather wisdom most of us lose along the way—wisdom that is essential for the possibility of transformation.
CHRIS DOMBROWSKI is the author of The River You Touch: Making a Life on Moving Water. He is also the author of Body of Water: A Sage, A Seeker, and the World's Most Elusive Fish, and of three acclaimed collections of poems. Currently the Assistant Director of the Creative Writing program at the University of Montana, he lives with his family in Missoula.
Chai & Chat is an intimate reading and conversation series organized by the CCNY MFA in Creative Writing. The series invites contemporary authors to read and discuss their work over a cup of chai.  The series is generously funded by the Estate of Kenneth Kowald for Advancing American Literature.
For more information on this event or the CCNY MFA in Creative Writing, visit our website at https://citycollegemfa.commons.gc.cuny.edu/.
Back to Departmental Calendar
Back to calendar of events