World Food Day 2021 "Celebrating Food Heroes" Panel Discussion
Dates
Wed, Oct 13, 2021 - 01:00 PM — Wed, Oct 13, 2021 - 02:00 PM
Event Details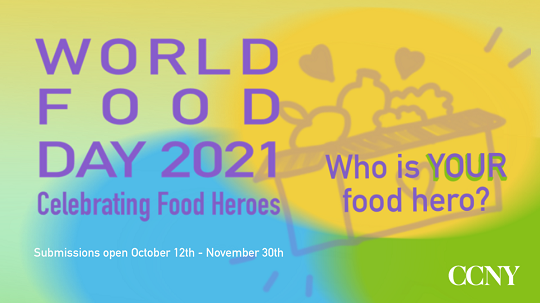 - Save the Date -
Wednesday, October 13th at 1PM we welcome you to celebrate "Food Heroes" for World Food Day 2021.
Join us for an in-depth discussion with members of the community who have pivoted from their everyday tasks to pouring out their hearts, minds, and time to their communities to help in these times of need.
This World Food Day panel will discuss the changes in supply, social justice, and quality access to food in our local community, on a global level and will talk through the challenges organizations have stepped up to address in fighting food insecurity within their communities. 
Panelists:
Nausher Khan, Director of Strategic Business Partnerships at Red Rabbit
Noel Manyindo, Associate Medical Professor and Chair, CUNY School of Medicine
Senator Jessica Ramos, 13th Senate District, Chair of Committee on Labor
Nikoa Evans, Executive Director, Harlem Park to Park, co-founder and managing partner of Counter Culture Hospitality Group, owner of Sexy Taco restaurant and bar
RSVP: https://ccny.zoom.us/webinar/register/WN_4pfxzI0MTfqIbDmFpGFh4Q
Back to Departmental Calendar
Back to calendar of events