The Anthony-Stevens Acevedo Collection, 1941-2007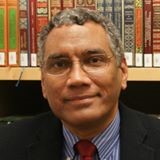 Biographical Note: Anthony R. Stevens-Acevedo, Assistant Director of the CUNY Dominican Studies Institute and Community Activist. He was born on December 6th, 1956 in Queens, New York to Hope R. Stevens and Mencía Acevedo.  He spent most of his childhood and adolescence in San Pedro de Macorís, Dominican Republic. After graduating from high school, he traveled to Spain and obtained a degree in History of the Americas from the University of Seville in 1983. He married María Pilar Saez Prieto from Seville, Spain. After graduating from college, Stevens-Acevedo returned to New York and worked for many years as a high school teacher. He became a civic activist and devoted his time to conducting research on the early colonial history of the Dominican Republic. He graduated from The City College of New York with a M.A. in History in 2006. He is Foreign Corresponding Member of the Dominican Academy of History. He held the position of Assistant Director at the CUNY Dominican Studies Institute until 2018; a former social studies high school teacher in New York City public schools system;  former Member of Community Planning Board 12 (Washington Heights and Inwood); Community School Board 6 (Inwood, Washington Heights and Hamilton Heights); and former Assistant at District 10 Office (Marble Hill, Inwood, Washington Heights), all in Manhattan, New York City; founding member of the Council of Dominican Educators; founding member of the CUNY Dominican Studies Institute (The City College of New York). 
Scope and Contents Note: The Anthony Stevens-Acevedo Collection consists of personal papers, correspondence, photographs, and notes reflecting Stevens-Acevedo's writing and activism in education and politics as well as his efforts to disseminate information on New York's Dominican population. A notable group of materials addresses his work with the Community School Board and an after-school program. There are also detailed letters from Stevens-Acevedo to politicians and officials in the Dominican Republic and United States advocating for educational policies. A number of documents relate to activism in party politics in the U.S. and Dominican political parties including items from Guillermo Linares's successful 1990 campaign for City Council in which Linares became the first Dominican elected to public office in the United States. Around .65 cubic feet of photographs and correspondence date to Stevens-Acevedo's youth in Dominican Republic; there are also scrapbooks from his mother's family dating to the 1940s. A large portion of the correspondence consists of letters from Stevens-Acevedo's father, Hope R. Stevens, and relates to his travels throughout the world as an attorney and civil rights advocate. Other documents are related to Stevens-Acevedo's political and social life, which includes correspondence and notes from the Council on Dominican Educators, Community Planning Board 12, Community School Board 6, and District 10 Office. The largest series in his collection consists of photographs, which are records of his work within the community. Some photographs document social events, such as dinners, parades, meetings, while others are personal photographs. The Subject files include different newspapers and newspaper clippings, and are arranged by subject. The collection also contains some documents of his mother Mencía Acevedo, including passports, recipes, and official documents of the Dominican Republic. 
 
Last Updated: 10/06/2021 14:31