RESEARCH
CUNY Dominican Studies Institute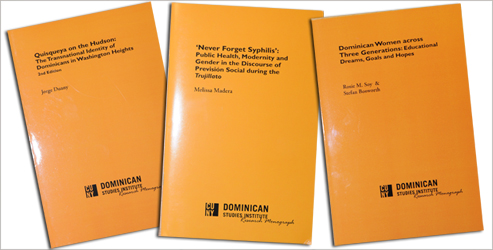 The Institute´s research unit advocates for the production and dissemination of practical and reliable knowledge to advance the well-being and prosperity of the Dominican people in the United States. Because of this emphasis, CUNY DSI's scholarship has received extensive media attention and the Institute has earned a reputation as the most prestigious think tank in the United States devoted to Dominican Studies. Often, research sponsored by the CUNY DSI generates headlines in major U.S. newspapers, both in English and Spanish, in addition to receiving considerable media coverage in the Dominican Republic and Puerto Rico.
 
Dominican Studies Institute Unveils Online Spanish Paleography Tool
CUNY DSI rolled out the first prototype of a unique online tool to decode the various Spanish-language writing styles common in the 16th and 17th centuries. Until now, only a tiny number of specialized scholars with PhDs had the ability to read the three or four distinct scripts prevalent in societies of Spanish culture. CUNY DSI wants to enable a larger population to be able to read the documents and obtained a grant for the project from the National Endowment for the Humanities (NEH) Office of Digital Humanities. The site has the potential to expand the teaching of paleographic skills to historians and students.  It is an open source tool and available to the public.
Click to access the Paleography Tool: http://spanishpaleographytool.org
 
Dominican Studies Research Monograph Series
CUNY DSI publishes a monograph series in the field of Dominican Studies. The series documents scholarly research on the Dominican experience in the United States, the Dominican Republic, and other parts of the world.  The texts published in the series are, for the most part, the result of research undertaken or sponsored by the CUNY Dominican Studies Institute.
List of Monograph Studies Published
 
National Affiliation
In 1998, CUNY DSI received recognition as a bona fide Latino research center, earning membership in the Inter-University Program for Latino Research (IUPLR), a highly respected national consortium of university-based Latino research centers in the United States. IUPLR headquarters, located at the University of Notre Dame, and the IUPLR Washington DC Office, located at the University of California Washington Center, work to strengthen the network of centers and to enhance their institutional capacity.