The archives and library repository consist of: a climate-controlled storage area; a processing area; a multi-purpose research/reference/gallery/ and activities area; and offices for the Chief Archivist and Chief Librarian. The construction of the repository addressed the unique archives and library requirements including climate control; security, and disaster prevention; as well as the selection and procurement of specialized furniture, and equipment such as shelving, microfilm readers and reader-printers, photocopiers, audiovisual equipment, computers, scanners, and other digitization equipment needed for the preservation of the historical and research materials and the administration and operation of the repository. The archives and library facility is a safe, secure, and environmentally sound structure which officially opened to the public in 2008.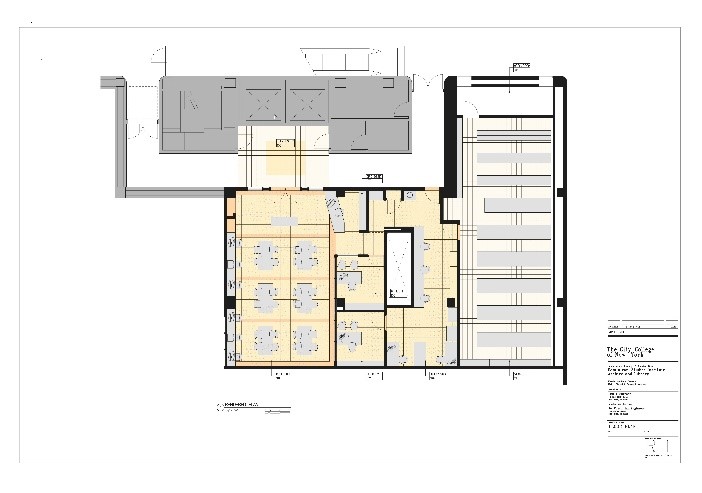 Archives and Library Multi-Purpose Area
The Archives and Library Repository includes a Multipurpose Area (reference room, exhibit gallery, classroom; lecture hall; and community activities room). The multipurpose area is a large open area with clear sight lines to monitor researchers and guard against theft; sufficient elec¬trical outlets to run computer workstations, microfilms readers and printers, photocopiers; an audiovisual system necessary to provide access to archives and library materials. It is also equipped with a reference counter, an exhibit case; eight tables, 30" x 72"; 48 chairs, a checkout counter, and six computer works stations for public use. The area provides approximately 864 square feet of research and other activities space. It is well lighted with fluorescent light fixtures and ultraviolet filters and closed-circuit security cameras, which provide security for archives and library materials used by researchers. The interior walls around the reference area covered with marlite panels and an exhibit hanging system for exhibition of library and archival materials.
Archives and Library Processing Area
The Archives and Library Processing Area is uniquely furnished with work counters for computers, scanners, and digitizing equipment shared by the Archives and the Library. They share staff, equipment and produce catalogs and finding aids for use by library and archives researchers. The processing area is a large climate-controlled open room equipped with fluorescent light fixtures with ultraviolet filters to ensure the preservation of archival materials being processed. Processing equipment includes computers; a microfilm digitizing reader-printer; scanners, a photocopier, VHS, and cassettes digitizers; computers with software required to process archival and library materials to create in-house and online databases; and to reformat audiovisual materials; automate findings aids to provide online access; and publishing in bibliographic networks. 
Archives and Library Storage Area
The storage area is used to store archives and library materials. It is climate-controlled equipped with its own independent HVAV system with a small boiler to provide temperature and humidity control on a year-round basis. The archives and library repository has fluorescent lights equipped with ultraviolet filters; a sprinkler system; deadbolt locks entrance and exit doors; fire resistive walls; fire and burglar alarms; installation of shelves; and painting of the walls with a paint resistant to dust, vermin, and pollutants as well as an internal security system.
Last Updated: 05/25/2020 14:00