Zunilda Fondeur Collection
CUNY Dominican Studies Institute
Zunilda Fondeur Collection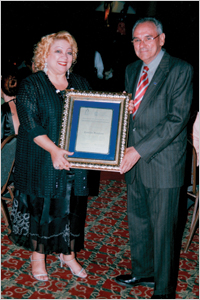 Journalist
Founder, Producer, and Host, Realidades Television Program
Biographical Information
Zunilda Fondeur was born in Santiago de los Caballeros, Dominican Republic in 1950. She arrived in the United States in 1980 and began to pursue her university education. She graduated from Hostos Community College with an Associates Degree in Liberal Arts and received a bachelor's degree in journalism and communications from the U.S. extension of Spain's Universidad Hispanica de America. In 2001, she was presented with a Magister Honoris Causa from the Interamerican University at a ceremony in the United Nations. Fondeur also studied at the International Career Institute, and at the Pan American Travel School.
Fondeur is the founder, producer, and host of Realidades, a cable television news program with a loyal following of hundreds of thousands of viewers in the New York metropolitan area. It has been said that anyone who has done anything of importance among Dominicans in New York has been interviewed by Fondeur for Realidades. The program is so influential that just about anyone from the Dominican Republic seeking to be known among Dominicans in New York has sought to be interviewed by Fondeur.
Fondeur began her career in journalism in her native Dominican Republic, first as a radio announcer, and quickly thereafter as a television and newspaper reporter. She has worked for some of that country's most influential media outlets, including the respected Dominican newspaper Listin Diario.
Seeking new professional opportunities, and anxious to expand her knowledge of the industry, she emigrated to the United States in 1980 and began working in New York for radio station WBNX. She also became a correspondent for the Dominican Republic's newspapers Listin Diario and El Sol, the Miami paper El Pais, and various other newspapers throughout the United States.
In 1990, she joined the staff of the weekly Listin USA, the New York affiliate of Listin Diario. A year later, with the help of a small group of well-established professionals in the communications field, and using her own equipment, she began the television program Realidades. The program quickly became a vital source of news and other information for Dominicans in the United States.
Highly regarded and respected among her peers, Fondeur was called to leadership in the profession at various stages of her career, in the Dominican Republic and in the United States. In 1970, while still in the Dominican Republic, she founded the Dominican Association of Women Radio Announcers. In 1989, she became the first president of the Radio Announcers Club of New York. She has served as president of the Association of Journalists. Currently, she is director of the College of Dominican Journalists and of the Association of Reporters Covering the Arts, known by its Spanish acronym ACROARTE. In addition, Fondeur has distinguished herself through public service, contributing her talents and time to various organizations, including the Committee for the Dominican Parade, and the Juan Pablo Duarte Elementary School (P.S. 132), both in New York.
Fondeur is the recipient of numerous awards in the United States and in the Dominican Republic. She was named one of the most influential women by the respected magazine Temas, and was named one of the most distinguished Dominicans by Vista, the magazine of the New York Daily News. In Miami, she was awarded the Independence Award by an organization of Dominicans living abroad; in the Dominican Republic she received two Gold Microphones from the the College of Dominican Journalists. Beloved among New York Dominicans, she was honored by Alianza Dominicana with the Minerva Mirabal Award, and received proclamations in her honor from New York City Councilmen Guillermo Linares and Miguel Martinez, as well as New York State Assemblyman Adriano Espaillat.
 
Collection Description
The Zunilda Fondeur Collection comprises photographs, proclamations, magazines, invitations, flyers, newspapers, certificates of appreciation, calendars, newspaper clippings, as well as approximately 5,000 videotapes, covering a span of more than 16 years of Realidades, an iconic television program with hundreds of thousands of New York viewers. The videotaped programs consist of Fondeur's interviews of prominent Dominican personalities, political figures, and civic and community leaders, as well as her reporting on cultural events, political campaigns, parades, and other news and public events of interest to the Dominican community. Among those interviewed are towering Dominican political figures, such as Juan Bosch and José Francisco Peña Gómez, and extraordinarily accomplished Dominicans such as New York City Commissioner of Immigrant Affairs Guillermo Linares (the first Dominican elected to the New York City Council); New York State Supreme Court Justice Rolando T. Acosta; Dominican Hall of Famer Juan Marichal; baseball superstar Sammy Sosa; distinguished journalist Reginaldo Atanay; New York City Councilman Miguel Martinez, and many others. The interviews were filmed in New York, or at events in the Dominican Republic. Fundeur also interviewed many of today's leaders of the Dominican people during their early years of community activism, including the current Dominican President Leonel Fernández Reyna, who was raised in New York, and Assemblyman Adriano Espaillat, the first Dominican elected to the New York State Assembly.
Inclusive Dates: 1980s-present
Size of Collection: 240 cubic feet