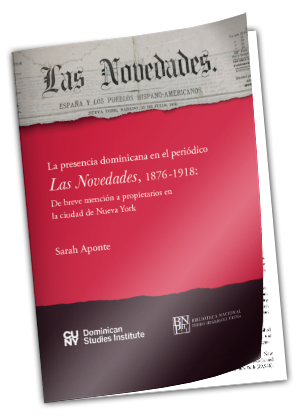 La presencia dominicana en el periódico Las Novedades, 1876-1918: De breve mención a propietarios en la ciudad de Nueva York by Sarah Aponte. 2022. 482pp. Biblioteca Nacional Pedro Henríquez Ureña and CUNY Dominican Studies Institute.
This book compiles and describes the writings of Dominicans published between 1876-1918 in Las Novedades: España y los Pueblos Hispano-americanos, a Spanish newspaper printed in New York City. Las Novedades was founded by Spaniards and later bought by Dominicans who published the periodical until its disappearing. This book delivers the first comprehensive compilation and annotation of the contents published in Las Novedades under the ownership of Dominicans. Conceived as a cultural publication, Las Novedades ended up covering much more, and its contents offer a window through which one can visualize everyday-issues involving Latin American societies and Latinos in the U.S. in the first two decades of the 20th century.
To purchase this publication, click here.
Este libro recopila y describe publicaciones de dominicanos que aparecen en Las Novedades: España y los Pueblos Hispano-americanos, un periódico en español impreso en la ciudad de Nueva York. Las Novedades fue fundada por españoles y luego comprada por dominicanos quienes publicaron el periódico hasta su desaparición. Este libro es la primera recopilación y anotación exhaustiva del contenido dominicano publicado en Las Novedades. Concebida como una publicación cultural, Las Novedades terminó cubriendo mucho más, y su contenido ofrece una ventana a través de la cual se puede visualizar temas cotidianos que involucran a las sociedades latinoamericanas y a los latinos en Estados Unidos en las dos primeras décadas del siglo veinte. ​
Para comprar esta publicación, pulse aquí.
Last Updated: 06/06/2023 14:05