Raising Victor Vargas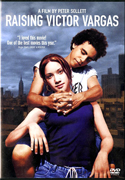 Raising Victor Vargas. Directed by Peter Sollet. Produced by Columbia TriStar Home Entertainment. Culver City, Calif. , 2003. Color. 1 hour 28 minutes. DVD 36.

A movie about Victor (Victor Rasuk) and his Dominican-American family who live on the Lower East Side of New York. His grandmother (Altagracia Guzmán) is having problems with Victor, his brother Nino (Silvestre Rasuk), and Vicky (Melonie Díaz) who are trying to be more independent. Victor's relationship with Judy (Judy Marte) forces him to reexamine the way he is acting and to begin the process of maturing.
 
Last Updated: 09/27/2017 16:48