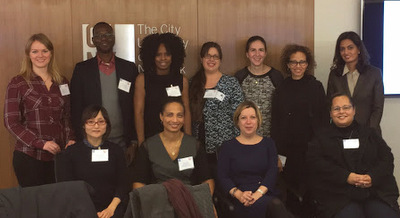 Nine City College of New York professors are recipients of Mellon Faculty fellowships designed to increase diversity and the retention rate of CUNY faculty. They will participate in the new CUNY Mellon Faculty Diversity Career Enhancement Initiative funded by a $500,000 grant from the Andrew W. Mellon Foundation.
Launched by Chancellor James B. Milliken, the CUNY Mellon initiative offers research/writing seminars, mentoring sessions and professionalization workshops. Eighteen other faculty members from Brooklyn, Hunter and Queens colleges will take part in the program.
"The next generation of critical thinkers must solve complex social problems locally and on a global scale in contexts that reflect the changing social and cultural landscape," said Arlene Torres, CUNY dean of recruitment and diversity. "The challenge put before us is to engage one another as educators and university administrators in meaningful ways in the service of our students."
The CCNY cohort will be mentored by Adrienne Petty, associate professor of history at City College, as they build an intellectual community, work toward peer-reviewed publication and become more competitive for grants and fellowships in order to advance their careers.
The Mellon fellows selected from CCNY are:
Nancy Cardwell, assistant professor, School of Education;
Angela Chitkara, assistant professor, Media and Communication Arts;
Abby Kornfeld, assistant professor, Art History and Jewish Studies;
Katherine Ritchie, assistant professor, Philosophy;
Boukary Sawadogo, assistant professor, MCA;
Linda Villarosa, assistant professor, MCA;
Missy Watson, assistant professor, English;
Terri Watson, assistant professor, Education; and
Yoko Inagi Ferguson, assistant professor, Library.
About The City College of New York
Since 1847, The City College of New York has provided low-cost, high-quality education for New Yorkers in a wide variety of disciplines. More than 15,000 students pursue undergraduate and graduate degrees in eight professional schools and divisions. View CCNY Media Kit .