Diplomas
The Office of the Registrar is happy to announce a new process for receiving your diploma.  The City College of New York appreciates your patience in waiting for your diploma.  Due to the COVID-19 pandemic, all diploma services were previously suspended.  Starting immediately, the diplomas pick up option is no longer available.  Diplomas will be sent to the graduate by mail only.  Please review the categories below for additional information pertaining to your specific graduated status.
---
Instructions on Obtaining Your Diploma
Current Graduating Student:
In order for your diploma to be mailed, your "Home address" must be up to date.  Please log into your CUNYFirst account and go to the "Student Center".  Scroll down to "Personal Information" and then click on the drop down box.  Next, you will select "Addresses" and you will be given the option to either "Edit" or "Add a New Address".  We recommend that you Edit your "Home Address".  This is the address where your diploma will be mailed to.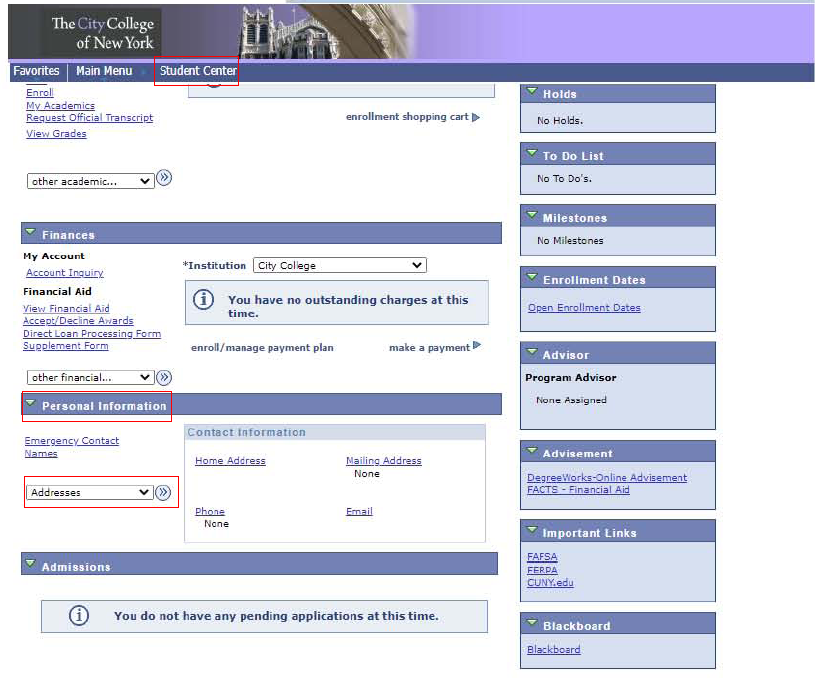 In addition, make sure that you will be eligible to receive your diploma by verifying that you do not have any negative holds or stops on your record.  This can be viewed in the "Holds" section of your student center.
Please note that diplomas are not available until 4-6 weeks after the conferral date of your degree.  Once diplomas are available you will receive an email notification from Parchment with a digital copy of your diploma and the physical diploma should arrive within 2-3 weeks afterwards.  The diploma will be mailed to your "Home Address" via the United State Post Office by first class mail.
Graduated Student:
In order for your original diploma to be mailed to you, you will need to provide all of the requested information on the Diploma Mail Request Form.  The diploma will mailed 4-6 weeks from when your request is received.  
Duplicate Diploma:
To request a duplicate diploma follow the instructions on the Duplicate Diploma Request Form.  Request for duplicate diplomas take 4-6 weeks to process.
Last Updated: 09/15/2021 09:43