We are proud to announce that the CUNY Dominican Studies Institute (CUNY DSI) has been awarded a Latino Americans: 500 Years of History grant.
Latino Americans: 500 Years of History supports the American public's exploration of the rich and varied history and experiences of Latinos, who have helped shape the United States over the last five centuries and who have become, with more than 50 million people, the country's largest minority group. The cornerstone of the project is the six-part documentary filmLatino Americans, created for PBS in 2013 by the WETA public television station and supported by the National Endowment for the Humanities (NEH). The award-winning series chronicles Latinos in the United States from the 16th century to present day.
In collaboration with the national initiative, Latino Americans: 500 Years of History, CUNY DSI has organized a series of events to tell the story of Dominican veterans of World War II (WWII). This collaboration will expose, for the first time, a two-year research project undertaken by CUNY DSI that uncovered over 300 Dominican men and women WWII veterans who served in various U.S. military branches. Many Dominicans received medals and other recognitions for their courageous actions in combat. After returning from war, many risked their lives, once again, to bring democracy to their homeland. The CUNY DSI's series will honor and recognize Dominican WWII veterans through an exhibit, a scholarly panel, and the screening of two episodes of the documentary Latino Americans. These events will highlight both Dominican and Latino veterans while serving in the military, as well as their contribution to society after they returned from the war.
These events, free and open to the general public, will be held at:

CUNY Dominican Studies Institute
Archives and Library
NAC Building, Room 2/202
The City College of New York
160 Convent Avenue
New York, NY 10031
---
Exhibit: Fighting for Democracy: Dominican Veterans from World War II
Wednesday, November 11, 2015, 6:30pm - 8:00pm

Opening on November 11, 2015, to commemorate Veterans Day, this exhibit highlights the experience of Dominican veterans in World War II. The exhibit will trace their stories, from their arrival to the United States, their incorporation into the war, and their post-war experience.
 
On view from:
November 11, 2015 until further notice.
---
Scholarly Panel: Dominicans in the U.S. Armed Forces during World War II
Friday, November 20, 2015, 6:30pm - 8:30pm
This scholarly panel will discuss Dominican and Latino veterans in World War II, the Trujillo dictatorship and Dominican experiences during this tempestuous time.
 
Panelists:
Dr. Bernardo Vega, Director of the Dominican Academy of History; Dr. Lorena Oropeza, Associate Professor of History at the University of California-Davis; Cedric Yeh, Deputy Chair, Division of Armed Forces History at National Museum of American History; Dr. Harry Franqui-Rivera, Research Associate at Center for Puerto Rican Studies, Hunter College.
Please RSVP: dominicans-us-armed-forces-wwii-panel.eventbrite.com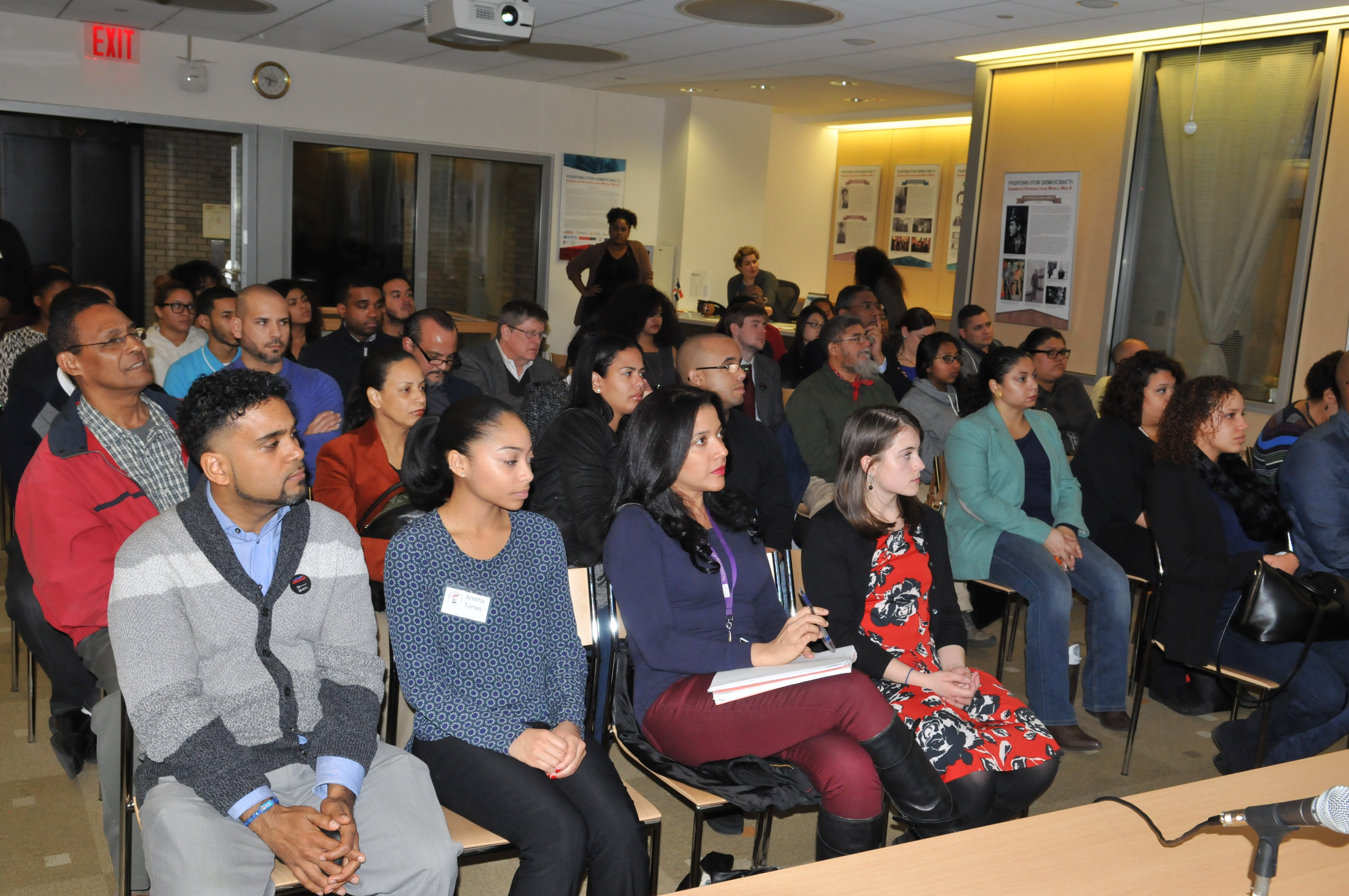 ---
Screening and Discussion: Latino Americans Documentary, Episode III: War and Peace
Thursday, December 10, 2015, 6:30pm - 8:30pm
 
Co-sponsored by the Dominican Students Association at The City College of New York
The screening of War and Peace (1942-1954)focuses on the involvement of Latinos in World War II. It is followed with a guided discussion with Dr. Maggie Rivas-Rodriguez, Associate Professor of the School of Journalism at the University of Texas in Austin and Director of the U.S. Latino & Latina Oral History Project, Voces. The discussion will focus on the multiplicity of Latino participation in the war and the different experiences of Latino subgroups. 
Please RSVP: latino-americans-documentary-ep-iii-screening.eventbrite.com