The Tito Enrique Cánepa Jiménez Collection, 1916-2012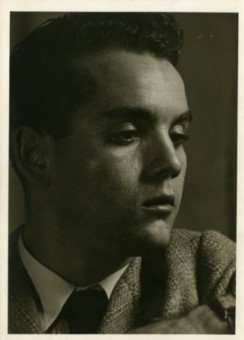 Biographical Note: Tito Enrique Cánepa Jiménez was born in 1916 in San Pedro de Macorís, Dominican Republic. Young Tito began to protest the increasingly totalitarian regime of Rafael Leonidas Trujillo y Molina and as a result of these political activities. His parents sent him to Puerto Rico and then to New York City.  Upon his arrival in New York City in the mid-1930s, Cánepa worked in the pro-Communist Experimental Workshop led by Mexican muralist David Alfaro Siqueiros and Bolivian painter Roberto Berdecio. These artists as well as the art education provided by Dominican art historian Américo Lugo strongly influenced Cánepa's painting style. His works demonstrate strong influences from cubism, the Mexican muralists, and other modernist movements. His paintings display strong commitments to portraying Dominican political, cultural, and religious life. Important Dominican political figures portrayed in his paintings include the Mirabal sisters and heroes of Dominican independence Gregorio Luperón and Juan Pablo Duarte. Among his most notable paintings are Peasant Family (1939), Tryptyc: Enriquillo, Duarte, Luperón (1971), Anacaona (1988), and Self Portrait (1946). Cánepa was married to dancer Florence Lessing. The couple had two children: Eric and Cathy.  Mr. Cánepa's work received early recognition when his works were exhibited in New York City in the early 1940s, but even in his own dictatorship-dominated Dominican Republic.  In 1943 Dominican critic Rafael Díaz Niese "named Tito Cánepa, Jaime Colson, and Darío Suro the three most accomplished Dominican painters" (Pelligrini 1996).  Art historian and critic Edward J. Sullivan locates Mr. Cánepa within "the second generation of Latin American modernists" who came to the artistic fore in the 1930s and 1940s. "While they incorporated the achievements of the radical modernists of the previous decades, they also imbued their own art with a renewed interest in classicism and, at times, a personal and political concern for the social realities of the day' (Sullivan 1992). According to Sullivan, what distinguishes Mr. Cánepa's art is 'the manifestation of the benevolence of divinity expressed in uniquely human terms. Tito Enrique Cánepa died in Charlotte, North Carolina on February 11, 2014. 
Scope and Contents Note: The Tito Enrique Cánepa Collection consists of forty-one paintings, 53 drawings and sketches; a mural and a piano designed and built by Tito Enrique Cánepa (only in digital photographs). There are three original paintings: "Ojeda y Caonabo", 1984; "Mirabal Sisters" ("Las Hermanas Mirabal"), 1985; and "The Gulf of Arrows" ("El Golfo de las Flechas"), 1987 that were donated to the CUNY  Dominican Studies Institute. The gesso on panel "Ojeda y Caonabo", 48"x36", portrays a faceless Spaniard in armor, Alonso Ojeda, moments after presenting the powerful Taino Caonabo with the gift of handcuffs. The oil on canvas "Mirabal Sisters", 48"x23", depicts the heads of the three Dominican martyrs in the struggle against Trujillo. The sisters' faces are figurative while the rest of the painting is abstract, the colors display influences of fauvism. The oil on canvas "Gulf of Arrows", 60"x44", is a cubist-influenced work that appears to address the Dominican landscape, culture, and politics. In addition to the art collection, there are consists of correspondence with his cousin Dominican social scientist Juan Isidro Jiménez Grullón (253 items, 1945-1982); subject files; numerous photographs and contact prints depicting Cánepa,his family, and his paintings; photographs; 27 motion pictures (restricted) and other documents generated or produced or collected by Tito Enrique Cánepa from c.1939 to 1992; a computer diskette containing a manuscript relating to the colonial history of the Dominican Republic (228 pages). There is also an interview of Tito Enrique Cánepa conducted, conducted by the archives at his apartment prior to his donation. In the hour-long interview Mr. Cánepa talks about his early life in the Dominican Republic during the early 1930s and his campaign against Dominican Dictator Rafael Trujillo Molina. 
Conditions Governing Access: The Dominican Archives obtained photographs of the entire Tito Enrique Cánepa painting, owned by his son Eric Cánepa, has been declared a restricted collection, and can only be used for educational purposes with the approval of the Chief Archivist. Except for the three painting that were donated to the CUNY Dominican Studies Institute Archives (Ojeda y Caonabo, El Golfo de las Flechas, and the Mirabal Sisters; the Mural and the Piano photographs and the drawings, the art collection is restricted and can only be used for educational purposes with the written approval of the Chief Archivist. Permission to use or publish photographs of the painting not donated to the Archives or any other use can only be obtained from the Owner of the Original Paintings Eric Cánepa. 
Last Updated: 06/14/2021 11:12