August 28, 2023
Welcome to the Fall 2023 Semester!
Welcome back, or for some of you, welcome to CCNY! We have had a productive and relaxing summer and are looking forward to the new school year. This fall we look forward to a fantastic BME seminar schedule with many great speakers! Please see the schedule below. To be added to the seminar distribution list, or to inquire about this speaker series, please email Professor Ryan Williams.
---
June 8, 2023
BME PhD students featured by G-RISE program
Amelia Ryan, PhD student mentored by Assistant Professor Ryan Williams, Nigel Gebodh, PhD Candidate mentored by Professor Marom Bikson, & Evan Azoulay, PhD student mentored by Professor Luis Cardoso have recently been highlighted by the NIH-funded Graduate Research Training Initiative for Student Enhancement (G-RISE) Program. Learn more about the students and their research by watching their videos below!
---
June 2, 2023
176th Commencement Exercises of The City College of New York
Congratulations to our Class of 2023 doctoral graduates!
See the graduates be "hooded" in the video above! 2:42:47 to 2:44:45
---
May 8, 2023
BME PhD Student Wins Entrepreneurial Competition
Organovis, a student-led start-up, from the Zahn Innovation Center at The City College of New York, whose CEO is BME PhD student Malgorzata Dwulat, has won the 2023 Women in Tech Incubator Competition!
---
May 5, 2023
We had a wonderful BME Day, 2023!
Senior Design teams demonstrated their design projects, graduate students presented their research posters, we had an exciting awards presentation, and a nice lunch! Congrats to all of the graduating seniors and award winners, and thanks to faculty and staff for organizing!
James Padgett
Rodrigo Guerra
Hana Kassem
Nicholas Leotta
The Rukin Award for Academic and Professional Perseverance in Biomedical Engineering by an Undergraduate Student
Rashida Akifa
Matthew Saw
Dr. Jeffrey Garanich and Officers of 2022-2023 CCNY- BMES Student Chapter Executive Board:
President: Hana Kassem
Vice President: Mohigul Nasimova
Treasurer: Andre Deosaran
Secretary: Daniel Khalil
Class of 2024 Representative 1: Vividha Bhaskar
Class of 2024 Representative 2: Korina Singh
---
February 15, 2023
BME PhD Alumna Lingyan Shi '14 Wins 2023 Sloan Research Fellowship
Dr. Lingyan Shi, a 2014 alumna of our BME PhD program (with mentor Professor Bingmei Fu), has received a 2023 Sloan Research Fellowship from the Alfred P. Sloan Foundation. Dr. Shi is currently Assistant Professor of Bioengineering at Jacobs School of Engineering at UC San Diego.
The foundation recognizes early-career scholars represent the most promising scientific researchers working today. Their achievements and potential place them among the next generation of scientific leaders in the U.S. and Canada. Winners receive $75,000, which may be spent over a two-year term on any expense supportive of their research.
A detailed list of the 125 early-career fellows is linked here: https://sloan.org/fellowships/2023-Fellows
Congratulations Dr. Shi!
---
December 1, 2022
Harold Shames Professor Lucas C. Parra Receives New NIH Grant
Harold Shames Professor Lucas C. Parra recently received an R01 grant which funds a 5 year project to study effects of electric brain stimulation on motor learning, in collaboration with Medical Professor John H. Martin from the CUNY School of Medicine. Congratulations!
---
November 29, 2022
Investing in Life Sciences to Support New York City Communities – Andrew Wooten and Dr. Jeffrey Garanich
City College has been awarded $15 million by the New York City Economic Development Corporation (NYCEDC).  This award will be used to support the build out of the headquarters for the City Innovations Collaborative (CInC), which will occupy 36,000 square feet in the new 350,000 square feet Taystee Lab Building minutes south of the CCNY campus in Greater Harlem, NYC. CInC's new headquarters will house shared infrastructure to simultaneously accommodate up to 30 technology startup ventures.  We envision CCNY Biomedical Engineering to be a primary source of technologies and human capital for ventures to take residence with CInC. Andrew Wooten, Senior Director of Innovation Management and Business Development and his team, which includes Dr. Jeffrey Garanich, Director of the CCNY Master's in Translational Medicine (MTM) and founding Lead of CInC's Equitable Healthcare Grand Challenge, want to focus their work on the underrepresented communities in New York City.
See article on CCNY RICC (Research & Innovation at City College): https://thericc.com/investing-in-life-sciences-to-support-new-york-city… & Press Release: https://edc.nyc/press-release/mayor-adams-invests-27-million-accelerate…
---
September 1, 2022
Associate Professor Jacek Dmochowski receives a new NIH grant
Professor Dmochowski received a new 4 year, $628,000 NIH R16 award, entitled "Explaining the variability in focused ultrasound neuromodulation". While conventional electromagnetic approaches to non-invasive brain stimulation are limited in their spatial resolution and penetration depth, ultrasonic neuromodulation carries the potential of millimeter scale stimulation of deep brain regions without the need for surgery. However, there have been several reports of substantial variability in the neural response to ultrasound, with the same dose producing disparate effects. The objective of this project is to identify the primary source of the variability in neuronal responses to FUS. Congrats Dr. Dmochowski!
---
September 1, 2022
Professor Luis Cardoso receives a new NIH grant
Professor Cardoso received a new 4 year, $628,000 NIH R16 award, entitled "Microcalcifications in Atherosclerotic Plaque". This study will investigate the biomechanics of microcalcifications in atherosclerotic plaque using imaging, numerical and experimental approaches to determine the cap rupture mechanisms that precedes asymptomatic acute coronary events. Congrats Dr. Cardoso!
---
September 1, 2022
The Williams Lab receives a full grant from the CCNY-MSK Partnership for Cancer Research
Dr. Williams will partner with Dr. Edgar Jaimes, Chief of Nephrology at Memorial Sloan Kettering, to investigate kidney-targeted gene therapies under the new 2 year, $654,000 award funded by the National Cancer Institute. The project will focus on genetic targets which disproportionately affect underrepresented populations, studying their roles in chronic kidney disease and renal cancer. Congrats team!
---
August 31, 2022
City College Named Third-Best National University
The City College of New York is the third-best national university, only narrowly beaten by Princeton and Stanford, and the top-ranked public college in the nation, according to a new study by the education research organization DegreeChoices. More information is also available here: https://www1.cuny.edu/mu/forum/2022/08/31/cuny-receives-high-praise-on-best-colleges-lists/
---
June 15, 2022
Harold Shames Professor Lucas C. Parra Receives New NSF Grant
Harold Shames Professor Lucas C. Parra recently received a $1,272,483.00 grant which funds a 3 year project that studies remote video-based instruction. Congrats Dr. Parra!
---
June 1, 2022
Profs. Williams and Nicoll Receive New Pilot Grant from DISRUPT 
Assistant Prof. Ryan Williams and Prof. Steve Nicoll received a new pilot grant with collaborator Hanna Irie, MD, PhD from Mount Sinai School of Medicine. The award is from the DISRUPT To Make Cancer Research Equitable Consortium. The team will design new drug delivery and monitoring tools to improve care for triple negative breast cancer, which disproportionately effects underrepresented minorities.
---
May 6, 2022
BME Day 2022 was a big success!
Senior design students presented their work with detailed posters and immersive demonstrations!
We also recognized the years-long work of many of our students:
Harold Shames Award for Undergraduate Academic Excellence
Alexandria Hoang
Harold Shames Award for Graduate Academic Excellence by a Master's Student
Rodrigo Guerra
Chrisha Marhea Nario
Sabrina Shafi
Harold Shames Award for Graduate Academic Excellence by a PhD Student
Zeinab Esmaeilpour
Wallace H. Coulter Award for Outstanding Undergraduate Academic Performance
Amilcar Malave
Wallace H. Coulter Award for Outstanding Undergraduate Research Performance
Phuc An Dinh, Amilcar Malave, Jing Yu Carolina Cen Feng, Mohigul Nasimova, Alexandria Hoang, Cynthia Poon, Angel Him Li, Anupriya Roul
Wallace H. Coulter Award for Outstanding Graduate Research Performance by a Master's Student
Niovi Dollas
Wallace H. Coulter Award for Outstanding Graduate Research Performance by a PhD Student
Andrea Corti
Gozde Unal
Wallace H. Coulter Award for Academic Service
Asier Munoz Gurrero
Maialen Ugarteburu
The Rukin Award for Academic and Professional Perseverance by an Undergraduate Student
Sergio Garcia
Ajeyo Yusuf
The Rukin Award for Academic and Professional Perseverance by a Graduate Student
Niovi Dollas, Pratyusha Ghosh, Rodrigo Guerra, Kaustubh Sapru
Award for Undergraduate Academic Excellence by a Junior-level Student
Andrew Birnbaum
Beliz Kayis
Reem Ulay
Award for Undergraduate Academic Excellence by a Sophomore-level Student
Abdelrahman Ahmed
Vividha Bhaskar
Raphael Langer
Recognition of the CCNY Biomedical Engineering Society Representatives
President: Stefan Thomas
VP: Marysol Chu
Treasure: Heejin Cho
Secratary: Daniel Khalil
Class of 2023 Representatives: Andre Deosoran, Mohigul Nasimova
Class of 2024 Representative: Vividha Bhaskar
Our 2022 Undergraduate BME Graduating Seniors:
---
May 4, 2022
Distinguished Professor Sheldon Weinbaum Franklin Medal Symposium
Professor Weinbaum is the 2022 recipient of the 2022 Benjamin Franklin Medal in Biomedical Engineering as we announced in December. The Symposium honoring Professor Weinbaum's contributions is titled "From Solving Mysteries in Cellular Biomechanics to Vulnerable Plaque Ruptures to Jet Trains that Ski" and is taking place Wednesday May 4 from  9 AM - 12 PM. You are invited to join us for the virtual symposium, including several honorable speakers from our own department. Please register at this link.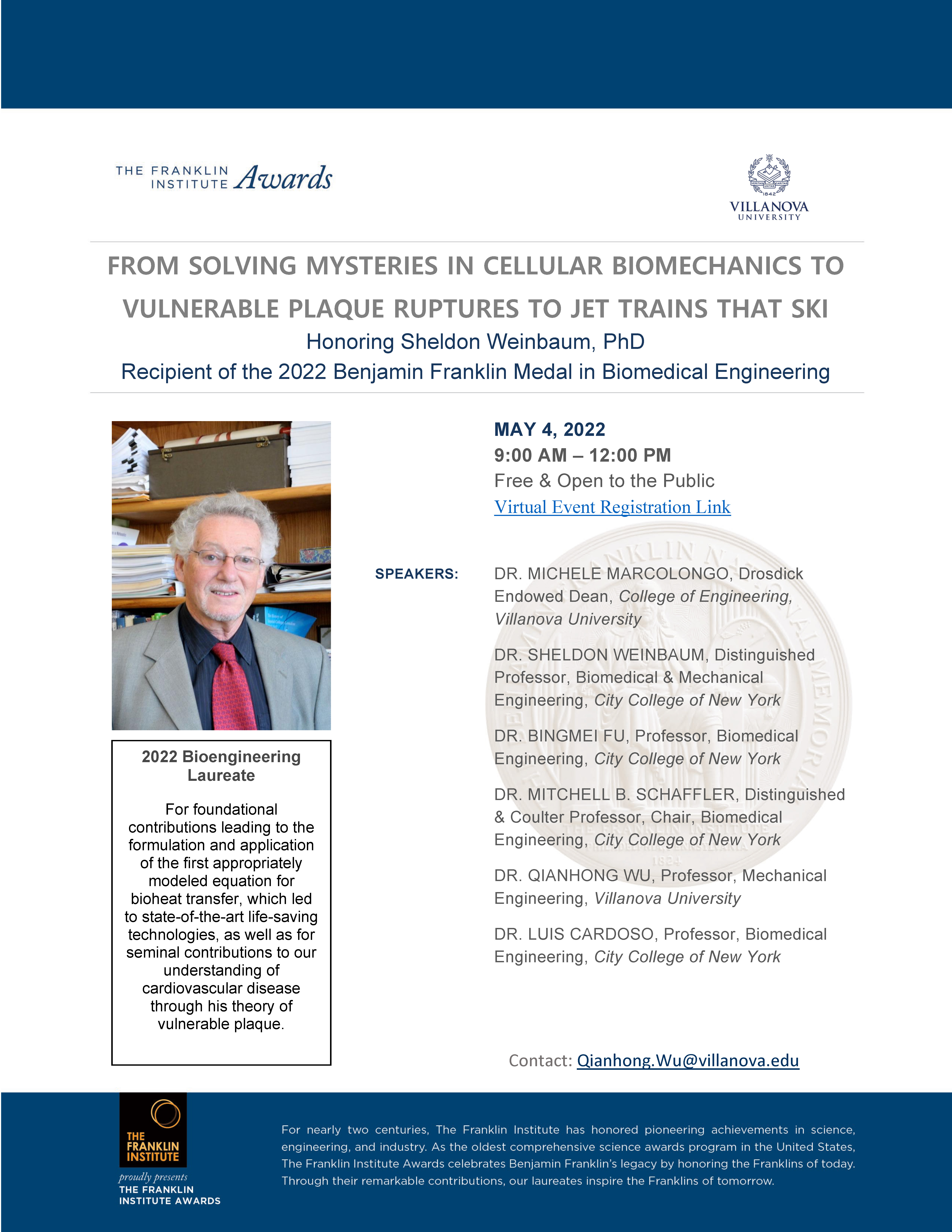 ---
December 13, 2021
Assistant Professor Alessandra Carriero Receives New NIH Grant
BME Assistant Professor Alessandra Carriero recently received a new NIH R21 from the Eunice Kennedy Shriver National Institute of Child Health and Human Development (NICHD) to study new treatments for children with osteogenesis imperfecta. Read more at the CCNY press release here! Congrats Dr. Carriero!
---
December 1, 2021
Professor Emeritus Sheldon Weinbaum recipient of the 2022 Benjamin Franklin Medal in Biomedical Engineering
The Franklin Institute has announced Dr. Sheldon Weinbaum's selection as recipient of the 2022 Benjamin Franklin Medal in Biomedical Engineering in recognition of his "foundational contributions to our understanding of heat flow among arteries, veins, and capillaries in the body, increasing our knowledge of cardiovascular disease and leading to life-saving technologies".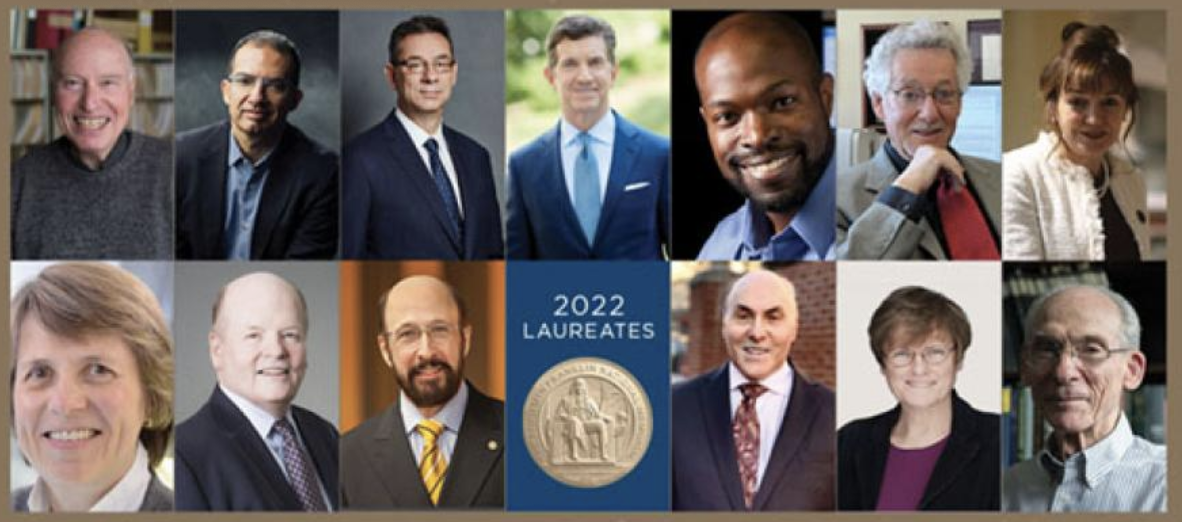 The Franklin Institute laureates date back to the 1820's — with the first award in biomedical engineering in 1999— and include such luminaries as Nikola Tesla, Marie and Pierre Curie, Thomas Edison, Niels Bohr, Max Planck, Albert Einstein, and Stephen Hawking, to name a few. 
---
October 12, 2021
Dr. Parra presents the Booze Allen Hamilton Colloquium at the ECE Department University of Maryland. It's a talk and conversation with the audience reocrded here: "Narratives synchronize brains, hearts and eyes."
---
October 5, 2021
New CCNY center for advancing medical technologies, building off of successes of our MTM program, wins $750K federal grant
City College will receive a $750,000 "Build to Scale" grant from the U.S. Economic Development Administration to expand on the successes of its Master's in Translational Medicine (MTM) and support the proposed Center for Co-Innovation and Medical Technology.  Receipt of this grant marks an important step in the development of a pipeline of practical medical technologies and well-trained STEM employees into Greater Harlem and surrounding communities. See CCNY Press Release here.
---
September 14, 2021
New study on heart rate in Cell Reports
Jens Madsen, postdoctoral fellow in the Professor Lucas Parra's lab published today as first author in Cell Reports. This study shows that listening to a narrative can drive normal heart rate fluctuations. The method can be used to detect if unresponsive brain injury patients are conscious.
---
August 1, 2021
BME Assistant Professor Williams Receives Prestigious NIGMS MIRA ESI Grant
BME Assistant Professor Ryan Williams was recently awarded an NIH NIGMS Maximizing Investigators' Research Award for Early Stage Investigators. This 5 year/$2 M award will fund work in the Williams Lab on the design and use of fluorescent nanosensors to study pro-inflammatory cytokine signaling in chronic diseases, including cardiovascular, neurodegenerative, cancer, and others. Read more about the grant in the CCNY press release here. Congratulations Dr. Williams!
---
July 8, 2021
BME Assistant Professor Carriero Receives Prestigious HFSP Grant
BME Assistant Professor Alessandra Carriero was recently awarded a highly competitive, prestigious $1.1M grant from the Human Frontier Science Program to study the role of bone cellular and sub-cellular porosity in calcium homeostasis. Dr. Carriero was awarded one of 28 grants worldwide in collaboration with groups at MacMaster University in Canada and Université Grenoble Alpes in France. The CCNY press release and CUNY press release can be found at the links. Congratulations Dr. Carriero!  
---
June 9, 2021
BME Assistant Professor Williams Receives ORAU Junior Faculty Enhancement Award
BME Assistant Professor Ryan Williams was recently awarded a Ralph E. Powe Junior Faculty Enhancement Award from the Oak Ridge Associated Universities. Dr. Williams was awarded one of 35 grants nationwide to design nanoparticle therapeutics to treat chronic kidney disease. Read more about research in the Williams Lab here. Congratulations Dr. Williams!
---
June 4, 2021
CCNY BME Hosts Graduation and Celebration of the Class of 2021
---
March 26th, 2021
John Tarbell Honored for Lifetime Contributions to Cardiovascular Engineering
CUNY and Wallace Coulter Distinguished Professor of Biomedical Engineering John Tarbell was recently honored for his lifetime of contributions to the field of Cardiovascular Engineering. A February 2021 Special Issue of the journal Cardiovascular Engineering and Technology celebrates Professor Tarbell's 45 years of research and mentoring efforts in the field. Professor Tarbell runs the Wallace H. Coulter Laboratory for Cardiovascular Dynamics and Biomolecular Transport at CCNY. 
---
March 2nd, 2021
Marom Bikson's CCNY team explores new treatment for NeuroCOVID
Professor Marom Bikson is leading a multi-center trial utilizing a revolutionary noninvasive technology developed in his neural engineering lab.  It involves stimulating the vagus nerve in an attempt to both directly activate brain healing mechanisms and also reduce inflammation in participants with reported neuroCOVID symptoms.  For more information, see CCNY Press Release.
---
February 23rd, 2021
Is anyone paying attention online? What if you could track to see who is engaged? Who is struggling? TEDxNaperville has a conversation with Lucas Parra live on youtube.
---
February 16th, 2021
CCNY Neural Engineering supports NYC Neuromodulation 2020 conference
The CCNY Neural Engineering group, including the Bikson lab, Parra lab, and Dmochowski lab, contributed centrally to the NYC Neuromodulation 2020 conference. This is the fourth NYC Neuromodulation 2020 conference since it was founded by Prof. Marom Bikson in 2013, and run in 2015, in 2017, in 2018 with the North American Neuromodulation Society (NANS), and in 2019 with Neurovations. Prof. Bikson has served as co-chair of all NYC Neuromodulation conferences.
Because of the COVID-19 pandemic the NYC Neuromodulation 2020 conference was held online in two separate sessions: oral talks session on April 20-22, 2020 and a poster session on Dec 18-22, 2020. The NYC Neuromodulation conference series is recognized as as among the preeminent meetings presenting advanced neurotechnolgy with a focus on brain stimulation (neuromodulation) approaches such as transcranial Direct Current Stimulation, Transcranial Magnetic Stimulation, Deep Brain Stimulation, and Spinal Cord Stimulation. The CCNY Neural Engineering group is among the most productive and recognized R&D labs in the worlds, making NYC Neuromodulation a natural showcase for its work.
The NYC Neuromodulation conferences are produced through Neuromodec, a broader initiative supported by CCNY Neural Engineering which includes conference productions and listings, job and clinician search tools, and informational pages such as "What is Spinal Cord Stimulation?" and "What is Transcranial Magnetic Stimulation?"
---
January 28th, 2021
Harold Shames Professor Lucas Parra and postdoctoral fellow Jens Madsen's work on eye movements measured on over 1000 people online was published in Proceedings of the National Academy of Sciences of the United States of America (PNAS) today. Parra's group show that synchronized eye movements predict test scores for online educational videos. Here are videos from the study, and here is a press release reporting on the results.
---
January 19th, 2021
The National Cancer Institute of the NIH awards $4 million grant to Prof. Lucas C. Parra towards work on Machine learning for risk-adjusted breast screening with MRI in collaboration with Memorial Sloan Kettering Cancer Center. 
---
January 7, 2021
Assistant Prof. Ryan Williams published a review article in Nature Chemical Biology this month. The work is a call to action for the fields of nanomaterials science and chemical biology to work together to understand biological systems for better disease treatments and diagnostics. Learn more about the ongoing efforts to do so in the Williams Lab here.
---
January 16th, 2020
Seymour and Pearl Moskowitz gift $2.4 million to Master's in Translational Medicine
The City College of New York proudly announces a $2.4 million gift to its Master's in Translational Medicine (MTM) program by Seymour and Pearl Moskowitz. The gift will have a profound impact on the success and growth of MTM, a five-year-old program that is a collaboration between the Grove School of Engineering and CUNY School of Medicine. Read more
---
Jun 13th, 2019
Two City College BME Department graduates, Tala Azar and Samuel Stephen, are awarded NSF graduate fellowships
Eight recent CUNY graduates are recipients of this year's National Science Foundation Graduate Research Fellowships. The NSF program, one of the country's oldest and most prestigious research honors, recognizes and supports top graduate students in NSF-supported science, technology, engineering and mathematics disciplines who are pursuing research-based master's and doctoral degrees: NSF Graduate Research Fellowships 
---
February 28, 2018
The first Journal to Publish Original Research Articles in ALL Fields of Mechanics in Medicine and Biology,  JMMB Call for Papers
Special issue on Theoretical, Numerical and Experimental Biomechanics of Bone at the Cell, Tissue, and Organ Scales
Aims & Scope:
This special issue is aimed at studies on theoretical, numerical and experimental biomechanics of bone at the cell, tissue, and organ scales in memory of Professor Stephen C. Cowin for all of his contributions to our community. The proposed title is voluntarily large and covers a broad spectrum of research subjects that have been intensively investigated in the past and current literature. Despite previous and recent advances to which Professor Cowin greatly contributed, many fundamental questions still remain unanswered, in particular the interactions between different scales, the associated coupling phenomena, and how bone, a smart composite material, adapts its hierarchical microstructure and composition to its environmental and metabolic demands. This special issue can be viewed as an interesting opportunity to improve our understanding of bone biomechanics at the nano, micro, or macro levels, especially within the scope of important clinical problems, using theoretical / computational modelling and simulations, as well as experimental research studies. Manuscripts comprising a short review of recent research, state-of-the-art research, as well as technical research papers are welcome. Topics covered by this special issue include (but are not limited to) the following:
Bone elasticity, Bone anisotropy
Bone poroelasticity
Porous bone electromechanical interactions
Exchange of interstitial fluid in hierarchical bone poroelasticity
Dental and orthopaedic biomechanics
Impact biomechanics
Molecular, cellular and bone tissue biomechanics
Tissue growth and remodeling
Bone electromechanics
Bone fracture mechanics
Bone damage mechanics
Bone fluid-solid interactions
Submission Guidelines
Authors must mention in their cover letter for each Special Issue manuscript that the particular manuscript is for this theme and must include the name of the Guest Editors so that they can be notified separately.Guidelines for preparation of the manuscripts are available at the journal website http://www.worldscientific.com/page/jmmb/submission-guidelines
Important dates:
Manuscript Due: 21 June 2018
First Round of Reviews: 21 September 2018
Second Round of Reviews: 21 January 2019
Revised Manuscript due: 21 March 2019
Publication Date: 21 June 2019

 
Guest Editors
Professor Salah Ramtani
Paris 13 University, Galil¨¦e Institute
CSPBAT - LBPS Laboratory, UMR CNRS 7244
99 av JB Cl¨¦ment, 93430 Villetaneuse (France)
Email:  ramtani@univ-paris13.fr
Professor Luis Cardoso
The City College of New York
160 Convent Ave. 
Steinman Hall, ST-401 (USA)
New York, NY 10031 (USA)
Email:  cardoso@ccny.cuny.edu
Professor Sheldon Weinbaum
The City College of New York
Dept. of Biomedical Engineering
Room 404B Steinman Hall
New York NY 10031
Email:  weinbaum@ccny.cuny.edu
-----------------------------------------------------------------------------------------------------------------------------------------------------------------------------------------------------------------------------------------
May 9, 2017
The 2017 President's Award for Excellence is awarded to Professor Maribel Vazquez of the CCNY Department of Biomedical Engineering,  May 9, 2017, Shepard Great Hall
The President's Award for Excellence is an annual award granted to an individual faculty member whose creativity and commitment to student learning improves the learning experiences that students have in multiple disciplines at City College. This award recognizes the important relationship between research and the undergraduate and graduate experience and involves joining faculty with student research so that there is a seamless connection between the scholarship and the teaching experience. This award recognizes faculty members for their innovative approaches in mentoring, research, teaching, scholarship and serving as exemplary models for excellence in scholarship, teaching and student success.
eLife paper and video.
---
December 15, 2016
NIH-NINDS awarded a 5-year R01 grant entiteled "Effects of direct-current stimulation on synaptic plasticity". This project will investigate the effects of tDCS on the strength of connections between neurons, which may inform the treatment of neurological or psychiatric decease.
---
November 16, 2016
Dear colleagues,
After learning that Steve Cowin passed away few weeks ago, the International Society for Porous Media (Interpore) is organizing a minisymposium in honor of Steve Cowin within the 9th International Conference on Porous Media in Rotherdam, Netherlands from May 8-11th, 2017.
''Mechanisms of mechanotransduction: how biology builds smart porous media. A tribute to Prof. Stephen Cowin''
The human body renews itself continually. Every 5 years most of the molecules of the physiology are replaced by new ones. One of the key triggers of the renewal is mechanical stress. Mechanotransduction is the sensing of stress by biological tissues. There is ample evidence that living cells sense stress including its orientation, as a full tensor, resulting in anisotropic structuring of constituents such as mineral bone, collagen fibers, cytoskeleton. Understanding of mechanisms of mechanotransduction require a multiscale, multiphysics analysis of the response of a tissue to external stress.
The deadline to submit an abstract has been extended to Monday November 21th.
For the submission of the abstract, the following information is needed as unformatted text:            
Abstract title
Names and affiliations of authors
Presenting author
Three to six keywords
Abstract body, up to a maximum of 500 words
Reference list, up to 6 lines
Up to 3 graphics (accepted formats: GIF, JPEG, PNG). 
Minisymposium or general session to which the abstract is submitted.
https://www.interpore.org/116-event-booking/9th-international-conference-on-porous-media-annual-meeting/318-abstract-uploading-16
Please contact Dr. Jacques Huyghe (
jacques.huyghe@ul.ie
) or Professor Luis Cardoso(
cardoso@ccny.cuny.edu
) if you have any questions.
---
November 15, 2016
Researchers under the direction of Professor John Tarbell in the Biomedical Engineering Department's Wallace H. Coulter Laboratory have just published a study on the role of the cancer cell surface glycocalyx layer in cancer metastasis.
Working in collaboration with Dr. Lance Munn and his associates at the Edwin L. Steele Laboratories at Harvard/MGH, the groups showed that the surface proteoglycan/glycoprotein layer (glycocalyx) on tumor cells controls spreading of highly metastatic renal carcinoma cells in a mouse model. Using genetically modified cells that did not express a major glycocalyx glycosaminoglycan – heparan sulfate (HS), they demonstrated by histological analysis that there was a large reduction (95%) in metastasis to distant organs by tumors with HS deficient cells compared to control cells with intact glycocalyx. These findings suggest novel approaches for controlling cancer metastasis. The findings are reported in the December 2016 issue of the International Journal of Cancer. (https://www.ncbi.nlm.nih.gov/pubmed/27543953)
---
November 11, 2016
Obituary for Stephen C. Cowin
It is with great sadness that the Department of Biomedical Engineering mourns the death of one of its co-founders, Stephen C. Cowin, on October 19, 2016, one week shy of his 82nd birthday. Professor Cowin, an internationally recognized scholar in the field of biomechanics and solid mechanics more generally, first came to The City College in the fall of 1988 as a CUNY Distinguished Professor of Mechanical Engineering. He was a senior member of the Department of Mechanical Engineering from 1988 to 2002 when he transferred to the newly created Department of Biomedical Engineering (BME) in 2002, where he served for one year as its first department chair. He remained in the BME Department until his retirement in 2015. Before the creation of the BME Department and undergraduate degree program, Professor Cowin helped create a new CUNY PhD Program in Biomedical Engineering in 1999. Prior to coming to The City College in 1988 Professor Cowin had taught at Tulane University for 25 years, where he co-founded their Biomedical Engineering Department with William Van Buskirk in 1977 and was the Alden J. Laborde Professor of Engineering. Professor Cowin received his BS and MS degrees in Civil Engineering from Johns Hopkins in 1956 and 1958, respectively, and his PhD in Engineering Mechanics from Penn State in 1962.
Professor Cowin is widely recognized for his pioneering research in the mechanics of materials, in particular the influence of microstructure on the gross mechanical behavior of granular, composite, and biological materials. In the early part of his career he wrote classic papers on continuum theory for granular materials (with MA Goodman), a non-linear theory for elastic materials with voids (with JW Nunziato), and developed basic theorems in anisotropic elasticity (with MM Mehrabadi).  While at Tulane he started his research on bone remodeling in response to mechanical forces and introduced the concept of the fabric tensor for cancellous bone in which he tried to explain Wolff's law for trabecular architecture, which dated back to the last part of the 19th century. Shortly after his arrival at City College he started to work with CUNY Distinguished Professor Sheldon Weinbaum on a cellular level hypothesis to explain how bone cells (osteocytes) sense mechanical forces due to human locomotion. Their inaugural paper in 1994 on the effect of fluid forces on the dendritic processes of osteocytes helped expand research on mechanotransduction in living bone. Until recently, this paper (> 1000 Google citations) was the most cited paper in the J. Biomechanics since its founding and was the catalyst for the International Bone Fluid Flow Workshop, which Professor Cowin inaugurated in 1997. In 1995 the authors received the Research Award of the European Society of Biomechanics. Professor Cowin has worked extensively with Professor Weinbaum since then and has also collaborated closely with CCNY Professors SP Fritton and L Cardoso on bone poroelasticity.
Professor Cowin is one of the most highly cited investigators in the field of biomechanics. He has published more than 250 research papers, edited five books on bone and tissue mechanics, including the Bone Mechanics Handbook in 1989 and 2001. His book on Tissue Mechanics with S Doty is also in its 2nd edition. His research papers and books have been cited over 10,000 times on the Web of Science and he has received numerous awards.  Foremost among these are his election to the National Academy of Engineering in 2004, the Melville Medal of the ASME 1993, the HR Lissner Award of the ASME in 1999, and the MA Biot Medal of the ASCE in 2004, and the Honorary Lifetime Award by the International Society for Porous Media in 2016, in addition to the Research Award of the European Society of Biomechanics in 1995.
Professor Cowin was also an engaged, dedicated, and effective teacher.  He is survived by his wife of many years, Martha, their two children Thomas and Jennifer and eight grandchildren.
---
Last Updated: 09/08/2023 16:08