About Us

The CCNY Division of Interdisciplinary Studies at the Center for Worker Education, offers a flexible and tailored education designed for working adults and transfer students. This educational approach encourages students to apply their classroom knowledge to real-world situations. The curriculum places a strong emphasis on critical thinking, reading, and writing skills, with a focus on effective communication in various formats, including written, oral, and digital.
Courses at CCNY CWE are offered through a variety of delivery methods, including Asynchronous, Blended, HyFlex, In-Person, Online, and Synchronous formats. Most courses are 4 credits and are scheduled for evenings, and Saturday mornings and afternoons, to accommodate the needs of working adults.
In addition to its core educational offerings, CCNY/CWE sponsors special programs, research initiatives, conferences, and cultural events that align with its interdisciplinary approach to teaching and learning. These include the Patai Lecture Series, the Human Rights Forum, Study Abroad, Quest, The Americas Film Festival of NY, The Americas Poetry Festival of NY, the Rights Talk Podcast, and the CWE/DC37 Partnership Technology Program.
CCNY CWE | Jump Start Your Future!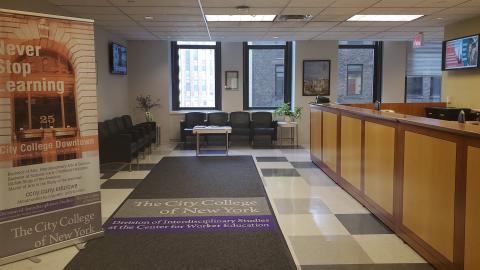 Last Updated: 09/19/2023 11:37