The Ad/PR Program's relationship with PromaxBDA,  a global community of professionals passionately engaged in the marketing and promotion of television and video content, has resulted in a number of high powered panels and workshop on television promotion, marketing, and design here on the City College campus.
In Fall 2012, over 70 students from MCA enjoyed pasta and pizza while learning about marketing, communica­tions, design, and film-making opportunities in the television industry. Sponsored by PromaxBDA and moderated by Katerina Zacharia (below), the panel of pros included Guy Slattery, EVP Marketing, A+E Net­works, Vicky Free, CMO, EVP Marketing, BET Networks, and Darryl Mascarenhas, Creative Di­rector, Loyal Kaspar.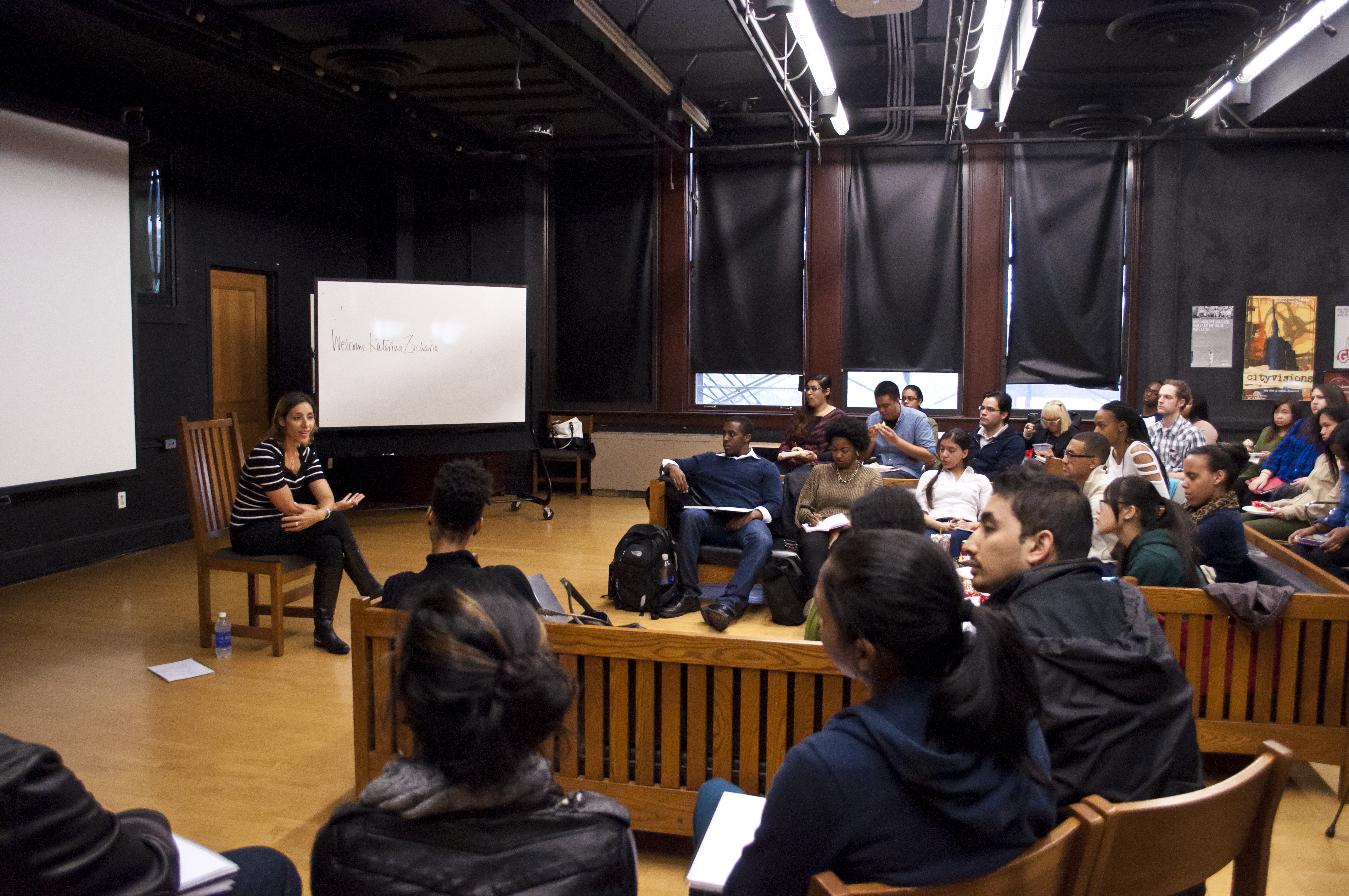 In 2013, MCA students had the chance to participate in two workshops that highlighted a cross-disciplinary, collaborative project and compete to present a multi-platform campaign to Warner Bros. execs in SPRING 2014.
Entertainment Marketing 101:
Drawing from many creative disciplines, the entertainment marketing industry is always looking for smart, creative talent who stand out. This workshop offered lessons on how the different academic disciplines, from marketing and communications to film and television and social sciences, offer relevant experience to a rapidly diversifying industry. Students learned how to leverage and package their academic experience to open doors of opportunity in media marketing and promotion. This workshop featured Creative Director Mer­edith Cooper and Director of Production Freddie Mullin of IFC.
Long Story Short: Writing for Entertainment Marketing:
Today, marketers are strategists, content creators, filmmakers, who work within the technological and time parameters that condense storytelling into :30 :60 and :90 spots and across all media platforms. This workshop offered lessons on how to translate students' existing skills and train to build a thriving creative career as a writer, producer, designer, editor, etc. in television marketing and promotion. Students walked away with sample scripts and practical advice. This workshop (above) featured Louis Venezia of Pilot, Diana Terry, VP Corporate Marketing at Univision, and Terry Minogue, SVP Marketing and Creative Director at SPIKE.