CPS CCMA Video

Online / Hybrid Certified Clinical Medical Assistant (CCMA)
320 HOURS

Course Description:  This 320-hour online / hybrid course is designed to prepare students to work as multi-skilled health professionals, and perform administrative and designated clinical duties under the direction of a physician. Administrative duties may include scheduling appointments, maintaining medical records, billing and coding for insurance purposes. Clinical duties may include taking and recording vital signs and medical histories, preparing patients for examinations, drawing blood and administering medications as directed by a physician. With the integration of these two skills students will gain sufficient knowledge to perform a variety of a medical assistant tasks and to prepare individual for the National Health career Association certification examination. Most medical assistants work in physicians' offices, hospitals, outpatient clinics, and other healthcare facilities.

MedStar Billing Technology and Resources, the instructional provider, offers over a decade of experience as a healthcare transaction processing service and training provider.
According to the US Department of Labor outlook handbook, the employment of medical assistants is expected to grow 23 percent from 2018 to 2028, much faster than the average for all occupations. MA job postings increased at least 9% each year.  The growth of the aging baby-boom population will continue to increase demand for preventive medical services, which are often provided by physicians. As a result, physicians will hire more assistants to perform routine administrative and clinical duties, allowing the physicians to see more patients.
Having CCMA accredited certification can help you stand out. MA has laddering opportunities to become a patient coordinator, health coach, health manager and patient navigator
Prerequisites:  Knowledge of Medical Terminology and Anatomy is strongly recommended. 

The laboratory sessions of the clinical part of the course will be held in a face to face setting.
The lectures of the clinical and administrative parts are offered online (LMS) and through virtual live sessions, which incorporates two innovative software: Moodle.org and Zoom.

Moodle is a virtual learning environment (LMS) that is free to download and access 24/7.  All documents related to the course, such as the syllabus, assignments, seatwork, homework are housed in Moodle.
Zoom is a video conferencing system that allows the student to log in to view the class that is in session and participate in live discussions with the instructor and students in the classroom. The students will be using this application to "virtually attend" the class. 
Cost:  $3,199*
Total Number of hours: 320
Note: NHA examination fee is not included in tuition
*$25 Registration Fee not included in tuition
---
Course Outline
I. Medical Terminology/Anatomy and Physiology
II. General Discipline of Medical Assisting & Medical Office Administration
III. Electronic Health Record (EHR)
IV. The Clinical Medical Assistant
EKG
Phlebotomy
Vital Signs
V. Professional Training and Assistance
---
Students will be emailed within one week of start date of class with access instructions.
All instructors are Clinical Medical Assistant certified (clinical and administrative) with at least 15 years of experience.
Upon completion of the course students are encouraged to take the Certified Clinical Medical Assistant certification examination by the National Healthcareer Association. 
T,W,TH COURSE SECTION (Instructor: Judilyn Canete)
REQUIREMENTS:
Requirements:
1. Kinn's The Administrative Medical Assistant,
13th Edition 
ISBN-13: 978-0323396721 
ISBN-10: 9780323396721
(Students need this book on the first day of class)
This textbook can be purchased ahead of time.
2.  ICD-10-CM, CPT & HCPCS Coding Books
(These three coding books are not required on the first day of class.
Wait for further instructions from the instructor.)
Students can purchase the books from https://www.aapc.com/medical-coding-books/physician-bundle-1/
Additional Requirements:
•    Printer
•    Speaker Phone and Camera
•    Computer / Laptop/Smartphone or Tablet
•    Internet Connection
•    Active Email Address
•    Software download of Moodle and Zoom 
M, T, W, TH COURSE SECTION (Instructor: Terrance Richards)
REQUIREMENTS:
Textbooks and/or materials are not included in the course tuition.
REQUIRED TEXTBOOKS:
The following textbook is required on Day 1 of class. This is for medical terminology and anatomy and physiology.
The Language of Medicine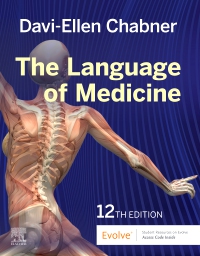 By Chabner, Davi-Ellen, Edition: 12
Publication Date: 03-31-2020
ISBN: 9780323597821
Copyright: 2020
The following book set is also needed.
These books are for clinical procedures, EKG & Phlebotomy as well as all administrative material. This is the 14th edition although a 15th is out now.  IMPORTANT: This is a set that has the textbook and workbook with lab procedures.  Students need both Textbook + workbook. 
The Medical Assistant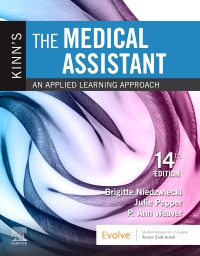 ISBN: 9780323655743
Copyright: 2020
Publication Date: 01-06-2020
Study Guide and Procedure Checklist Manual for Kinn's The Medical Assistant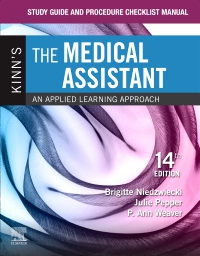 ISBN: 9780323758321
Copyright: 2020
Last Updated: 08/30/2023 16:18