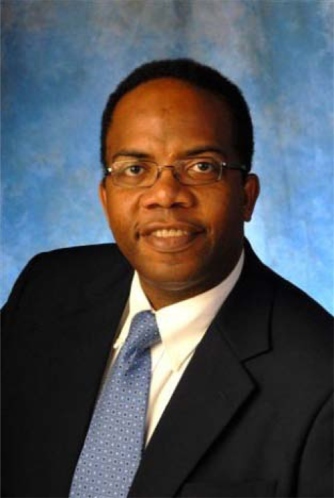 Quintessential Grove Student, Quintessential Achiever
"I still see myself in today's engineering students. I came from Jamaica with my family to New York looking for a better life. My parents worked hard, but like so many immigrants we struggled when we got here. I knew I wanted to go to college – and of course my parents expected me to go – and I always wanted to be an engineer, but we didn't have much money. City College was not just an option – it was my only option. It was City College or nothing.
With more than 10 million people in New York City and Westchester County counting on it for electric, gas and steam, Con Edison is one of the world's largest energy delivery systems – and as Senior Vice President of Central Operations at Con Ed of New York, Grove School alumnus Milovan Blair has risen to its top.   
When Blair graduated in 1990 he went to work for IBM in Poughkeepsie – an arrangement that his then girlfriend and now wife, who remained in New York City, pointed out was less than felicitous.
Then as a recent alumnus, CCNY notified Blair a rigorous competition for an internship at Con Edison, and he couldn't write his application fast enough. In 1991, he was one of 26 recent grads chosen from more than 1,000 interviewees for the company's prestigious, career-building internship program.  Blair credits his engineering education at CCNY with making him technically competitive with the best graduates from the most prestigious public and private universities in New York, including Columbia, Cornell and Syracuse.  He was given a once-in-a-lifetime opportunity to rotate through different departments, and to gain both the operational experience that helped him determine what direction he wanted to take and the leadership training that he needed to rise to the top.  Of course, at the time, he had no idea that he would still be there all these years later. 
Today as Senior VP for Operations, Milovan Blair is in charge of a team of 3500 responsible for planning, designing, operating and maintaining the company's electric transmission system, substations, primary control center, steam generating plants, steam distribution system, and engineering and construction activities. He sees major challenges ahead in the intersection of sustainability and new technology.  Blair argues that energy sustainability in a warming world is a global challenge, and Con Edison must do its part to continue to develop and maintain sustainable sources and also develop and integrate new technologies for energy generation and distribution – many of them "greener" and all of them more efficient – into an infrastructure that traces its beginnings to 1823. Daunting – but Blair would have it no other way. "I love my job!" he says.
Blair dedicates his personal time to mentoring young people, leading education, and investing in the community. He serves on the boards of the Bedford-Stuyvesant YMCA, Brooklyn Children's Museum, Northeast Power Coordinating Council, American Association of Blacks in Energy, and New Yorkers for Parks. Blair is a member of the Leadership Council of the Grove School of Engineering and the North American Transmission Forum.
Last Updated: 11/19/2021 09:44