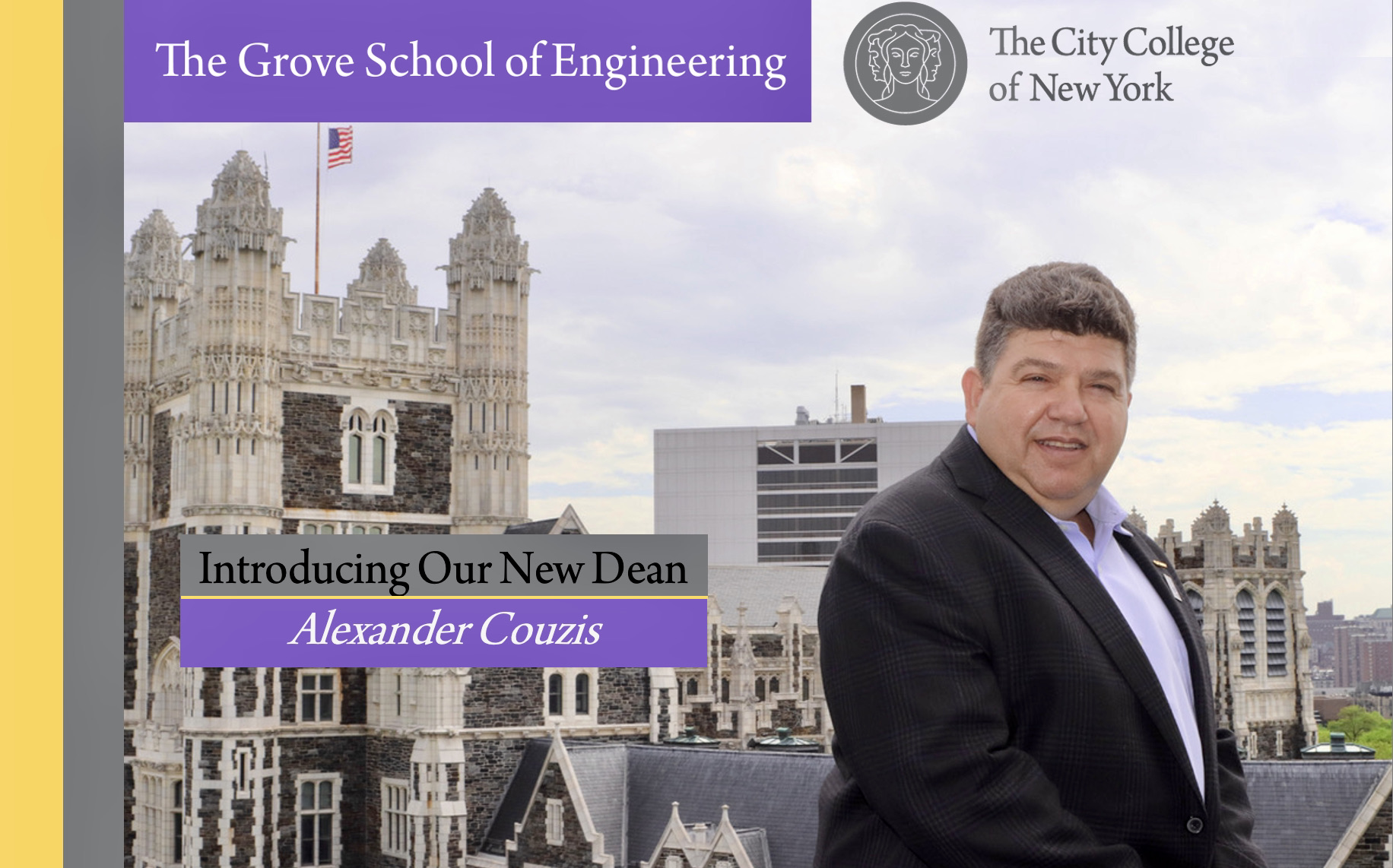 Alexander Couzis Appointed Dean of The Grove School of Engineering - May 2022
To:         All Faculty & Staff  
From:    Tony Liss, Provost 
Date:     May 02, 2022
Re:        Dean of Engineering
I am delighted to announce that, following a nationwide search, Interim Dean Alexander Couzis is now the permanent Dean of the Grove School of Engineering.
Dr. Alex Couzis came to CCNY in 1994 as an Assistant Professor of Chemical Engineering. He rose through the ranks to Full Professor in 2004, when he became the Herbert G. Kayser Professor of Chemical Engineering. He served as Department Chair from 2008-2013. In January of 2013, Alex went on leave from the College for five years to assume the role of Chief Technical Officer of Urban Electric Power, a NY-based clean energy company start-up that spun off from CCNY. In 2014 he was appointed CEO of UEP by its Board of Directors. Alex returned to CCNY in January of 2018, but UEP is going strong and two years ago turned its production to hand sanitizer to help with the coronavirus crisis. On July 1, 2020, Professor Couzis was appointed as Interim Dean of the Grove School, replacing Dean Barabino who left the College to become President of Olin College.
It has been my great pleasure to work closely with Dean Couzis these past seventeen months. He has shown great leadership in the Grove School, important strategic thinking about how best to deploy our scarce resources, and fresh ideas about how to advance the goals of the Grove School of Engineering. It comes as no surprise that he was very strongly supported by his engineering colleagues for the permanent deanship. Personally, I am very much looking forward to continuing to work with him.
Please join me in congratulating Dean Alex Couzis.
Spring 2022 Welcome Message - January 2022
Welcome back to the Spring 2022 Semester!
I hope you've had a smooth transition back from an enjoyable and restful winter break and return prepared for all of the exciting challenges and opportunities that await us this spring.
As we kick off a new semester, I want to express my deep appreciation to you—our faculty, staff, and students—who throughout these past two years contributed to the academic continuity and vitality of our institution. You demonstrated great flexibility and diligence in abiding by the college's covid-19 protocols and I know that I can count on you to continue to do so this spring.
Over the past few weeks, CUNY's updated its isolation and quarantine guidelines in response to updated CDC recommendations and more recently reaffirmed its policy to maintain a mask requirement for the time being as an added safety measure. I encourage you to bookmark the Return to Campus webpage to stay up to date with the college's current guidelines.
I find the start of a new semester to be an opportune time to emphasize the importance of academic integrity. Cheating and plagiarism have always been an area of concern among all academic institutions; however, with the increase of technological resources, academic dishonestly has become rampant across the nation. Beyond undercutting one's career preparation, a student who cheats or plagiarizes invalidates the worth of their degree and jeopardizes the reputation and value of all the degrees bestowed by the institution. I hold you to the highest standards of honesty and integrity, such as those of the National Society of Professional Engineers that many of you will join, and ask that you hold yourself and your classmates to the same. Integrity and ethics matter in all that you do.
On a more positive note, we will once again offer a variety of seminars, lectures, workshops, and events focused on enhancing course instruction, career preparedness, and opportunities for internships and research experiences. Be sure to check your email frequently for those opportunities. There are also a wide range of support services and resources offered through the Division of Student Affairs in support of your physical, mental, and emotional health. Don't hesitate to seek them out should you need to; your well-being is our top priority.
Thank you for your part in ensuring we maintain a vibrant learning community. Let's work together to make this another productive and successful year!
Alexander Couzis, Ph.D.
Interim Dean & 
Daniel and Frances Berg Professor of Chemical Engineering
The Grove School of Engineering
Wall Street Journal Ranks CCNY #1 Nationally For Best Value
The City College of New York ranks #1 for Best Value among the top 250 U.S. schools, according to the 2022 Wall Street Journal/Times Higher Education Best College Rankings. The publications determined this by dividing each institution's overall score by its net price. City College, #212 overall on the rankings out of 796 colleges and universities, was followed in second place by another CUNY school, Baruch College, for value.  
CCNY also ranked #6 for Environment, a category that reflects four elements that are fortes for CCNY, which has a student body representing more than 150 nationalities. Read more >>
Jeff F. Morris To Receive The European Society of Rheology 2022 Weissenberg Award
Jeff F. Morris, Professor of Chemical Engineering and Director of the Benjamin Levich Institute for Physico-Chemical Hydrodynamics, is recipient of the 2022 Weissenberg Award presented by European Society of Rheology (ESR). Morris was cited for his "ground-breaking work on the particle pressure and the underlying mechanism of suspension flow and discontinuous shear thickening, for novel work on the rheology of hydrate-forming emulsions, and for outstanding service to the rheology and fluid mechanics community." The Weissenberg Award was created in 1997 to recognize outstanding, long-term achievements in the field of rheology, regardless of geographical location. As the 2022 Weissenberg awardee, Morris will present a plenary lecture at the upcoming AERC conference to be held in Seville, Spain in April 2022. He will also serve a three year term (2022-2026) on Weissenberg Committee. Read more>>
Masahiro Kawaji Named Michael Pope Chair for Energy Research
Masahiro Kawaji, Professor of Mechanical Engineering and Associate Director of the CUNY Energy Institute has been named the Michael Pope Chair for Energy Research. Established by alumnus Michael Pope '44EE, the named chair recognizes faculty who are prominent researchers in the field of energy. Kawaji has a distinguished record spanning over 40 years as a researcher and scholar in the areas of mechanical, chemical and nuclear engineering. Kawaji joined the faculty at CCNY in 2009 after teaching at the University of Toronto, Canada, for more than 25 years. His research interests include multiphase flow and heat transfer, thermal energy storage, nuclear reactor thermal-hydraulics, microfluidics, and microgravity fluid physics. He is a Fellow of the American Society of Mechanical Engineers and a PI and Director of the $5 million NSF-sponsored Partnerships for International Research and Education (PIRE) project.
Sheldon Weinbaum Receives Prestigious Benjamin Franklin Medal
Professor Emeritus Sheldon Weinbaum is the recipient of a 2022 Benjamin Franklin Medal in Biomedical Engineering from The Franklin Institute. The Franklin Institute cited Weinbaum for his "foundational contributions to our understanding of heat flow among arteries, veins, and capillaries in the body, increasing our knowledge of cardiovascular disease and leading to life-saving technologies."

Since 1824, The Franklin Institute of Philadelphia has honored the legacy of Benjamin Franklin by presenting awards for outstanding achievements in science, engineering, and industry. As the oldest comprehensive science and technology awards program in the United States, The Franklin Institute Awards Program has recognized more than 2,000 of the most pioneering scientists, engineers, inventors, and innovators from across the globe. Read more >>
Alessandra Carriero Awarded NIH R21 Grant To Potentially Transform Bone Fragility Treatment In Brittle Bone Disease 
Alexander Couzis Appointed Daniel And Frances Berg Professor
Alexander Couzis, Interim Dean and Professor of Chemical Engineering has been named the Daniel and Frances Berg Professor. The named professorship was established by alumnus Daniel Berg '50 and his wife Frances H. Berg to enhance the academic strength and reputation of the College. Couzis is an internationally recognized researcher with areas of expertise in interfacial engineering, materials engineering, nanomaterials, energy storage, and process scale up. He joined the college in 1994 following a stint with the International Paper's Applied Polymer Science Division. In 2013, he took a five-year leave to take on the role of CTO and later CEO of Urban Electric Power, where he maintains an advisory role. Shortly following his return to academia in 2018, Couzis was appointed Interim Dean of The Grove School of Engineering on July 1, 2020. 
CCNY Students Excel At National STEM Research Conference
Computer Science Students Place 3rd In International Overhead Imagery Hackathon
The team of computer science students that took CCNY to third place in the Overhead Imagery Hackathon included graduate student Bilal Abdulrahman and  undergraduates Billy Davila, Shuoxin Liu, Jed Magracia and Ling Fang (pictured clockwise from top left).
The international competition entailed utilizing Artificial Intelligence and Machine Learning (AI/ML) methods to classify different types of building damage caused by natural disasters, such as hurricane, flood, earthquake and fire. Participants were presented with aerial images of disaster areas taken by aircraft or satellites and asked to survey the impact. "Instead of manually assessing the damage to come up with the most appropriate disaster relief plans, government agencies would like to exploit AI/ML techniques to effectively speed up the relief process," said Jie Wei, CCNY computer science professor and the team's co-advisor. The CCNY team used cutting-edge deep learning techniques to reduce the data and computational complexity in the analysis of the overhead images by order of magnitude.  Read more>>
City College is now directly connected to the COSMOS beyond-5G testbed, which is supported by multi-million dollar investment from the National Science Foundation.
Led by Co-PI Myung Lee, Professor of Electrical and Computer Engineer-ing, the effort will help researchers experiment with new methods that will shape and revolutionize the future of wireless networks in smart cities and communities. COSMOS, in New York City, was one of the first two testbeds to receive funding under the NSF's Platforms for Advanced Wireless Research  initiative. Read more>>
Experiential learning in the sciences and engineering at CCNY is set for a significant expansion encompassing several CUNY community colleges and Columbia University's Teachers College, as result of a five-year $5 million grant from the U.S. Department of Education (DOE). The funding, that also establishes an endowment for the CCNY Makerspace, brings close to $10 million in DOE investment over the past two years in experiential learning at City College. Read more>>
For one of the first times, topological photons—light—has been combined with lattice vibrations, also known as phonons, to manipulate their propagation in a robust and controllable way. The findings led by Alexander Khanikaev, Professor of Electrical Engineering were featured in the journal Science. The study, "Topological phonon-polariton funneling in midinfrared meta-surfaces," utilized topological pho-tonics, an emergent direction in photonics which leverages funda-mental ideas of the mathematical field of topology about conserved quantities—topological invariants—that remain constant when altering parts of a geometric object under continuous deformations. Read more>>
Despite a long history of research on flow regulation due to dams, most studies focused only on the impact of a single dam. They have by far ignored the combined impact of flow regulation on a river network caused by large dams heavily altering natural flows that cause river ecosystems to degrade. A comprehensive review by Naresh Devineni, Associate Professor of Civil Engineering in collaboration with researchers at NC State and Columbia has led to a proposed dynamic flow alteration index (DFAI) for complex river networks with cascading reservoir systems that quantifies the local and cumulative degree of regulation. The study was published in Water Resources Research.
Google And Cisco Partner With CCNY In Expanded Professional Studies Program
CCNY is transforming its Continuing and
 Professional Studies Programs, expanding previously established programs and courses, as well as implementing new programs and partnerships. A new partnership with Google and Cisco, has brought additional professional IT and computer certification courses to its continuing education program, including Cisco Certifications in CyberOps and Networking and a Google IT Support Professional Certificate. Read more>>
Welcome Back 
We encourage you to take advantage of the extra-curricular programming available this Spring. Be sure to check your email for additional activities and events. 
2022 WinS Mentoring Program 
The purpose of the WinS Mentorship Program is to support people with their career goals/objectives. Its goal is to enhance the professional development of mentees by providing feedback, guidance, and skill sets. Mentees will be paired with a mentor who either works in their field of study or works in a closely related field.
Explore Our Graduate Programs
Engineering, Cybersecurity, Sustainability, & Translational Medicine. 

February 16, 2022 | REGISTER 
CCNY Campus-wide Events
Visit the CCNY Calendar for the latest listing of events throughout the campus.
CPDI Spring Events
Visit the CPDI calendar of events for the most up to date listing of workshops, information sessions and recruiting events. They include Writing the Winning Resume, Know Your Worth, Exploring Career Options, and Career Fairs.
GSOE Executive In Residence
IBM Career Panel
February 24, 2022
The program will explore issues of career planning at various stages in a panel led by Radha Ratnaparkhi, VP and CTO for Services Research Collaboration Program at IBM's Watson Research Center.
LAESA-SHPE First General Body Meeting for the Spring 2022
February 24, 2022
12:30PM 
Learn more about the club's upcoming activities, opportunities within the club & SHPE, and network with members.
The Engineering Leadership Certificate Program consists of four (4) sessions that will deepen your leadership skills and know-how. Participation in all four sessions is mandatory for certificate. 
Program Dates: 3/11, 3/25, 4/14, 4/28
Our Undergraduate Program Advisors
The Grove School of Engineering
The City College of New York
275 Convent Avenue
New York, NY  10031
Fall 2021 Welcome Message - September 2021
The semester is now well underway and we are off to a great start to what promises to be an exciting new academic year at The Grove School of Engineering. While we will continue to offer many of our services virtually for the benefit, convenience, and most importantly, for the safety of our community, the campus is open—and I must say it has been wonderful to be back and to see so many familiar and new faces on campus.
 
As you'll find below, there is much happening at the Grove School. Our faculty and students have continued to thrive in their research and academic activities. We have been working diligently to bring you meaningful offerings this semester—many made possible through the support of our dedicated faculty and staff and some incredibly thoughtful and generous alumni and friends. In addition to a host of lectures, information sessions and workshops, I am thrilled to announce that we are officially a part of IBM's Global University. As a member, students, faculty, researchers, and staff will have access to the wide range of resources and services of the IBM Academic Initiative—you simply have to create an account with your CCNY credentials here.
 
We are also offering more scholarships than in any other single year. This, together with the CUNY Comeback program, will bring much needed financial relief to many of our students. Earlier this month, we announced 44 scholarship recipients and we anticipate announcing many more before the end of the month. If you are in need of support for tuition, books, and professional development, I encourage you to complete the GSOE Scholarship Application by September 30, 2021.
 
We recognize that this past year-and-a-half has been among the most difficult we have faced collectively and as individuals. From the pandemic to the environmental degradation that has become more evident in recent years, it is a highly skilled and technically trained workforce that will be part of the solution. This is why we are all here and I look forward to working together to making this another successful and productive year.  

I extend a hearty welcome back, wish you much success, and hope to greet you on campus.

Alexander Couzis, Ph.D.
Interim Dean and Professor of Chemical Engineering
The Grove School of Engineering
Wall Street Journal Ranks CCNY #6 Nationally for Diversity & Student Inclusion
The City College of New York is now #6 among the top 796 institutions nationally for Environment in the 2022 Wall Street Journal/Times Higher Education Best College Rankings published today. The category reflects four elements that are fortes for City College, which has a student body representing more than 150 nationalities. Read more >>
Jorge E. González Awarded $1.5 Million NSF Grant To Form A Center For Building Energy Smart Technologies
Jorge E. González has been awarded a $1.5 million NSF grant to support the formation of a sustainable tech research center as part of a  CCNY - University of Colorado Boulder partnership. The funds to be matched by a minimum of $3 million from industry associates will establish the Building Energy Smart Technologies (BEST) Center in Boulder. BEST's mission will be to advance sustainable buildings and cities ranging from HVAC manufacturing, to smart glazing for windows, smart building controls, advanced insulation materials, new energy storage systems, and improved air quality systems. Read more >>
NIH Awards Ryan Williams $2 Million To Engineer Nanosensors
In a boost for the development of nanomedicines to study and diagnose inflammatory diseases, biomedical engineer Ryan M. Williams is the recipient of a $1.96M grant from the NIH's National Institute of General Medical Sciences. The funding program supports the nation's most highly talented and promising young investigators. Williams' award is titled: "Investigating real-time multi-system cytokine signaling in chronic disease." Read more >>
Alessandra Carriero Receives Elite $1 Million HFSP Grant For Bone Mineral Transport Research
Alessandra Carriero, assistant professor of biomedical engineering, is a recipient of the highly competitive Human Frontier Science Program grant designed to promote international collaboration in cutting-edge, interdisciplinary research focused on elucidating the complex mechanisms of living organisms. The grant totaling more than $1.1M will support her study on the role of bone cellular and sub-cellular porosity in calcium homeostasis. Read more >>
Yiannis Andreopoulos Named CUNY Distinguished Professor
Yiannis Andreopoulos, Michael Pope Chair for Energy Research and Professor of Mechanical Engineering, has been elevated to the rank of Distinguished Professor, the highest academic honor that CUNY can bestow upon faculty who have reached exceptional scholarly achievement. The CUNY Board of Trustees resolution cited, "Professor Andreopoulos has a long and internationally renowned career in his field and is conducting scholarship and teaching of the highest caliber. City College and The City University of New York will be well-served by Professor Andreopoulos' appointment as Distinguished Professor." Read more >>
Alexander Khanikaev Presented With Rarely Awarded NSF 'Special Creativity' Honor
Electrical Engineering Professor Alexander Khanikaev is the recipient of the National Science Foundation's rarely given Special Creativity Award. The honor from the Division of Materials Research (DMR) recognizes what the NSF cites as Khanikaev's "excellent research, productivity, and impact on topologically nontrivial photonic systems and nonlinear photonic nanostructures and plasmonic metamaterials, as well as the broader impacts emanating from a current NSF project." Read more >>  
Tarek Saadawi's Next Generation Internet Research Is Supported By A $3 million NSF Grant
As work on advancing the Internet progresses on different fronts globally, a $3 million National Science Foundation (NSF) grant to four partners, including Grove School of Engineering professor Tarek N. Saadawi, is ensuring our participation in the effort. CCNY is collaborating with lead institution  Columbia University, Rutgers and Arizona in a three-year project to establish a global Internet testbed for the next generation of Internet.  Read more >>
Civil Engineering Department Receives ASCE's 2021 Walter LeFevre Award
Civil Engineering Major Ricardo Polanco Named 2022 Transportation Research Board Fellow 
Ricardo Polanco, a civil engineering major, has been selected by the Washington, D.C.-based Transportation Research Board (TRB) to be part of the 2022 class of Minority Student Fellows. As a TRB Fellow, Polanco and his peers will research and explore ideas and solutions to some of the nation's transportation problems from diverse perspectives—a primary goal of the fellowship program incepted in 2010. Polanco's research focus is on the Citi Bike network and bike share equity. Fellows will present their research at TRB's 2022 annual meeting. Read more>>
CCNY Engineering Junior Caroline Schwab Wins Hollings Scholarship For NOAA Studies
National Udall Scholarship for Grove School's Ondrea Kanwhen
Ondrea N. Kanwhen, an electrical engineering major with a passion for forging large scale renewable energy projects, is one of 55 students nationally selected as a 2021 Udall Scholar. Supported by the Morris K. Udall and Stewart L. Udall Foundation, the highly qualified Scholars from 42 colleges and universities were picked based on their: commitment to careers in the environment, Tribal public policy, or Native health care; leadership potential; record of public service; and academic achievement. Read more >>
Michael Vera, Class of 2021, Wins National GEM Fellowship
Michael Vera of Grove's Class of 2021 is the winner of a highly competitive GEM Fellowship that offers funding for a master's program in structural engineering at New York University. GEM fellowships fund master's and PhDs in engineering for underrepresented students of exceptional quality who intend to work in industry. The National GEM Consortium's combination of graduate study and field-related internships make GEM fellows more marketable and more competitive upon graduation. Read more >>
Biomedical Engineering Professor  Marom Bikson is leading a multi-center trial utilizing revolutionary noninvasive technology developed in his neural engineering lab to treat COVID-19 related neuro-logical manifestations known as NeuroCOVID symptoms. NeuroCOVID is characterized by one or a combination of symptoms including vertigo, loss of smell, headaches, fatigue and irritability, as well as anxiety and depression. Read more>>
Biomedical engineers Lucas Parra  and Jens Madsen, in collaboration with investigators in France, and England, analyzed electrocardiogram data from four experiments where subjects listened to audio recordings or watched videos. The study published in the journal Cell Reports shows narrative stimuli can synchronize fluctuations of heart rate between individuals. These fluctuations could be effective indicators of level of consciousness and provide tools for determining prognosis. Read more>>
An NSF grant of $833,284 for major upgrades to research instruments for solid-state nuclear magnetic resonance (ssNMR) spectroscopy is underway, setting the stage for more groundbreaking inquiry in the sciences and engineering. Chemical Engineer and Project Co-leader, Robert J. Messinger said, "This exciting project will comprehensively upgrade our research infrastructure for advanced ssNMR spectroscopy, resulting in new state-of-the-art capabilities at City College." Read more>>
Civil engineering professor Nir Krakauer and his father and collaborator, endocrinologist Jesse Krakauer of Berkley, Michigan, introduced body shape index (ABSI) as a new anthropometric measure of obesity based on adjusting waist circumference to BMI. They found high trunk fat percentage alone did not predict mortality. They also found that high fat-free mass in the trunk – rather than high fat mass – identified risk. This finding was unexpected, since trunk fat mass is usually considered to be of more concern. Read more>>
The world has more trash than at any point in history – with the U.S. generating nearly 300 million tons a year, according to the most recent EPA figures. According to "The Scientific Truth about Waste-to-Energy" by chemical engineer Marco J. Castaldi, waste-to-energy facilities offer significant environmental protection, reduce greenhouse gas emissions, and play an important complementary role in recycling efforts. Castaldi's report notes the amount of waste to be landfilled can be reduced up to 90% when employing waste-to-energy. Read more>>
Welcome Back 
We encourage you to take advantage of the extra-curricular programming available this Fall. Be sure to check your email for additional activities and events. 
CPDI Bootcamp
September 24, 2021
The bootcamp is designed to introduce students to the services and programs of the Career and Professional Development Institute, and assist participants with mapping out a career plan.
Department Of Energy National Labs Information Series
September 24, 2021
An outgrowth of immense investment in scientific research initiated by the US government during WWII, the National Laboratories have served as the leading institutions for scientific innovation in the US. 
ChE Seminar Series: 
Light-matter Interactions with Structured Light in Van der Waals Materials
Alexander B. Khanikaev
Professor of Electrical Engineering
 The City College of New York;
CUNY Advanced Science Research Center; and CUNY Graduate Center 

September 27, 2021 @ 11AM  |  Join via ZOOM
https://ccny.zoom.us/j/82534206600
U.S. Intelligence Community Center for Academic Excellence - 
Connections
The intent of the IC CAE Program is to increase the pool of competitive, diverse, applicants, and to increase awareness of the IC mission and culture throughout ethnically and geographically diverse communities. Join the upcoming sessions to learn more.
September 28 , 2021  |  
REGISTER
National Scholarship/Fellowship Bootcamp
Gain insight on preparing a competitive application for these highly competitive awards that provide opportunities and support for research, study abroad, public service, teaching, and employment in non-profits, city and federal government. 
October 1, 2021  |  
REGISTER
October 15, 2021  |  
REGISTER
Monthly presentations on a selection of graduate programs and why you may want to consider pursuing a graduate degree, followed by Q&A.
Dates TBA - check CCNY email 
CCNY Campus-wide Events
Visit the CCNY Calendar for the latest events throughout the campus.

Our Undergraduate Program Advisors

The Grove School of Engineering
The City College of New York

275 Convent Avenue
New York, NY  10031

​
Spring 2021 Welcome Message - January 2021
Welcome back to the Spring 2021 semester! 


I hope to be welcoming you back from a restful winter break, ready to accomplish great things this spring semester. While not yet back on campus, if this past fall is any indicator of what we can accomplish even in the least ideal of circumstances, I am very hopeful and excited for all this new semester holds. 

I will keep this message brief as we have a lot of content to share with you in this e-newsletter but I do want to emphasize the need to remain vigilant and to make the most of the resources available to you. The development of vaccines brings with it great hope of a return to normalcy, however that will take time, and in the meantime, we must continue to abide by Covid-19 safety protocols for the well-being of our communities. As you'll find below, we have once again put together a vast array of offerings designed to promote community-building and professional development, alongside student services. The college additionally provides a host of student support services, ranging from emergency grants to counseling, accessibility to career services, and many more. I encourage you to explore these opportunities.
 
We've seen much since the onset of this pandemic that has undoubtedly impacted us and in many instances deterred us from where we had planned and hoped to be. As we begin this new semester, I ask each of us to be thoughtful, purposeful, and supportive of one another as we map out our new paths.

We are all in this together.  Let's work together to make this a productive and successful semester!

Alexander Couzis, Ph.D.
Interim Dean and Professor of Chemical Engineering
The Grove School of Engineering
Jing Fan Wins 2021 NSF CAREER Award 
Lucas Parra Awarded $4 Million NIH Grant to Advance Breast Cancer Screening Using Machine Learning
Computer Science Faculty Receive Air Force Grant Aimed at Identifying Military Targets Under Previously Difficult Conditions
Computer Science Professors Jie Wei and Zhigang Zhu have been awarded a three-year grant from the U.S. Air Force Office of Scientific Research  (AFOSR) that will bring undergraduate and graduate students from CCNY together with local Harlem High School students to study the integrated sensing power of multimodal signals with big data analytics and deep learning to enable the identification of military targets under previously difficult conditions.  
The main objective of the project is to gain deeper insight into the sensing phenomenology from different modalities, their collaborative perception principles, and the deep data analytics and computing procedures, in order for the DDDAS to be applied to a broad spectrum of military applications.  Read more >>
Alexander Khanikaev Elected OSA Fellow
Electrical Engineering Professor Alexander Khanikaev's groundbreaking research has earned him election as a Fellow Member of The Optical Society of America (OSA), the foremost professional association in optics and photonics, globally. Fellow membership in OSA is limited to no more than ten percent of the membership and is reserved for members who have served with distinction in the advancement of optics and photonics.  Read more >>
Hao Su Leads $3 Million NSF Wearable Robot Project
Marco Castaldi Wins $1 Million ARPA-E Grant
Undergrads Karissa Collins, Huan Ying Zhang Earn Eisenhower Fellowships
The program's mission is to attract qualified students to the field of transportation and research, and advance transportation workforce development. Fellows also participate in the Transportation Research Board annual meeting, held virtually in January 2021.  
Read more >>
CCNY Trio Triumphs at National Biomed Research Conference
Engineering Senior Luis Abreu Earns TRB National Fellowship
Welcome Back 
We encourage you to take advantage of the extra-curricular programming available this Spring. Be sure to check your email for additional activities and events. 
February 4, 2021
Join us to learn more about our e-board/leadership positions, benefits, and upcoming events.
All Welcome | No Registration Necessary
Join us to learn about the club, what events we have planned for the semester, and network with fellow members!
February 4, 2021
Augment your undergraduate experience and professional portfolio with a paid research internship while developing a lasting mentorship relationship.
February 5, 2021
Learn about summer research opportunities, national scholarship and a broad range of opportunities for Summer 2021.
February 8 & 15, 2021
Join us for a brief presentation on a selection of graduate programs and why you may want to consider pursuing a graduate degree, followed by Q&A.
February 9, 2021
Join us for a talk with Cisco Systems Hardware Engineer Dr. Francis Smith as part of our U.S. Intelligence Community Center for Academic Excellence (ICCAE) partnership.
February 9, 2021
This is a great opportunity to learn about our club and meet some of our members.
Professor Joel Sokol, Director of Master of Science in Analytics at Georgia Tech will present on Engineering Solutions with Analytics. View a full description here.
International Education/Research
February 11, 2021  |  
REGISTER
Explore Undergraduate Research 
February 12, 2021  |  
REGISTER
February 16, 2021
Join us for a talk with Module/Integration Yield Engineer at Intel, Dr. Amara Enemuo, as part of our U.S. Intelligence Community Center for Academic Excellence (ICCAE) partnership.
February 17, 2021
Join us for a presentation by CUNY Associate Vice Chancellor for Research Dr. Tamera Schneider as part of our Culture of Innovation Series.
Engineering Leadership Certificate Program
The Program consists of a series of four panel/workshop sessions that will deepen your leadership skills and know-how. Must attend all four sessions to receive certificate. 
February 18, 2021
REGISTER
Cybersecurity Series: ISACA
Leadership form ISACA's NY Metropolitan Chapter will kickoff the series this spring.
February 25, 2021
REGISTER
Our Undergraduate Program Advisors
The Grove School of Engineering
The City College of New York
275 Convent Avenue
New York, NY  10031
Fall 2020 Welcome Message - September 2020
Welcome to the start of another academic year at The Grove School of Engineering! 
This fall we kick off the semester against the backdrop of a global pandemic and amidst a national outcry for social justice. What would typically be a lively campus filled with old and new faces settling into our new routines remains nearly empty with the majority of classes being held online. Over the past few months, we've worked diligently at the Grove School to develop a comprehensive plan to deliver an exceptional educational experience—whether remote, hybrid or in person. We've done this with two fundamental priorities in mind: safety and academic excellence. 

Students, I know your expectations as engineering and computer science majors were not to take classes virtually, but to learn and engage in hands-on experiences, and take advantage of all the City College campus has to offer. I want you to know that while we are forgoing some in-person experiences in the interest of the health and safety of our community, we have not and will not compromise the quality of education offered. In fact, we are using this shift to remote learning as an opportunity to be creative and innovative in our instruction and research methods. We've also lined up extensive professional development offerings, as you'll see from the list of upcoming events. 
 
Staff and faculty, this pandemic has affected all aspects of our lives necessitating that we adopt new and different ways of operating. Your incredible dedication, resourcefulness, and effort has allowed for a great sense of continuity – in our course offerings, our services to students and colleagues, and in our research activity – that has not gone unnoticed. Thank you for the ingenuity and resilience you've demonstrated during these unprecedented times in support of our students despite all that has transpired in a year we will not soon forget.
 
CCNY has faced its share of adversity throughout its 173-year history and has prevailed. I have no doubt that this time will be any different and, with your support, we will persevere once more and be a better institution for it.
 
We are all in this together. Let's continue to build on the College's history and its century of engineering excellence as we foster this temporary learning environment—until we can once again return to the vibrant academic atmosphere to which we've grown accustomed.
 
I wish you all great success, both professionally and personally.

Alexander Couzis, Ph.D.
Interim Dean and Professor of Chemical Engineering
The Grove School of Engineering
CCNY Professor Emeritus Sheldon Weinbaum Earns Presidential Mentoring Honor
US Army Support Mechanical Engineering Professor in Novel Study of Urban Climate Dynamics
A still uncharted research field of much relevance beyond summer's inevitable heatwaves is coming under the intense scrutiny of City College of New York mechanical engineer Prathap Ramamurthy, thanks to a $360,000 grant from The US Army Research Office (ARO).  He's tasked with unlocking the mysteries of urban fluid dynamics that impact the air flow and exchange of heat over cities. Ramamurthy's three-year project is in collaboration with the Army Research Lab. Read more >>
Electrical Engineer Bruce Kim Receives KRISO Grant for Maritime Security Study
Bruce Kim, associate professor of electrical engineering at The City College of New York, is the principal investigator of a project to develop a nanosensor that can automatically detect explosive and narcotic vapors from maritime containers.  The project, "Development of Automatic Detection System for Maritime Containers with Dangerous Cargo," is financed by a five-year, $600,000 grant from the Korea Research Institute of Ships and Ocean Engineering.  Read more >>
EE Major Grace McGrath is Palantir Women in Tech North American Scholar
Class of 2020 ME Graduate Harold Gamarro Wins GEM Fellowship
Harold Gamarro, a standout graduate of the Grove School of Engineering, is the second member of City College of New York's Class of 2020 to receive a GEM Fellowship. The highly competitive national honor funds master's and PhDs in engineering for underrepresented students of exceptional quality who intend to work in industry.  Read more >>
Computer Engineering Major Benjamin Reichman Wins Goldwater
Benjamin Reichman, a rising senior in the Macaulay Honors College program, is The City College of New York's fifth Barry M. Goldwater Scholar in as many years. He joins a list of talented students in science, engineering and mathematics recognized nationally by the Barry Goldwater Scholarship and Excellence in Education Foundation. Read more >>
Bloomberg Week: 

September 14-18
A virtual recruiting event for students interested 2021 summer internships and full-time software engineering opportunities at Bloomberg.
Join Bloomberg engineers + get to know us through a variety of events designed specifically for CUNY.

View the Schedule of Interactive Virtual Events.

REGISTER by September 2nd.
GSOE Student Welcome Back
An opportunity to hear from students on their summer internships and research experiences. Learn more about these valuable experiences.
Tuesday, September 1st
REGISTER
Make Federal Work-Study Work for You
Become a Research Assistant. Gain experience and develop a lasting mentorship relationship.
Tuesday, September 3rd
REGISTER
Explore Undergraduate Research 
Research can augment your educational experience. Learn how.
Tuesday, September 8th
REGISTER
Cybersecurity Series: Session 1
Learn directly from Industry Professionals and Academics. 
Thursday, September 10th
REGISTER
Our Undergraduate Program Advisors
The Grove School of Engineering
The City College of New York
275 Convent Avenue
New York, NY  10031
Introductory Message from Interim Dean Alexander Couzis - July 2020
Dear Colleagues, Students, Alumni and Friends,
I am honored and humbled to have been appointed interim dean of The Grove School of Engineering at The City College of New York, during so perilous a moment in our city's history. It was only 100 days ago that the world shifted beneath our feet. Our resilience will continue to be tested, and these new challenges will demand the best of us. Great obstacles lie ahead, yet I am confident that together, with the work of our faculty, staff, students, alumni, partners, and friends, we will persevere and reaffirm our shared mission and values.

I want to thank Dean Gilda Barabino for her thoughtful leadership, vision, and transparency. Under Dean Barabino's leadership enrollment reached at an all-time high even as CCNY had been forced to make do with budget cuts. Despite these odds, The Grove School of Engineering improved retention and graduation rates, developed new and innovative programs, and moved up in rankings. As dean, my goal is to build on that momentum and use our collective talents to navigate through a new reality for engineering education in a post-COVID-19 world.

I joined the CCNY School of Engineering faculty in 1994. From 2008 to 2013 I served as the Chair of the Department of Chemical Engineering. During that time, we accomplished great things at CCNY: we secured ABET accreditation, founded the CUNY Energy Institute, and completed a multi-million-dollar capital project that upgraded laboratory space for teaching and research. In 2013, I took a five-year hiatus from academia to help establish a clean energy start-up, Urban Electric Power (UEP), that spun-off from our research work at CCNY. As CEO and CTO of UEP, we secured over $20M in funding and grew from five engineers to a company of more than 30 with a 40,000 sq ft pilot manufacturing plant in Pearl River, NY.

Since returning as faculty in 2018, I have spent much of my time listening to students, colleagues, and alumni, to reacquaint myself with the college's ongoing evolution, and to better understand their experiences, expectations, and hopes for the direction of the school. I've learned that it's our shared desire to thrive, to build on this rich history, and develop an inclusive community of faculty and student scholars.

I look forward to working with each of you as we continue to navigate the many challenges with an unwavering spirit of practicality, innovation, and optimism. There will be challenges ahead, but our work at The Grove School of Engineering is now more critical than ever. I am inspired by this opportunity, and I hope you'll share your thoughts insights and recommendations in the days to come.
Sincerely,
Alexander Couzis, PhD
Interim Dean of The Grove School of Engineering 
Alexander Couzis, PhD
Dean, The Grove School of Engineering 
Alexander Couzis is dean of The Grove School of Engineering at The City College of New York and the Daniel and Francis Berg Professor of Chemical Engineering.
Professor Couzis received his BS in chemical engineering from the National Technical University in Athens, Greece and received his MS and PhD degrees in chemical engineering from The University of Michigan in Ann Arbor, MI. Immediately after graduating, he joined International Paper in their research center with the division of Applied Polymer Science developing novel polymeric materials and coatings for gas and vapor barrier applications. In September 1994, Couzis joined the Department of Chemical Engineering at CCNY where he established an internationally recognized research program focused on the study of the dynamic phenomena at solid-liquid interfaces. He is the author of over 50 highly cited peer-reviewed publications, he holds six patents, and has mentored and co-mentored 19 PhD students. From 2008 to 2013 he served as chair of the chemical engineering department at CCNY. During this period, the department successfully achieved ABET accreditation, receiving the full six-year renewal; the CUNY Energy Institute was established and housed within the chemical engineering department; a number of newly hired professors joined the department and the institute; and the department support infrastructure was greatly enhanced. Additionally, a NYS funded capital improvement project was undertaken, upgrading 5,000 square feet of chemical engineering laboratory space for teaching and research.
In January 2013, Couzis took a special leave to take on the role of CTO of Urban Electric Power (UEP), where less than two years later in November 2014 he was also appointed CEO by the board of directors. UEP is a NY-based clean energy start-up company that spun off from research at CCNY. The company is commercializing advanced zinc anode rechargeable battery technology developed at the CUNY Energy Institute. During Couzis' tenure at UEP, the start-up made up of just five engineers located in a 5,000 square foot facility in Harlem successfully ramped up pilot scale production, increasing staffing to over 30 and moving to a 40,000 square facility in Pearl River, NY, within the original Pfizer Industrial Campus. In January of 2018, Couzis returned to his duties at City College, as professor and researcher. He maintains an advisory role in UEP as the company continues on path towards commercialization. In September of 2019, Couzis, as a Co-PI, along with Professors Messinger, Biddinger, and Banerjee were awarded the NASA-MIRO grant of $3 million over three years. Couzis served as interim dean since July 2020 until his appointment as permanent dean in May 2022.
................................................................
Dean Alexander Couzis succeeds Dr. Gilda A. Barabino who was appointed Olin College of Engineering's second president.
Departing Message from Outgoing Dean Gilda Barabino - June 2020
Dear Grove School Community, Alumni and Friends,

Despite being in the midst of a global pandemic and a period of unrest across our nation in response to persistent inequities, I write this final communication as dean of The Grove School of Engineering with a great sense of hope for our future—not only for us as individuals, but for us as a society and for us as the Grove School Community. While moving on to serve as president of Olin College of Engineering, I will forever remain part of the Grove School Community.
 
I am immensely grateful for the privilege of having served as dean of the Grove School and for having had the opportunity to lead such a dedicated, driven and resilient faculty, student body, and administrative staff.  Since my arrival in 2013, under my leadership, we have doubled the rate of retention of our students; implemented new graduate programs in translational medicine, data science and engineering and cybersecurity; increased partnerships with the Harlem community; enhanced our research footprint; and led the nation in the production of work ready engineers from diverse groups. We are the only public school of engineering in the city of New York and we have a 100-year history of undergirding the city through contributions from Grove engineers.
 
Throughout the past century and during these unprecedented times, The Grove School of Engineering has carried on in serving its mission to provide a readily accessible and high quality education while also stepping up to address our society's most pressing challenges.
 
My words alone could not do justice the actions of our faculty, staff and students. Each remarkably stepped up, doing what engineers do, adapting, learning, and problem solving. We managed to transition a fully face-to-face instruction and service operation to a remote one that ensured continuity of education and service, with some difficulty, but with much dedication, cooperation, and grace.
 
Faculty and students alike stepped up in response to combat Covid-19, which included making PPE for healthcare workers; shifting the production of a private company to produce hand sanitizer; developing technology to help address the anticipated ventilator shortage; and helping set up the mobile medical facilities; and, more recently, with contact tracing. Then the death of George Floyd flooded our television screens and was plastered across the front pages of newspapers and magazines shinning a light on the harsh reality of racial inequity and health disparities—topics that I have spent my entire career bringing to the forefront, especially as they apply to STEM and higher education. Here, our community stepped up again, many joining peaceful protests and others in leading the conversations on our role as the only public school of engineering in NYC.
 
With social distancing measures in place, we were unable to hold our traditional commencement exercises however this in no way diminished the accomplishments of the class of 2020. If you have not yet done so, I encourage you to view the virtual GSOE Class of 2020 Graduation Celebration. Class of 2020, during the most trying of times you achieved what you set out to do, congratulations! I have seen the power of building – and maintaining – strong connections, I encourage you to become involved with the Engineering School Alumni and stay connected with us on LinkedIn.
 
I am pleased to be succeeded by my colleague and good friend Professor Alexander Couzis who has been appointed as interim dean. As a member of the City College chemical engineering faculty since 1994, few know the college and the Grove School as Alex does, and those who know him, know I leave the school in more than capable hands.
 
I will end by noting what anyone who has ever heard me speak of the school has undoubtedly heard me say, here at the Grove School, human capacity is our greatest strength—our talent is boundless and our resilience is unmatched. The impact of our students, faculty, and staff extends far beyond the confines of our walls, more evident than ever in these past few months.
 
Thank you for being part of our Grove School family—and thank you for accepting me as one. I will forever hold a special place for Grove in my heart. Continue transforming the city, the nation, and the world.
 
With gratitude and best wishes to all,
 
Gilda A. Barabino, PhD
Dean
Daniel Berg '50 and Frances Berg Professor
Last Updated: 05/29/2022 15:16