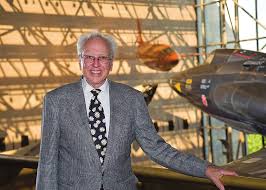 Visionary Who Helped Put Men on the Moon
Eight years after earning an electrical engineering degree from City College in 1961, Dr. Lester Gerhardt would become a central player in what is still considered one of mankind's greatest technological feats. Working for Bell Aerospace, he was a major contributor to the visual stimulation system for the Apollo 11 mission and the lunar module that put the first men on the moon in 1969. Meeting Buzz Aldrin years later, he laughed when he learned the astronaut felt the controller he designed was a bit sensitive.
This stellar contribution to space flight is only one of the highlights a lifetime of achievement for this outstanding researcher and academic administrator of more than fifty years. Gerhardt's other accomplishments include pioneering research in digital signal processing and brain computer interfacing – work done at Rensselaer Polytechnic Institute, where he has served with distinction for more than forty-five years, holding nine different administrative positions concurrent with his teaching and research.
Lester Gerhardt's work has earned him numerous awards and honors. Among his most recent are the 2012 Benjamin Garver Lamme Award & Medal, the highest honor bestowed by the American Society of Engineering Education (ASEE). It recognizes outstanding contributions to the art of teaching, research and technical literature, and to the profession of engineering and administration. Past recipients of this prestigious honor include Vannevar Bush, organizer of the Manhattan Project, and Fred Terman, the "Father of Silicon Valley", and several university Presidents. He is a Life Fellow of ASEE as well as the IEEE. He received the Outstanding Global Service Award in 2013 from the Institute of International Education.
In addition, Gerhardt's eye tracking patent – one of many patents that he holds – earned him the NYS Inventor of the Year Award. Beyond his research, he was one of only nine engineering faculty in the United States designated 'agents of change' for globalizing engineering education, as part of a National Science Foundation sponsored study. He co-founded the Global Engineering Education Exchange Program, which oversees and benefits thousands of student participants worldwide, and served as Chair of the Executive Board for over a decade. Gerhardt also initiated the Rensselaer Exchange Across Cultural Horizons (REACH) Program, and served as a delegate to the North Atlantic Treaty Organization.
Last Updated: 11/19/2021 09:42