CCNY benefits from its proximity to public transportation. Most of our students use public transportation to commute to campus; therefore, we are focusing our energy conservation activities on promoting walking, cycling, carpooling, and acquiring fuel efficient vehicles.
Completed goals:
Switched vehicles in our fleet from regular fuel power to fuel-efficient, hybrid or electrical vehicles.
Installed bicycle racks across campus to encourage cycling rather than driving.
Set up reduced parking rates to those who drive hybrid fuel vehicles to campus.
Run extended hours for the shuttle bus service to and from subways stations in order to encourage utilization of public transportation.
Added two brand new "Blue Bird Vision" low sulfur diesel fuel vehicles to our fleet.
Goals in Progress:
Meticulously collect data on fuel consumption and costs in order to help us understand our practices and therefore, help us reduce emissions.
Future Goals:
Continue to conduct surveys in order to assess potential emission savings by changing driving patterns.
Purchase only fuel-efficient or hybrid vehicles when replacing or adding to the fleet.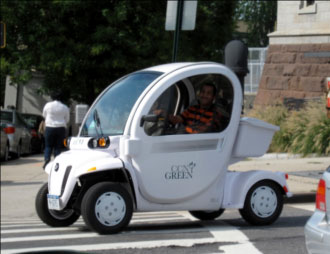 Last Updated: 10/18/2019 12:01