Rick and Susan Goings Conversations in Leadership – Condoleezza Rice
Dates
Wed, Nov 16, 2022 - 03:30 PM — Wed, Nov 16, 2022 - 04:45 PM
Event Address
AARON DAVIS HALL – THEATER B
Event Details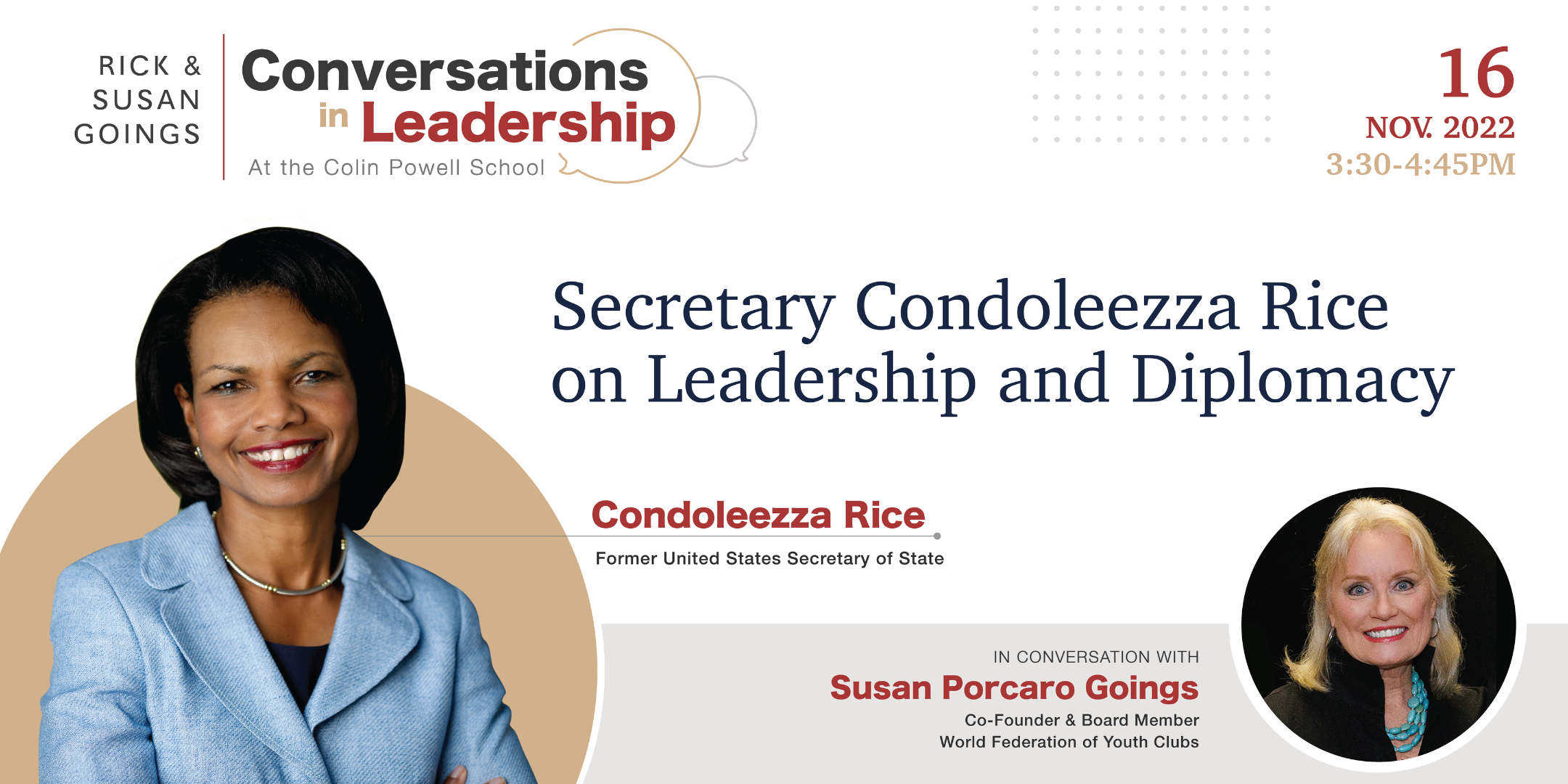 A Conversation on Leadership with Former Secretary of State Condoleezza Rice
Condoleezza Rice is the Tad and Dianne Taube Director of the Hoover Institution and a Senior Fellow on Public Policy. She is the Denning Professor in Global Business and the Economy at the Stanford Graduate School of Business. In addition, she is a founding partner of Rice, Hadley, Gates & Manuel LLC, an international strategic consulting firm.
From January 2005 to January 2009, Secretary Rice served as the 66th Secretary of State of the United States, the second woman and first Black woman to hold the post. Secretary Rice also served as President George W. Bush's Assistant to the President for National Security Affairs (National Security Advisor) from January 2001 to January 2005, the first woman to hold the position.
Secretary Rice served as Stanford University's provost from 1993 to 1999, during which time she was the institution's chief budget and academic officer. As Professor of Political Science, she has been on the Stanford faculty since 1981 and has won two of the university's highest teaching honors.
From February 1989 through March 1991, Secretary Rice served on President George H.W. Bush's National Security Council staff. She served as Director, then Senior Director, of Soviet and East European Affairs, as well as Special Assistant to the President for National Security. In 1986, while an International Affairs Fellow of the Council on Foreign Relations, she also served as Special Assistant to the Director of the Joint Chiefs of Staff.
Rick and Susan Goings Conversations in Leadership
The Rick and Susan Goings Conversations in Leadership are marque public discussions with individuals who have taken unconventional paths to success at the highest levels of their professions. We probe deeply into the careers of those whose leadership has made a difference and who have persevered despite the odds. Through this series, we will develop an understanding of the styles and critical elements of leadership.
**Everyone who attends in-person must be ready to display evidence of full vaccination.
__
COVID-19 GUIDELINES
All attendees must be vaccinated, and masks are required. For guests (non-CUNY, non-CCNY attendees), here is the Cleared4 link for registering and submitting vaccination credential. This needs to be done at least 3 days in advance of the event. ((bit.ly/Health-Verification-GUEST))
Back to Departmental Calendar
Back to calendar of events