Human Rights Studies - Interdisciplinary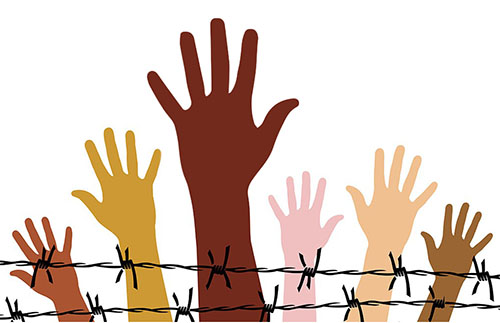 Minor in Human Rights Studies
 
The Human Rights Studies minor provides students with an understanding of human rights philosophy, norms, law, institutions, and practice. The core courses provide a conceptual grounding of the field along with a critical awareness of fundamental twenty-first century challenges to protect the lives, well-being, and dignity of all individuals, that transcends national boundaries.
The interdisciplinary curriculum will be drawn from the fields of Political Science, History, Sociology, Philosophy, Anthropology, International Studies, and Literature.  
Combined with their related majors, students will graduate with a substantive grasp of human rights, particularly in the context of their major fields.
Curriculum
Required Core Courses: 6 credits (3 per course)
Human Rights I: Philosophy and History
(HRS/HIST/IAS/PHIL/PSC 20000)    

Human Rights II: Politics, Law, and Institutions
(PSC 26600)
Electives: 9-12 credits
Minors must take any 3 approved electives in the field of human rights.
(The list of approved electives is given below)
Total credits: 15 – 18 (this means five courses.  The range is because the Center for Workers Education courses count for 4 credits).
The program will also help minors secure an internship with a New York-based human rights organization. Students can receive three elective credits toward the minor for this.
Electives for the Human Rights Minor
PSC 35800:
Humanitarian Intervention
PSC 21300:
Civil Liberties
PSC 31162:
Human Rights and Human Wrongs
PSC 31171:
Human Rights and the Laws of War
 
 
SOC 31160:
Latinas and Reproductive Rights
SOC 31154:
Undocumented: Life in the Shadows
 
 
ANTH 32200:
Immigrant & Refugee Movement & Cultures
ANTH 32400:
Violation of Human Rights
ANTH 35000:
Race & Racism
INTL/ANTH 31606
Human Rights, Humanitarianism, and Identity
ANTH 31110
Islam and Human Rights
ANTH 31403
Women and Violations of Human Rights
 
 
HIST B0912:
The Holocaust
HIST B0910 /
HIST 31824 (CWE): 
History of Human Rights
HIST B2313:
Fascism-Nazism-Totalitarianism
HIST B2315:
Genocide in the 20th Century
HIST B2316:
 Modern Dictators
 
 
PHIL 30800:
Ethics
PHIL 34600:
Feminist Philosophy
PHIL 34905:
Biomedical Ethics
 
 
IAS 31115 (CWE):
Immigrant Rights and the Law
IAS 31154 (CWE):
Women's Rights as Human Rights
IAS 31407 (CWE:
Childhood Poverty
IAS 31504 (CWE):
Forced Migrations
MCA 31414 (CWE):
Film and Human Rights

Please note: CWE courses are offered at the downtown CCNY campus and count for 4 credits.
This list is not exhaustive.  Minors may take other elective courses as approved by the Program Director.
For more information contact:
Bruce Cronin
Program Director, Human Rights Program

E.: bcronin@ccny.cuny.edu
Office:  NAC 4/135
Last Updated: 01/31/2020 14:15