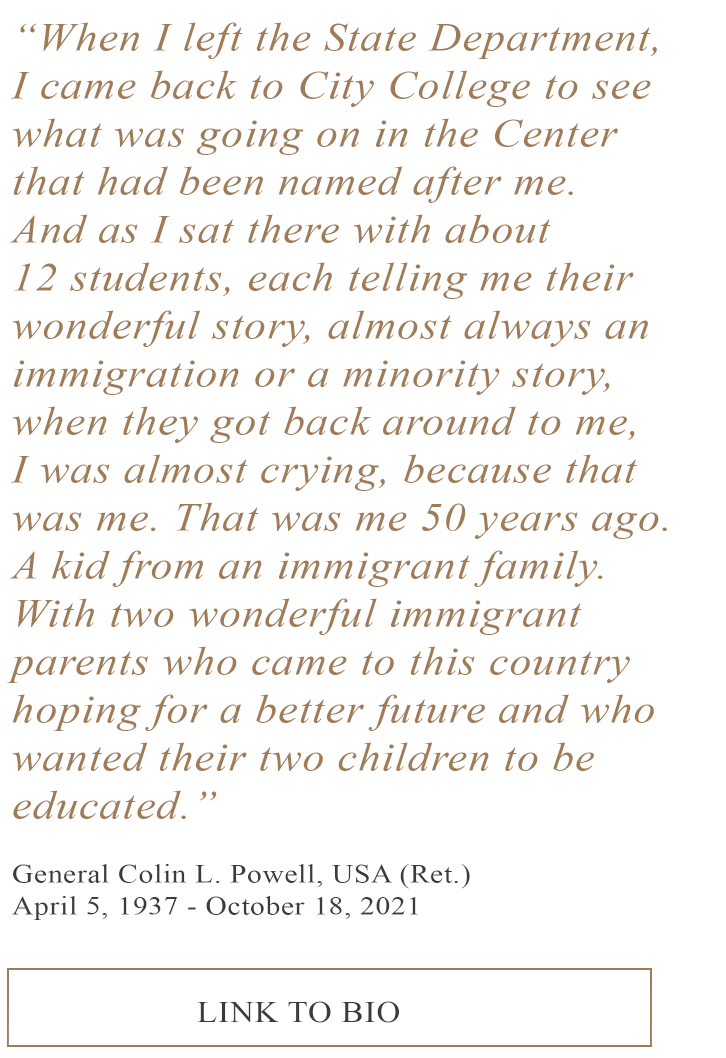 General Colin L. Powell will be remembered as a man of extraordinary accomplishment: a trailblazer, a role model, and an inspiration. And he was a proud son of City College, a person from humble origins who never forgot where he started. The son of Jamaican immigrants, born in Harlem and raised in the South Bronx, when it came to college, it was CCNY or nowhere, as he often reminded us. He found ROTC here, and he discovered his purpose and direction. He went on to greatness, but he never left this College behind.

The Colin Powell School reflects his vision, his passion, and his never-ending belief in the essential nature of this place. He devoted enormous amounts of time and resources to the school. General Powell committed himself to every student who walked through our doors. He loved this place, and loved meeting every one of them. He would show up early to meetings on campus so that he could stand in front of Shepard Hall and meet students as they walked by. He'd hear their stories and tell them his own. He would encourage them to work hard and pursue their dreams. He always reminded them—and all of us—that "they're just like I was" some 65 years ago now.

The outpouring of love and respect for General Powell has been extraordinary. On this page, we have gathered tributes from students, alumni, faculty, staff, as well as prominent public figures, all of which recognize the central place that City College and the Colin Powell School played in his life and his legacy.

General Powell in his own words
---
On September 30, almost 500 people tuned in on Zoom as the Colin Powell School hosted a public conversation between General Powell and his daughter, Linda. 
Watch the full recording of the event here
General Powell was the first person to record his recollections for a new project, Honor Your Hometown, a non-partisan, all-volunteer campaign to honor hometowns across America. You can see General Powell's recollections of Kelly Street in the Bronx here.
In 2015, General Powell was the keynote speaker for the third graduation ceremony of the school that bears his name. With his typical warmth and humor, he told the students about growing up in the South Bronx and finding his life's path at City College. 
A banner in the 6th floor atrium of CCNY's North Academic Center (NAC), home of the Colin Powell School, lays out General Powell's of leadership. In this interview, he shares his thoughts on these rules.
 
---
CCNY Remembers General Colin L. Powell
---
Carrying on Colin Powell's Legecy 
TODAY's Sheinelle Jones talked to some of CCNY's students about how Powell inspires them to carry on his legacy.

Watch the video here
General Colin Powell Tribute
General Colin Powell leaves behind a legacy of leadership and inspiration. His advice was thoughtful, and his message resonates with all of us.



Special Tribute Episode
From City to the World, President Boudreau, Dean Andrew Rich, Senior Advisor to the President Dee Dee Mozeleski, and alumnus and former Colin Powell Fellow Trevor Houser recalled what it was like to work with him and his impact on their lives.


Linda Kaplan Thaler, a CCNY alumna and member of the Colin Powell School Board of Visitors,
shared a very personal story of the impact General Powell had on her family
For my dad's 90th birthday, I wanted to give him the one thing that he always regretted- not being able to graduate from CCNY. This was during WW II, and like so many young men, he enlisted in the army. He was enrolled in the Engineering department, but was only able to complete one semester.
Knowing it was a long shot, I put together a resume of all the inventions my dad created over the years, specifically the radar equipment he developed for both the British and US fighter planes. He was told it had probably saved countless lives. I thought the CCNY alumni might offer him an honorary degree in recognition of his efforts. 
But they did far more than that. CCNY, with General Powell's urging, decided to award my dad a City College Lifetime Achievement Award, the very first of its kind. In fact, General Powell was so moved and impressed with my dad's contributions to the war effort, that he added a special note to the award, thanking him for his service. My dad was so overwhelmed that his greatest hero, General Powell, recognized his achievements, he was moved to tears.
From that day on, my dad carried the letter with him every single day, sharing it with everyone he met. They say that how you do anything, is how you do everything. General Powell demonstrated that with everyone who was fortunate enough to know him. 
Just one of the amazing stories I have of Colin Powell- making everyone he met feel special and recognized. 
 
Esther Thompson, a CCNY laborer, remembers meeting General Powell and how they came to share stories on their heritage every time he visited campus.
"I'm not quite sure the year I met Colin Powell, but I know it was when we started having graduation on the South Lawn. I think he was sitting across the street and I was planting flowers on the other street. We were getting ready for graduation that morning, cleaning and sprucing up campus for the families.
I saw a young lady passing by, and she was picking the flowers and I said, 'Listen, I didn't plant those for you, I plant those for the students and for the parents.' But you know the feeling when someone is watching you, I had that feeling, so I turned back, and someone was calling me with their finger. So I went over and said 'Good morning' and he said 'You know who I am?' I replied, 'No, who are you?' and he said back, replied, 'Colin Powell.' 'Who? Oh you that guy,' I said as I finally realized who he was.
We started chatting and I shared that I was born in Kingston, Jamaica and that's where his family comes from, so we started talking about it more. We talked about the food and how much he loved the food. He told me he was a little badass, and his parents use to send him to Jamaica for the summertime, to spend time with his grandparents and he had to go to the fields early in the morning, and I knew exactly what that was like.
After that, every time he came onto campus we'd look for each other and we'd chit chat about Jamaica, since that's his heritage and he always wanted to know what was going on. He meant a lot to me, being from our native country and doing wonders for himself, and he will be missed on this campus."
Fatjon Kaja, a 2016 Economics BA/MA Alumni, remembers General Powell's humble and encouraging chats with students on campus.
"For me, it was the little things he did that stood out the most. I recall the first time I met with him in DC as a Partners for Change Fellow. After his talk on important international events, we ran into each other around the food table and started discussing the quality of the cookies. It was a surreal experience for me, because all the previous images of him that I had involved him being on TV and in uniform, speaking about some important international event. Yet, at that moment, there he was, such an accomplished person with immense influence, debating about which types of cookies are the best; he was as humble as they come. 
That image of him being grounded in reality never left me after that day. Over the years, I had the privilege to meet him numerous times on the City College campus. During each of these occasions, he took the time to sit by the Quad, with a mug of coffee in his hand, watching students come to campus and saying "hi" or "to keep on going through the struggle" to them. It was as endearing as it gets, and pushed me to reflect upon the type of person and public servant I want to become.
As we struggle to reckon with his loss, I would like to think of him reminding us "to keep on going" with his legacy, with the same dedication to our institution that he had."
Charlene Darbassie, an Administrative Manager for the Office of the Dean, shared her story on General Powell's unique sense of humor.
"It was graduation one year and Vince (Bourdeau) and Colin Powell were in a meeting before the ceremony, as they always were.
However, this time the meeting had gone on too long and we were going to be late to get into the procession for the ceremony. I saw Vince making his way to the start of the procession, followed by someone else, and I said 'Hurry up, my sweeties, we're late!'
Vince gave me a nod and that's when I looked at who had followed behind him, and it was Colin Powell. I apologized and said 'Oh, I'm so sorry General Powell,' and he replied 'I haven't been called sweetie in such a long time, but you can call me sweetie' and he let out a small laugh."
Social Media posts from Alumni, Faculty, and Staff
---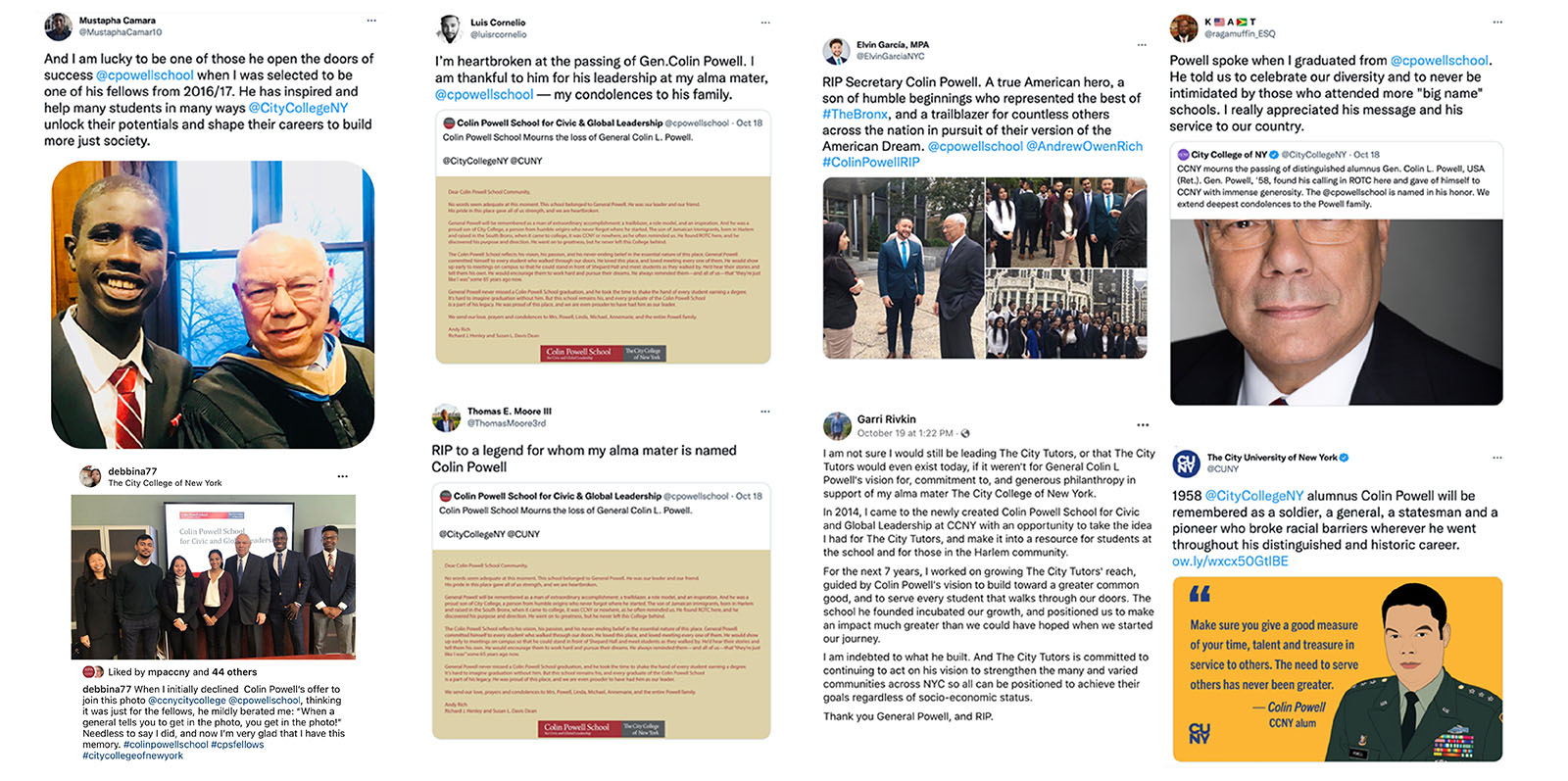 ---
The World Remembers General Colin L. Powell
---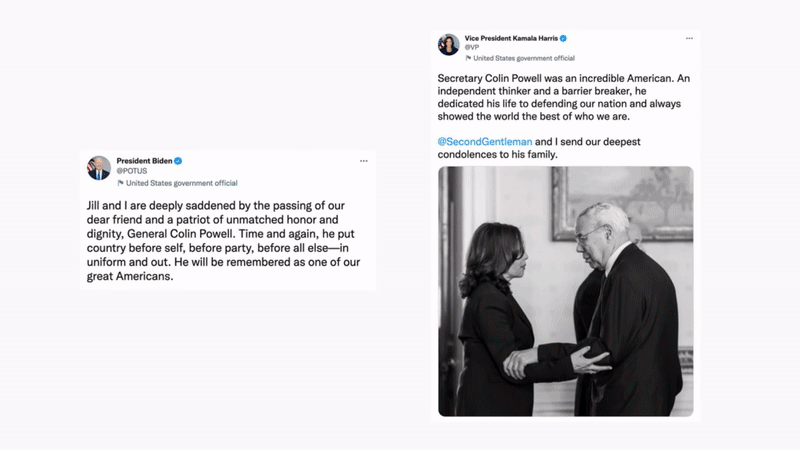 Condoleezza Rice
He found great fulfillment in the creation of the Colin Powell School for Civic and Global Leadership at the City College of New York.
The school would, he hoped, make possible more stories like his: a son of immigrants who, as he freely admitted, wandered for a while until the military gave him a sense of purpose and discipline. A young man who was educated in the City of New York system — not in a military academy or the Ivy League but in a place devoted to opportunity and second chances.
One of our last conversations was about the Powell School. "You have to come and visit," he said about a month ago. "I'll do it and you can meet me there and we'll do a conversation about education," I said. He didn't answer directly — maybe he knew that we wouldn't make it together.
I can't wait to visit the Powell School. It is quintessentially him: built on the same impulse that led him to invite a young college professor to lunch so many years ago. Colin's legacy more than anything else is the people who he helped; the people he inspired; and the people who he encouraged to — as he did — devote their lives to forming a more perfect union.
Secretary Lloyd J. Austin III
As Secretary of State, Colin Powell advanced U.S. values of democracy, diversity, and freedom all around the world. And through his philanthropic work, this son of immigrants raised in the South Bronx set out to expand opportunity for young people, helping them find something they do well and love doing, just as he had found in the U.S. military."

Barack Obama
"Along the way, General Powell helped a generation of young people set their sights higher. He never denied the role that race played in his own life and in our society more broadly. But he also refused to accept that race would limit his dreams, and through his steady and principled leadership, helped pave the way for so many who would follow."
Nancy Pelosi 
"Today, the nation has lost an historic leader who dedicated his life to defending our nation and our families. General Colin Powell was a patriot: serving our country in uniform, leading at the highest levels of American government and blazing a trail for generations to come.  His leadership strengthened America and his life embodied the American Dream."
Secretary Anthony J. Blinken 
He wanted to hear from everyone. He walked around the building dropping into offices unannounced, asking what people needed, making sure they knew he was counting on them. He treated people the way he expected them to treat each other, and he made sure that they knew he would always have their back. The result was that his people would walk through walls for him. Secretary Powell's career in the U.S. military is legendary. As a teenager at the City College of New York, not far from where he grew up in the South Bronx, he joined ROTC, and after graduation, became an army officer. Colin Powell dedicated his extraordinary life to public service because he never stopped believing in America. And we believe in America in no small part because it helped produce someone like Colin Powell. Thank you, Mr. Secretary.
Media Mentions


"Colin Powell knew that one of the best antidotes to inequality is education and that business has a responsibility to help. As a child of immigrants, he credited his parents and teachers with his meteoric rise. On our calls, he spoke with pride about his work with underserved youth and the City College of New York where he graduated". 
Last Updated: 11/10/2021 17:24