The Ph.D. Program in Chemical Engineering prepares selected students for advanced careers in academia, national laboratories, and industry. Our program is highly competitive with research strengths in energy, materials & interfaces, transport processes, and bio- & environmental engineering.  In addition, our department houses core faculty of the CUNY Energy Institute, with research in advanced electrochemical energy storage, oil & gas, and nuclear energy, and the Benjamin Levich Institute for Physico-Chemical Hydrodynamics, with research projects pertaining to rheology and non-Newtonian fluid mechanics. Cutting-edge shared scientific facilities are available at the CUNY Advanced Science Research Center (ASRC) and at CCNY's core scientific facilities.  In addition, CCNY is a partner institution in and its campus houses the nine-university consortium New York Structural Biology Center (NYSBC) that includes world-class NMR, Xray crystallography and Electron microscopy (including CryoEM) facilities that our researchers have full access to. 
See the 2021 PhD Recruitment Flier and view our faculty research videos.
The following video panel discussions by CCNY professors and students will give you a better sense of what to expect in a PhD program:
"Why Pick to do a PhD Program?"
"What is it Like to do a PhD?"
Application Deadline for Spring 2023 and Fall 2023:
The priority deadline for spring 2023 admission is Nov 1st, 2022.  The deadline for fall 2023 is December 31st, 2022.  
Please see Admissions FAQs for more information.
Program Online Application (use for both spring and fall applications)

The GRE is no longer required for admission into the PhD program.

Minimum TOEFL Scores:
533 (PBT), 73 (IBT)
Supporting Documents Required for Application:
Unofficial transcripts from all post-secondary institutions attended (if you are accepted into the PhD program, then official transcripts must be submitted before the start of the semester in which you applied).
3 Letters of Recommendation
Resume or Curriculum Vitae 
Personal Statement
 
Degree Awarded: Ph.D. 
Total Credits:  61 (min. 33 course credits, min 12 research credits and 15 credits in either; 1 credit for dissertation supervision)
PhD Program Advisor:  Prof. Robert J. Messinger
To request more information, click here or email us at: chephdinfo@ccny.cuny.edu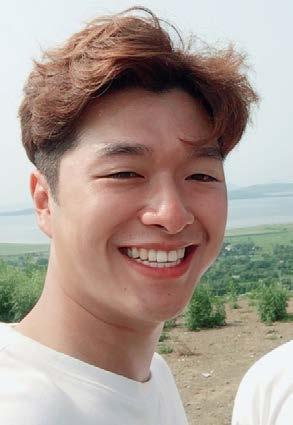 Seungri "Victor" Kim is the Department's 2020 Acrivos Fellow. He is a part of Prof. Xi Chen's research group where he is studying the fundamentals of water-responsive materials, a novel energy harvesting material for high-energy actuators. 
Last Updated: 08/16/2022 09:26